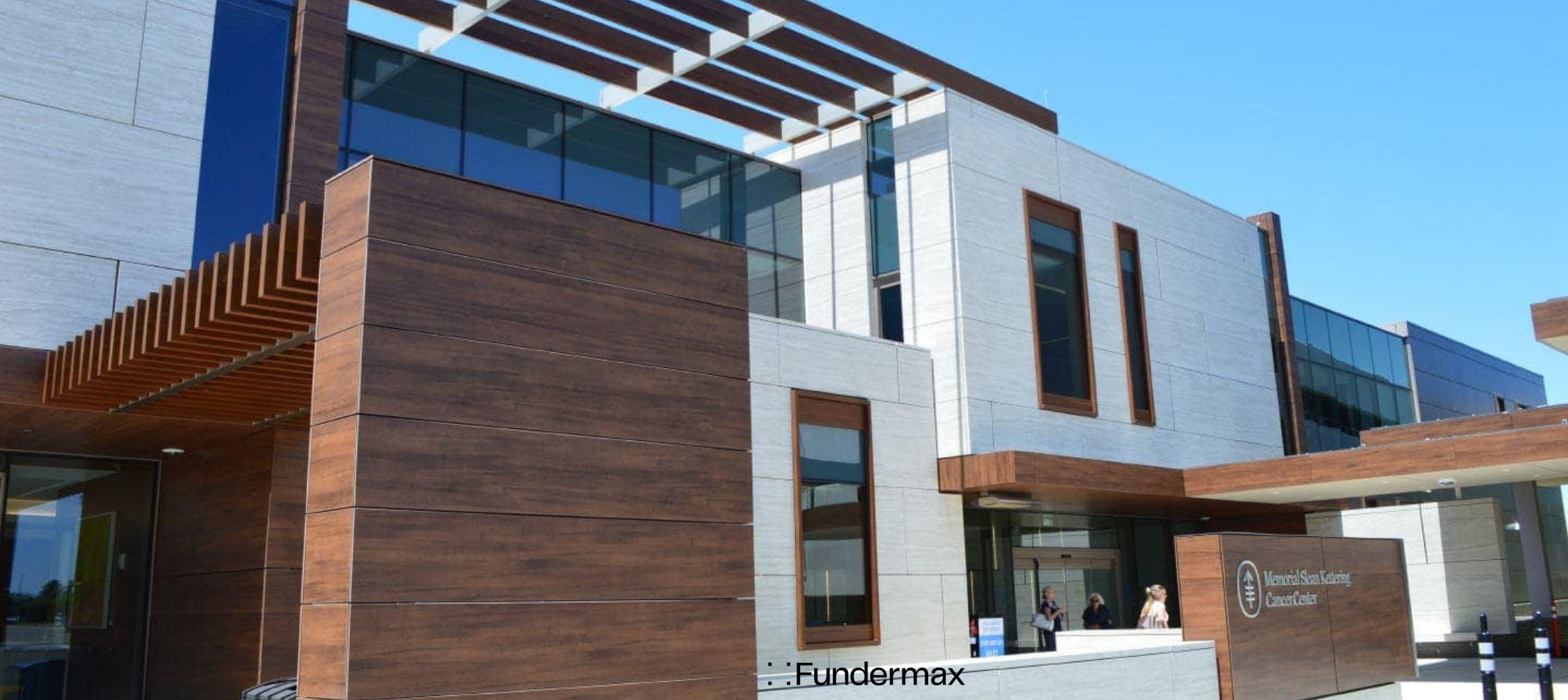 Top Six Reasons Phenolic Panels are on the Rise
Although phenolic panels have been around for decades (and are already widely seen throughout Europe and Canada), the collective demand for greater sustainability, cost-effectiveness, and design flexibility has propelled the popularity of this material to new heights.
Fundermax has been a global leader in the building products industry for over 130 years, and with headquarters in Europe and North America, we have remained on the front lines of these exciting developments. Word has spread, and American architects, designers, and builders are now reaping the benefits of phenolic panels.
What Are Phenolic Panels?
Phenolic panels (also called high-pressure laminate or HPL panels) are highly resistant architectural panels made of natural core material layers and thermosetting resins that are cured under high pressure and temperature. Even better, the material's extraordinary performance and sustainability do not require the sacrifice of high design.
Phenolic wall panel systems offer maximum design freedom with an abundance of options including colors, textures, fastener systems, and custom printing.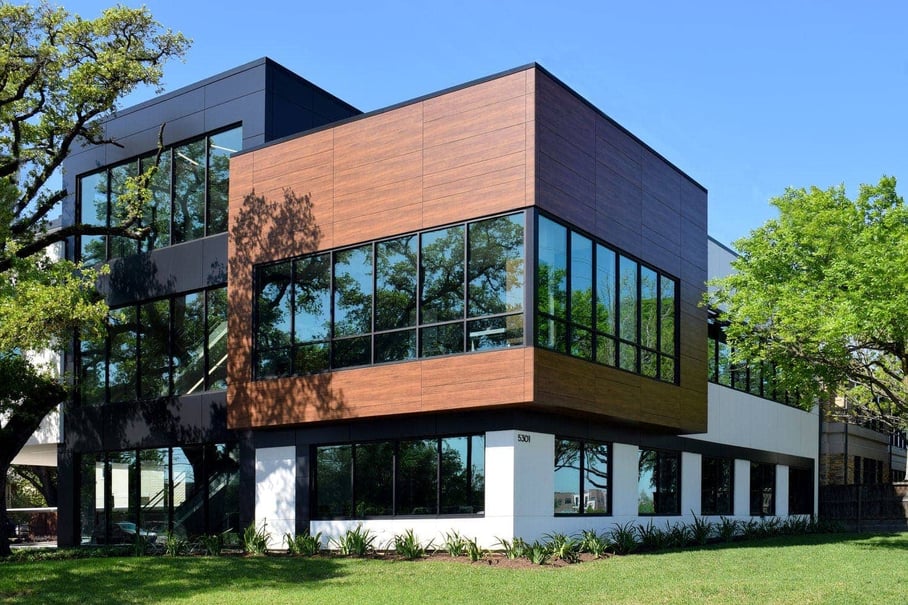 Why Phenolic Panels Are on the Rise
1. Cost-Effectiveness
Seasoned architects and designers know that it's important to look at more than just upfront prices when recommending materials. Calculating the total cost of ownership is a much better guide to making smart decisions and ultimately saving money by purchasing cost-effective materials.
The durability, longevity, and low maintenance of phenolic panels make them an incredibly cost-effective option. Rainscreen façades that use phenolic cladding panels offer longevity of both form and function.
In addition to their impact resistance, exterior phenolic wall panels are UV-resistant. Specifically, Fundermax's phenolic cladding panels have a greyscale rating of 4-5, indicating the material is reliably colorfast.
There can also be significant savings over time on a building's heating and cooling costs when using a properly designed rainscreen system with continuous exterior insulation behind the Fundermax phenolic wall panel system.
2. Ease of Installation
Among a long list of popular features, ease of installation remains one of the most commonly mentioned benefits of phenolic panels.
With just three main factors to consider (substructure material, mounting direction, and fastening system), installing a phenolic wall panel system is a fairly straightforward process. Additionally, Fundermax's selection of fastening systems and variety of panel sizes (more than many other phenolic panel manufacturers) provide options to fit any budget or aesthetic.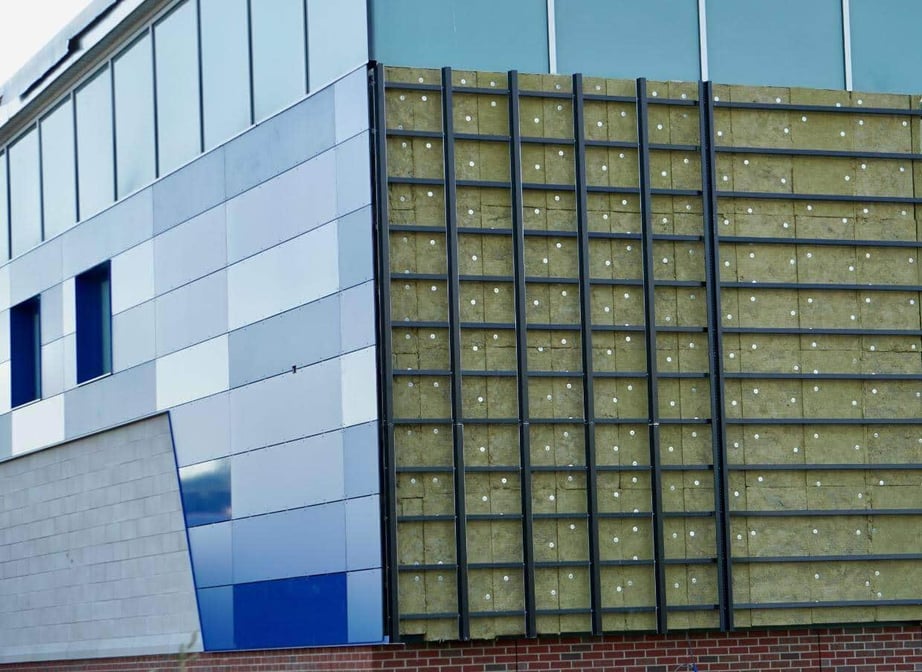 3. Durability
Choosing durable materials that will hold up over time preserves not only the integrity of the design but also the client's investment. The importance of durability is multiplied when designing for high-traffic applications such as in airports, transit systems, cities, and schools. Phenolic panels are a solution that offers all of the durability you need while maintaining the design flexibility you really want.
Phenolic cladding panels are scratch-, impact-, weather-, and chemical-resistant. The hygienic, non-porous surfaces of Fundermax phenolic panels make for easy cleaning when necessary, (for more details on cleaning and chemical resistance, see here), and the acrylic surface of Fundermax's Max Compact Exterior phenolic wall panels is 5x thicker than comparable products from other phenolic panel manufacturers, making them exceptionally durable, even down to high-traffic, sidewalk level installations.
As a general rule, phenolic panels are strong building materials. But, in order to ensure you select the most durable phenolic panel system, be sure to work with highly reputable and globally trusted phenolic panel manufacturers like Fundermax, who go above and beyond the industry standard for durability.
4. Sustainability
Sustainable construction reduces the industry's overall impact on the environment -- not only during construction but also throughout the lifespan of the building. The benefits of Fundermax phenolic panels include both.
Fundermax has been making sustainable manufacturing choices for more than a century, and using Fundermax phenolic panels can contribute to a client's environmental goals in many ways.
Our exterior phenolic wall panels are FSC Certified and consist of 65% natural fibers, and some of our interior phenolic panels now utilize 100% recycled core paper. Fundermax also has several ISO certifications that demonstrate our company-wide commitment to operate in a responsible manner.
For more details, consider this article on Fundermax and LEED and Fundermax's Green Energy Manufacturing.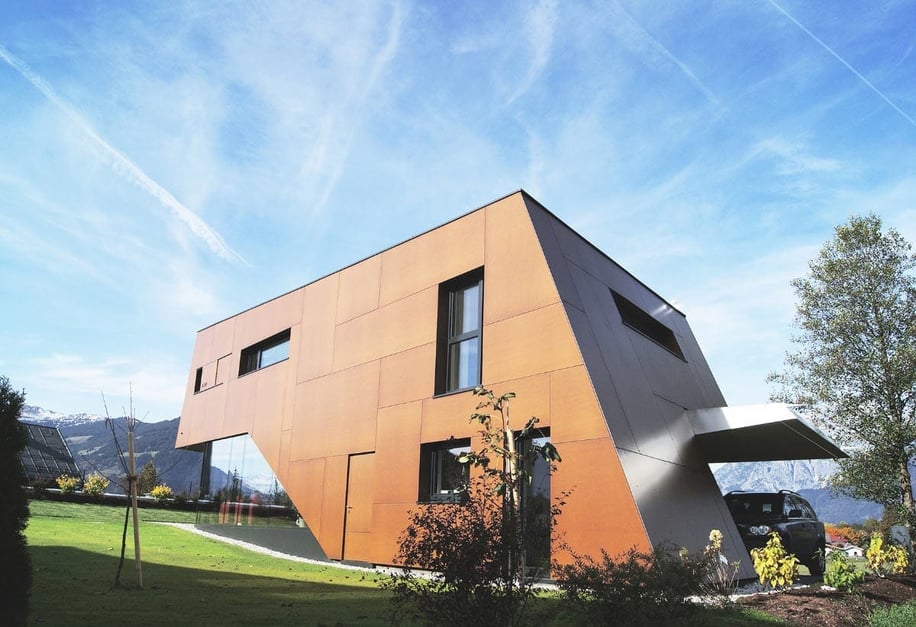 5. Code Compliance
Fire rating and code compliance are two important matters of safety when considering any building material, including phenolic panels, and Fundermax has consistently been ahead of the curve among phenolic panel manufacturers regarding code compliance.
While some phenolic panels have a standard Class B fire rating, all Fundermax exterior phenolic panels are Class A fire rated, and even before the code adoption of high-pressure laminates as a specific segment of IBC Chapter 14, Fundermax invested in a full ICC Evaluation Services Report for our Max Exterior Façade Cladding.
The ICC AC92 Criteria remains far beyond the minimum IBC Code Requirements for High-Pressure Laminates.
Bottom line: Fundermax rigorously tests all products, offering architects the assurance and peace of mind that comes with local and national code compliance.
6. Versatility
Versatility is another of the most appealing benefits of phenolic panels. Architects appreciate the great flexibility of product applications without sacrificing the freedom of high-quality design capabilities.
Specifically, Fundermax offers a phenolic panel sheet program, a factory cut-to-size option, and a fully engineered package program, not to mention a variety of fastening options -- all of which uniquely allows Fundermax to provide innovation and design flexibility to architects and installers alike.
Phenolic panels provide architects the opportunity to make bold and creative choices, emphasizing architectural features with the durable, high-quality aesthetics of the material. Digitally printed phenolic panels are also available, allowing customization that will fit the unique specifications of any project.
Phenolic Panel Applications & Examples
Exterior
Exterior phenolic wall panels are an excellent material for rainscreen facades, balconies, soffits, sunshades/louvers, furniture, and/or signage. For these uses, Fundermax offers exterior architectural panels, digitally printed panels, and natural panels.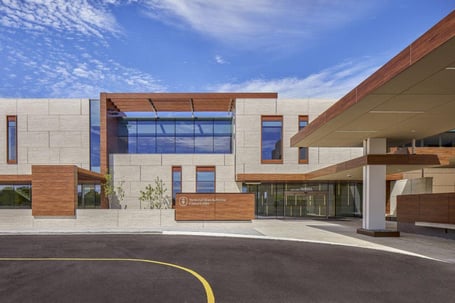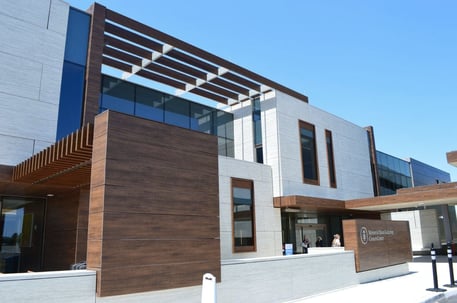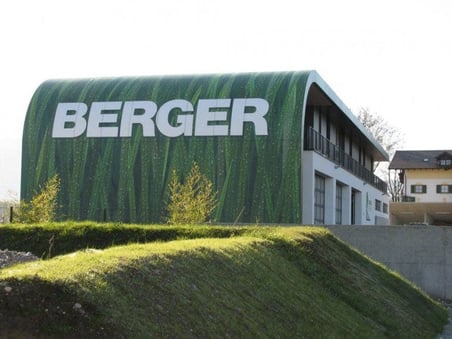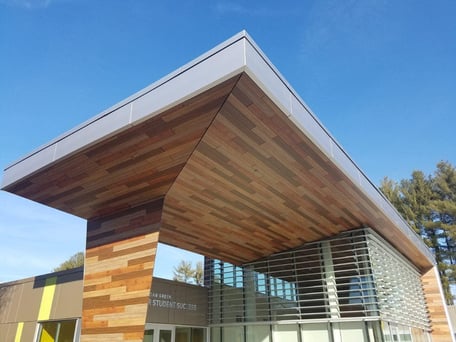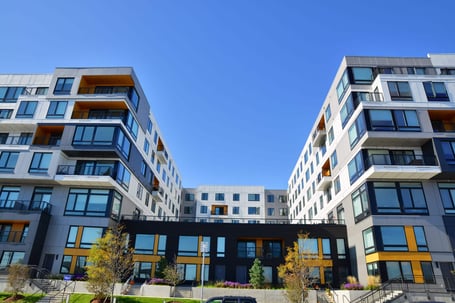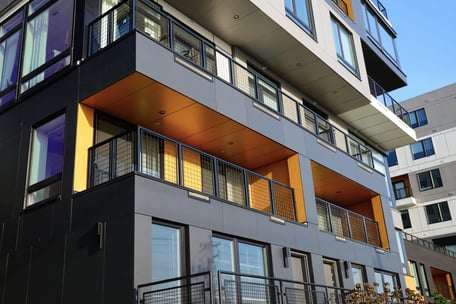 Interior
Phenolic panels are an exciting solution for interior wall lining, washroom partitions, lockers, and furniture. Fundermax offers interior architectural panels, digitally printed panels, and thin laminate panels for these applications.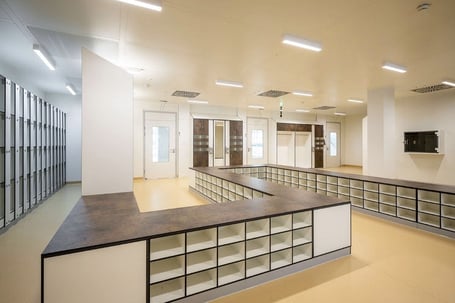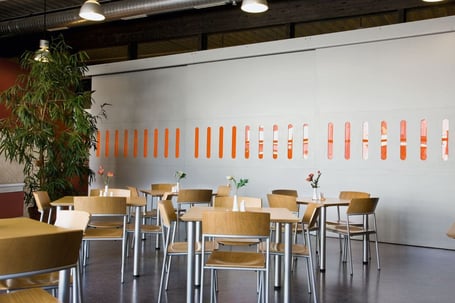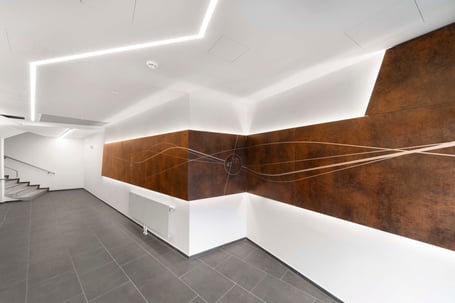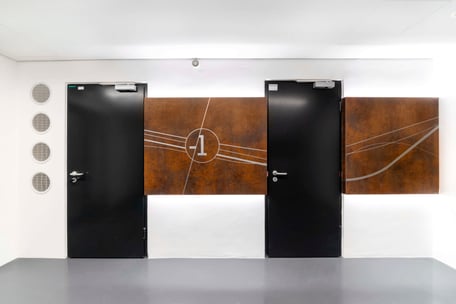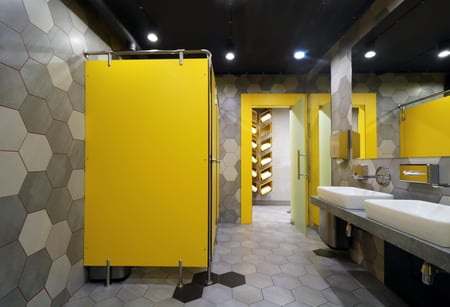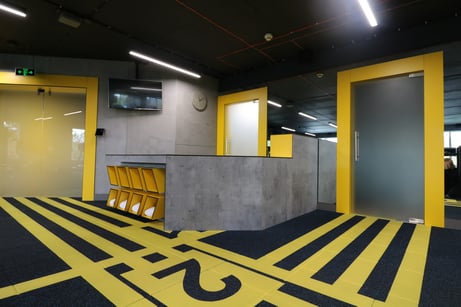 Lab
Phenolic resin panels can also be used in laboratory applications including lab shelving, fume hood lining, wall lining, furniture, and work surfaces. Fundermax offers laboratory architectural panels, horizontal lab work surfaces, vertical lab work surfaces, and digitally printed panels.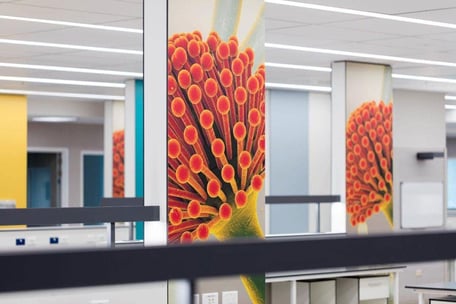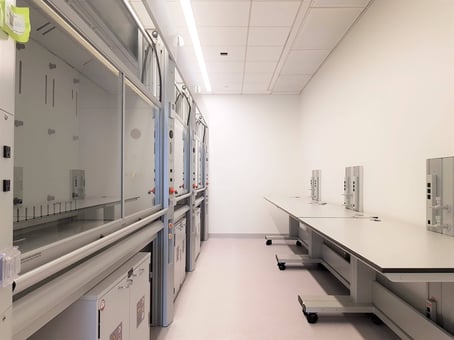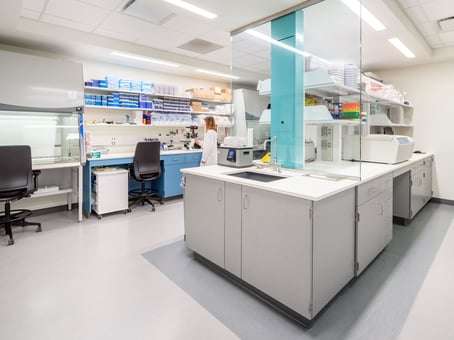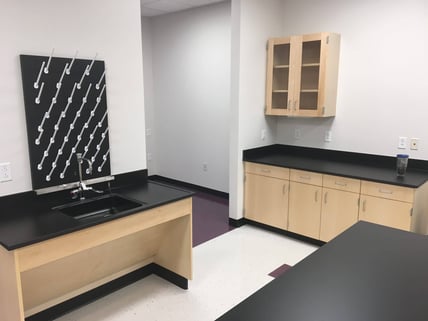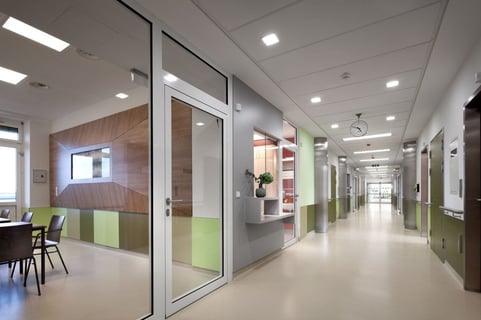 The rise of phenolic panel system use in the United States is an exciting development for architects and designers.
From sustainability to versatility, the benefits of phenolic panels can add value to any project.
For more information on phenolic panels and how they can contribute to the success of your project, contact us today.