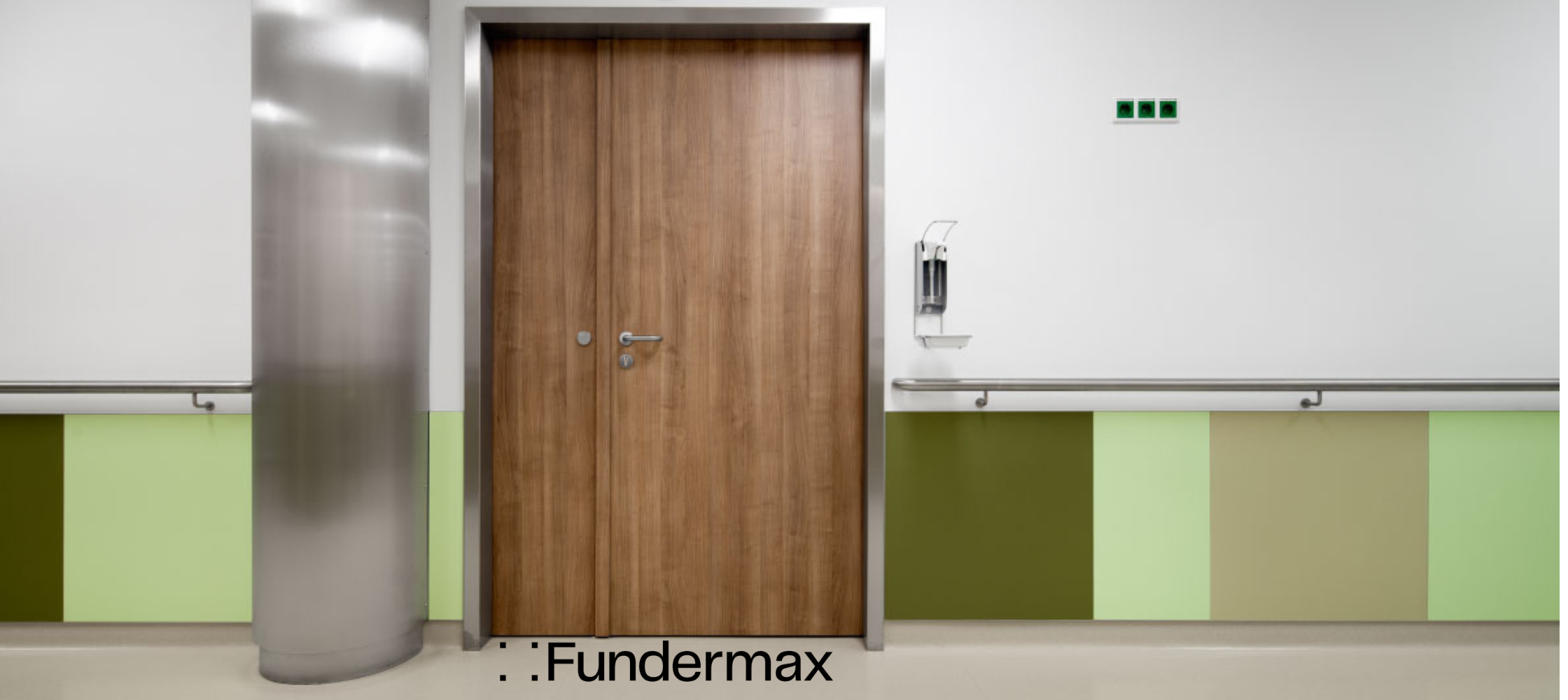 Why Fundermax's Phenolic Panels Are Double-Sided
Architects and designers are specifying phenolic panels (also called high pressure laminates or HPL panels) for their designs more and more thanks to the material's virtually limitless design options and versatility. But, design freedom isn't the only reason phenolic panels are on the rise. Architects also recognize that HPL can keep their clients happy, long after installation is complete.
In a practice that goes above and beyond what's required, Fundermax offers double-sided interior phenolic panels. Read on to learn why we do it, why it's important, and how it can help keep your clients happy.
Why Fundermax Phenolic Panels are Double-Sided
Fundermax manufactures double-sided phenolic panels because consistency on both sides of the panel matters. Humidity and temperature conditions can affect even durable interior wall panels; being double-sided helps the panel remain balanced and stay flat by having the same weight (in micrograms!) of paper on both faces of the panel.
Remember, the core paper inside an HPL panel has a different coefficient of expansion and contraction than the surface. So, when a phenolic panel is one-sided with a different material on the front and back, it runs the risk of warping. Warping compromises not only the aesthetic of the panel but also the ability to install the panel properly.
Using décor paper on both sides ensures that Fundermax interior phenolic panels are extra scratch-resistant and durable. The double-sided panels are unique to Fundermax; it goes beyond what is required by industry standards and beyond the norm among phenolic panel manufacturers.
Why is it Important to Have Durable Interior Panels?
Preserving the integrity of an architect's design – and of a client's investment – requires durable materials that will hold up over time. And in high-traffic applications like schools and airports, the importance of durable interior wall panels increases exponentially.
Consider that durable, scratch-resistant wall panels allow architects to install a phenolic wall panel system at pedestrian level in a busy airport concourse or at backpack height in a school stairwell.
Schools in particular face a much higher incidence of graffiti, scratching, and etching – this, in addition to the normal wear and tear of a high-traffic environment. Architects are wise to specify graffiti- and scratch-resistant interior wall panels for such applications; and the higher initial price point makes sense in view of lifetime costs that are far lower than less durable materials.
Easy-to-clean, impact-resistant interior phenolic panels are absolutely essential for owners who wish to avoid the high costs associated with replacing or maintaining interior wall lining that doesn't hold up under the demands of the environment.
Do Fundermax's Interior High-Pressure Laminates Delaminate?
When considering interior high-pressure laminates, it is essential to determine whether the panel will delaminate. Risks of delamination include
Separation and exposure of the panel core

Finish discoloration

Overall panel discoloration

Cracking, peeling, and bubbling of the panel and finish

Swelling around panel edges and screw holes

Moisture collection

Compromised protection from UV rays and weather exposure

Shortened product lifespan

Added costs for panel replacement and increased maintenance.
Fundermax phenolic panels do not delaminate. Delamination is actually not even possible for our exterior or interior HPL panels. When the panels complete the curing process and exit the press, the final product is a non-porous, homogeneous board. At that point, all of the resin, kraft paper, and décor paper layers have become one; they are no longer separate layers, so there is nothing to separate or delaminate.
Along with service and quality, Fundermax is committed to sustainability. We source FSC-certified wood products; this matters because our exterior phenolic panels consist of a kraft paper core made from natural cellulose fiber (which is primarily from wood). The kraft paper core makes up 65% of the finished product, with the balance being phenolic resin, décor paper, and our patented acrylic surface. However, our interior phenolic panels now go a step further and include 100% recycled core paper. That means the kraft paper in the core of our interior phenolic panels is composed of 100% post-consumer recycled paper.
We are GREENGUARD and in some cases GREENGUARD Gold certified. We provide EPD and HPD certificates, and Fundermax sustainable interior wall panels may contribute to LEED standards in a number of categories.
If you are considering materials for a school, airport, or other high-traffic areas, we would love to help. Contact us today to discuss high-performing, high-design interior phenolic panels.