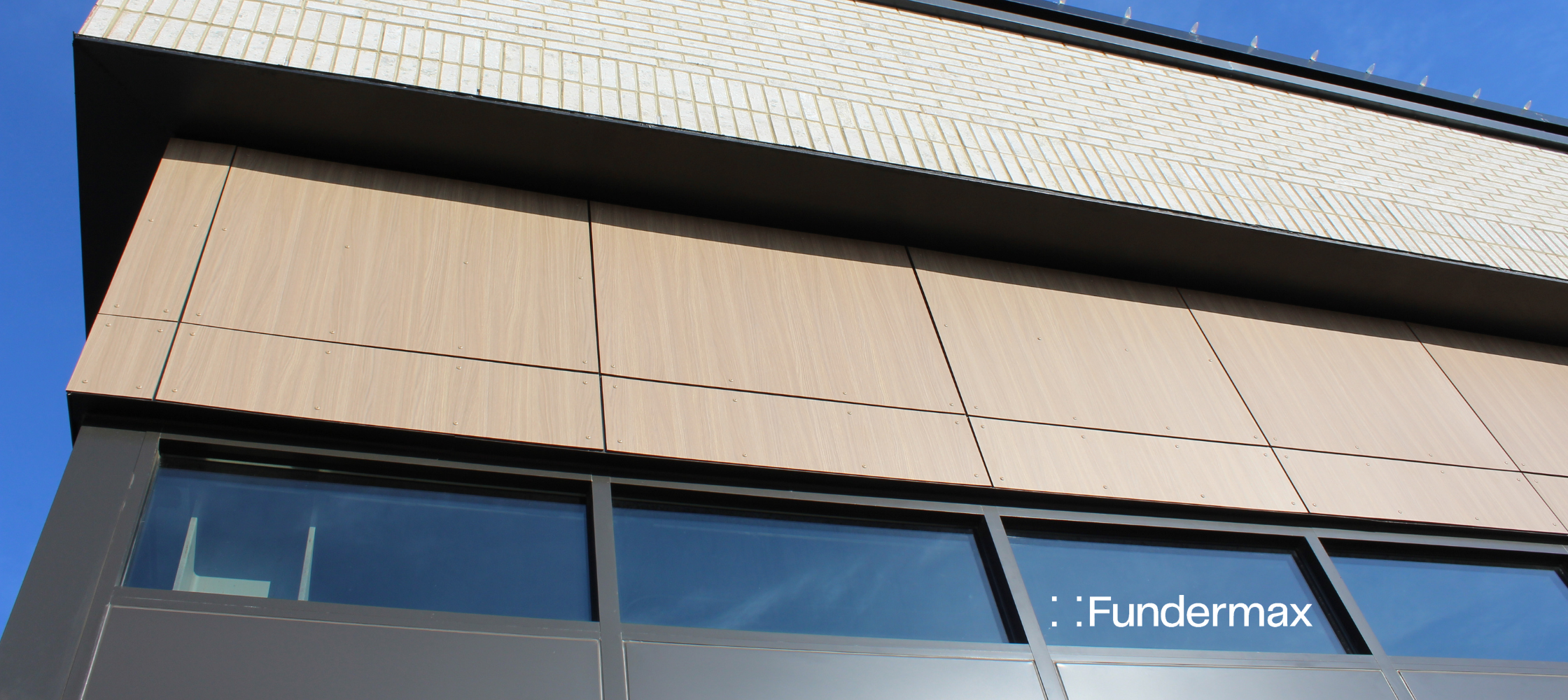 The Best Ways to Reclad Your Building
Recladding or renovating a building is becoming more popular – and, given the benefits, it comes as no surprise. Rather than new builds or rebuilds, a growing number of owners and architects are leveraging the concept of recladding a building.
Recladding exterior walls offers massive aesthetic and functional impact at a fraction of the cost – and a fraction of the environmental impact – of a new build.
For over a century, Fundermax has specialized in processing renewable raw materials. As a globally trusted phenolic panel manufacturer, we are known for our commitment to environmental responsibility. We find the option of recladding exterior walls particularly exciting because we know it offers owners and architects an effective solution at a comparatively reduced cost and reduced environmental impact.
Six Benefits of Recladding a Building
1. Cost-Effectiveness
Renovating a building is normally much more affordable than building a new one, especially if you are not changing the interior design or layout. Consider the cost savings of utilizing the existing foundation, utilities, and exterior support (among other things which may still be usable like the windows or roof).
Additionally, "most cities have funds available to businesses that renovate or update existing properties. There may also be property tax breaks or additional incentives from state or local governments to transform an older building into your vision for your company."[1]
2. Environmental Responsibility
Building recladding is a valuable option in a world with increasing demand for sustainability and waste reduction. Recladding allows buildings to be repurposed rather than demolished and rebuilt. Sustainability is then multiplied when the recladding materials themselves are sustainable.
3. User Wellbeing
When renovating a building toward more eco-conscious performance (through measures like recladding a building with a rainscreen), benefits like energy efficiency are typically the primary consideration. But these measures also trigger relevant "co-benefits" toward the wellbeing of building users. These include thermal comfort; indoor air quality; reduced internal & external noise; and more.[2]
4. Uninterrupted Business
While recladding exterior walls, you can maintain business as usual inside the building. Business operations do not have to stop, and interruptions and annoyances are kept to a minimum.
5. Shorter Time Frame
Demolishing a structure to build a new one takes considerably more time than renovating a building. Recladding a building can be completed in a small fraction of the time required to tear down and rebuild.
6. Location
Renovating an existing building is sometimes the only option, especially if you're trying to move into a densely populated city. Finding space for brand new builds can end up taking you far outside the city center.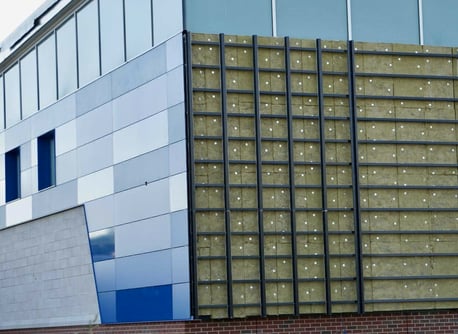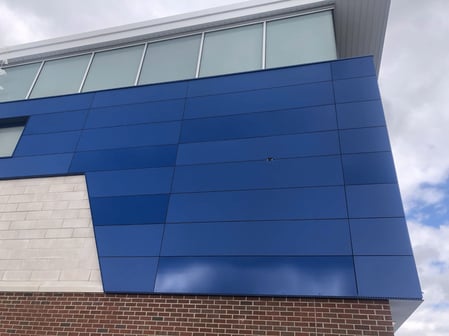 How to Know When Recladding a Building is the Best Choice
When a building gets older and loses its functionality or aesthetic appeal, in order to bring it back into step with your needs (or that of your tenant), how do you decide between renovating or rebuilding?
Renovating a building is the least invasive way to rejuvenate the aesthetics of your building and make needed repairs and updates.[3] Building recladding is an increasingly popular way of renovating a building because new exterior cladding can put a fresh face on an older building without the expense, interruption, or waste of a rebuild.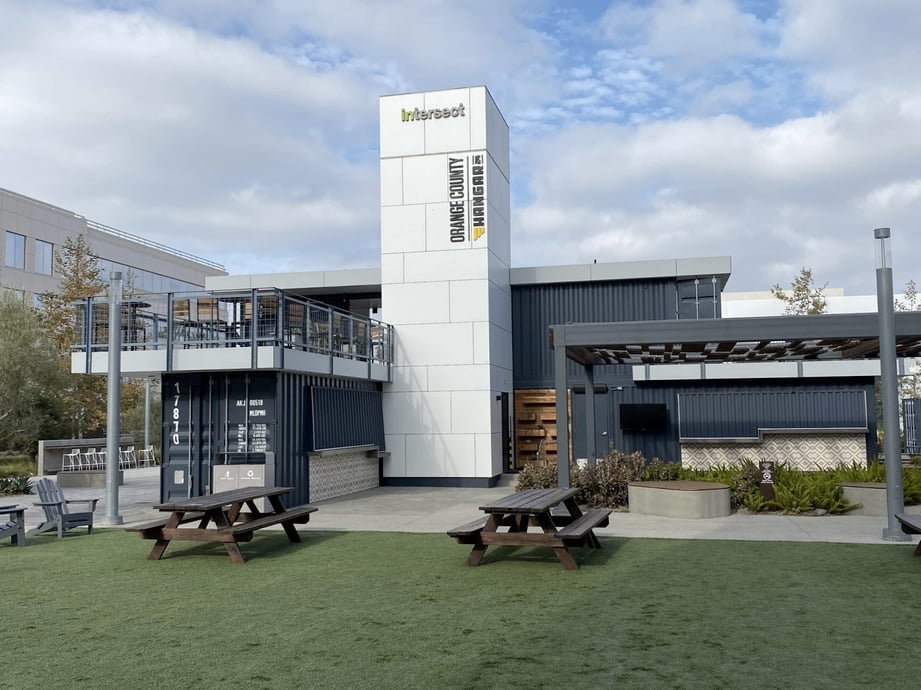 Why Use Fundermax for Building Recladding Panels
Aesthetics & Design Flexibility
Fundermax offers different installation options and both timeless and on-trend colors and finishes, making our exterior phenolic wall panels the best for achieving a desired aesthetic and fulfilling an architect's design intent.
Versatility
We offer the widest array of solutions for building recladding panels, and our phenolic cladding panels can fit any type of building application. Fundermax exterior phenolic wall panels are even warranty-approved to be used in horizontal applications.
Durability & Longevity
The durability and longevity of phenolic cladding panels begins with how they are made. Panels begin with a kraft paper core made of natural cellulose fiber that is impregnated with thermosetting resins.Then, high heat and pressure are used to cure the resin-impregnated layers (including the outer decorative layer).
The result is a nonporous, chemical-, UV-, and weather-resistant material that does not dent, chip, peel, or fade and is able to withstand harsh cleaning when necessary.
Ease of Installation & Maintenance
The durability of Fundermax exterior phenolic wall panels aids in easy installation and low maintenance. Consider that our phenolic cladding panels are durable enough to be cut onsite for revisions and custom cuts.
Additionally, the superior durability of our phenolic wall panel systems results in lower maintenance compared to a less durable material that is prone to damage requiring regular repairs or replacement.
Sustainability
Fundermax products may contribute to LEED standards in a number of categories, and we are GREENGUARD certified and GREENGUARD GOLD certified in some cases. We source the raw materials for our phenolic cladding panels from vendors certified by the FSC and/or the PEFC. Fundermax also has several ISO certifications that demonstrate our company-wide commitment to environmentally responsible operations.
Value
When comparing phenolic cladding panels to other exterior building materials, we know the phenolic wall panel system may come with a higher price tag up front. We also know the comparison changes drastically when the total cost of ownership is considered. The longevity and durability of phenolic panels make the lifetime costs significantly lower than other exterior materials. Additionally, there can be significant savings over time on the building's heating and cooling costs when using a properly designed rainscreen system.
If you're considering recladding a building, we would love to be part of your project. Contact us today to discuss leveraging exterior phenolic panels for your building renovation.
---
[1] https://cmbaarchitects.com/pros-cons-of-renovating/
[2] http://iea-annex56.org/Groups/GroupItemID6/IBPC15_784.pdf
[3] https://www.mhwilliams.com/renovate-remodel-rebuild-learn-right-older-building/