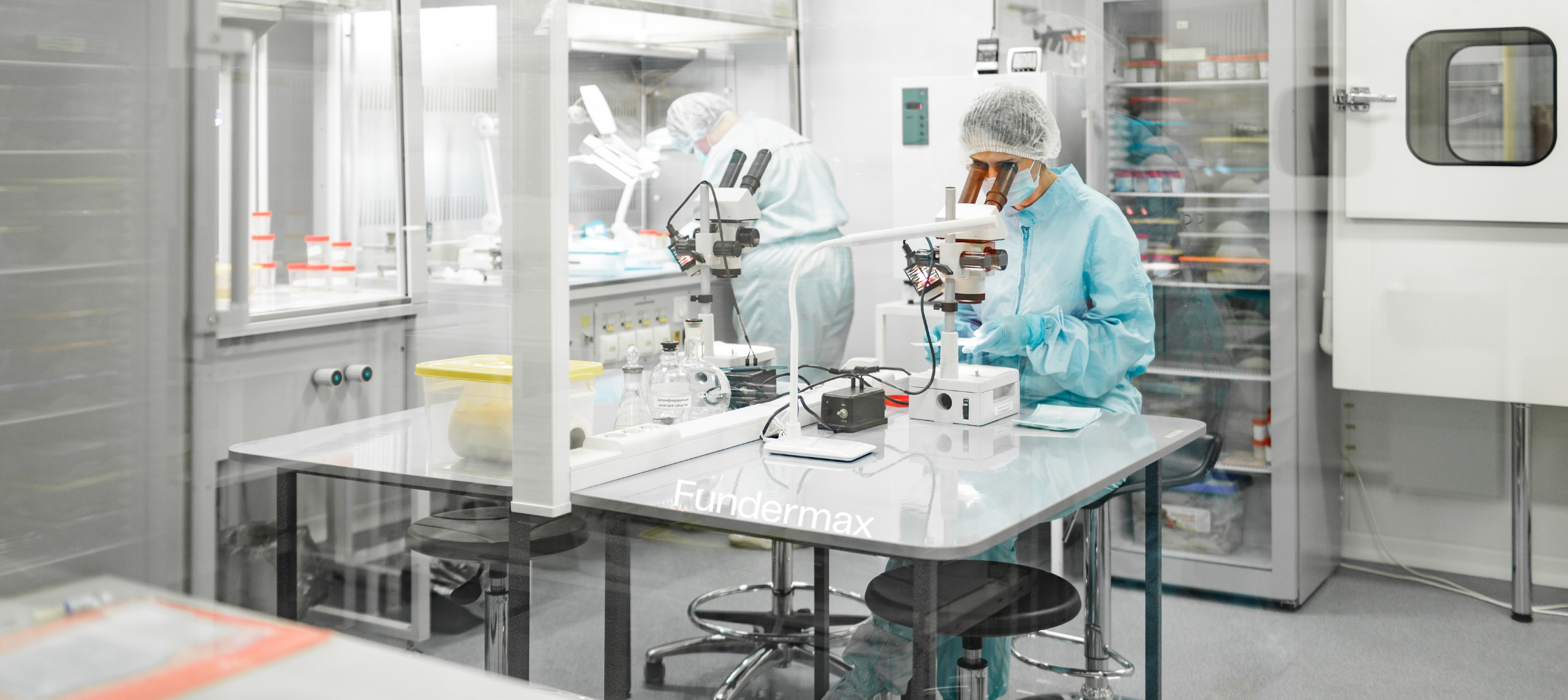 Future Lab Design Trends in a Post-COVID Era
Laboratory design requirements have continued to evolve over the centuries. However, due to the COVID-19 pandemic, we are seeing an uptick in design changes.
These are brought on by the need for social distancing in the lab, prompting the need to reconsider future lab designs.
The need for a flexible, adaptable lab design isn't so new, though. Back in the 1960's, we began to see lab furniture designed to enable adaptability. During the 1990's, lab products were inspired by flexible office designs. In fact, the needs of the lab user have been evolving for decades now to more open and collaborative spaces. With space often at a premium, adaptable lab design becomes a pre-requisite for research spaces.
So really, perhaps the question is can these flexible designs enable true scientific collaboration during and after a pandemic?
In simple terms – yes! Even in a post-pandemic world, future lab designs will still focus on collaboration. After all, some of the greatest scientific discoveries have been through collaboration: the Human Genome Project, The Millennium Seed Bank Partnership, The International Space Station and, of course, the COVID-19 vaccinations.
Multi-disciplinary, multi-sectorial, multi-jurisdictional research gives rise to increased research capacity and development. Diversity and workforce development benefit too. The convergence of teaching, research, and collaboration further promotes the advancement of science. The lab space needs to be reimagined to make all of this possible.
Future Lab Design Trends & Collaboration
Over the last decade, in the lab industry, we have seen why sharing spaces enables greater collaboration. University of Michigan research highlighted how lab facility co-location, with large zonal overlaps, encouraged new collaborations.
The study determined "scientists who occupy the same floor are 57% more likely to form new collaborations than investigators who occupy different buildings." The research also suggested placing wet labs close to computer labs to support the merging of disciplines.
With today's collaboration technology, such as Slack, it's easier than ever to share work through digital channels as well as traditional, such as bulletin boards, to enhance collaborative discoveries.
Modern science is an actual social activity. No wonder labs continue to evolve as social spaces. Adaptability nurtures interaction and collaborative, team-based research. Yet the increasing need for social spaces can cut into a building's Net Square Foot (NSF). This means lab environments require even more adaptable and efficient lab furniture.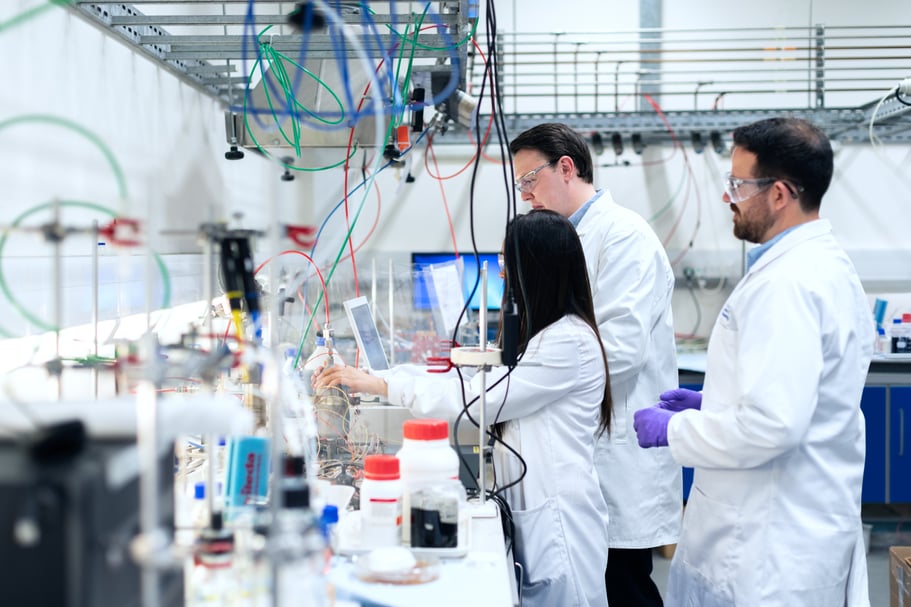 What are New Lab Design Trends Prompted by COVID-19?
Collaboration is clearly not only a huge benefit, but also a necessity. This raises the question: How do we safely collaborate in the lab and prep for future pandemics? Lab planners can incorporate several strategies.
1. Plan for Adaptability & Flexibility
Architects and lab planners know adaptability needs to be addressed early in the design process. This involves the building itself, the laboratory design, and the furnishings. However, there are distinctions between adaptable and flexible when it comes to design.
Adaptable design relates to long-term changes. For example, selecting the overall design, furnishings and materials suitable for a wide variety of laboratory applications.
Flexible design relates to more short-term changes. This is a focus on the ability to convert spaces to different functions or move internal walls/furniture around as researcher needs and space requirements change.
The flexible educational lab is a great example. Using mobile furniture and convertible cabinet (and sink units) enables a rapid conversion from a classic classroom setting to a wet teaching lab configuration.
Yet how does this work during a pandemic?
The lab environment doesn't necessarily need a wholesale change. Flexible solutions could include:
Removing chairs and/or desks to meet six-foot-distance requirements without affecting the overall design.

Adding zoning and disinfection stations while also limiting and/or monitoring capacity.

Setting up a separate entrance and exit to screen staff and guests to create a safety threshold.
The key is flexibility. Open layouts designed to engage collaboration already require a high degree of adaptability. Flexible furniture is ideal. Thus, lightweight materials, such as phenolic HPL (high-pressure laminate) that provide extreme durability but easy movement can play a key role.
2. Understand Technology Shifts
Remote work is advisable where possible. With scientists and researchers working offsite, it is easier to stagger usage. Some labs are opening workspaces and common areas for longer periods to reduce personnel density.
Yet it is not so easy, or practical, for lab workers to work remotely. This has driven an increased use of IT in the lab to support virtual collaboration.
Forward-thinking lab designers must also consider the impact of artificial intelligence (AI). The materials selected for the furniture and lab work surfaces will need to withstand increased use of IT equipment.
3. Prioritize Personnel Safety
Safety is not a new factor in lab environments. Still, lab planners must now anticipate an increased use of personal protective equipment (PPE) and more rigorous cleaning. The lab design of the future should add areas to store, retrieve, and dispose of PPE.
Additionally, although it's not strictly an element of lab design, or even code compliance, plans for cleaning and disinfecting should factor into material selection and the design process. Harsh cleaning agents (such as hydrogen peroxide, hypochlorite etc.) coupled with the introduction of UVC and UV wands, calls for ever more durable lab furniture and lab work surfaces.
4. Reconsider Traditional Spatial Metrics
With flexibility being a key factor in lab designs in a post COVID-19 world, traditional metrics and scheduling will change too. The Equivalent Linear Foot per person, per discipline has not changed as this metric is based on safety. However, there is an even greater need now to look at workstations that are more dynamic.
A classroom that traditionally held 40 students now holds 10. Furthermore, unless barriers or shields are introduced into the design of the lab, the traditional bench set-up may not meet the need for separation.
5. Continue to Factor in Sustainability
Safety in the lab is of paramount importance when designing the most efficient use of the space. Still, we need not compromise on sustainability. Specify materials and furnishings with the quality and required performance characteristics to meet lab needs from day one and still after five, ten, or even twenty years of use.
Luckily, selecting durable design elements that don't need to be replaced frequently, doesn't mean sacrificing lab design aesthetics. The next generation of scientists and researchers can enjoy stimulating environments that incorporate warm and inviting colorful materials and lots of natural light.
The advent of truly chemical resistant and durable phenolic lab countertops and phenolic casework lets the lab designers realize their visions, sustainably.
Conclusion
The COVID-19 pandemic hasn't enforced change in the way labs are designed. Rather, it has encouraged short-term change and ensured future lab designs trends are more focused on flexibility and adaptability.
Learn more about Fundermax's phenolic HPL laboratory work surfaces, shelving, fume hood lining, wall lining, and furniture options.