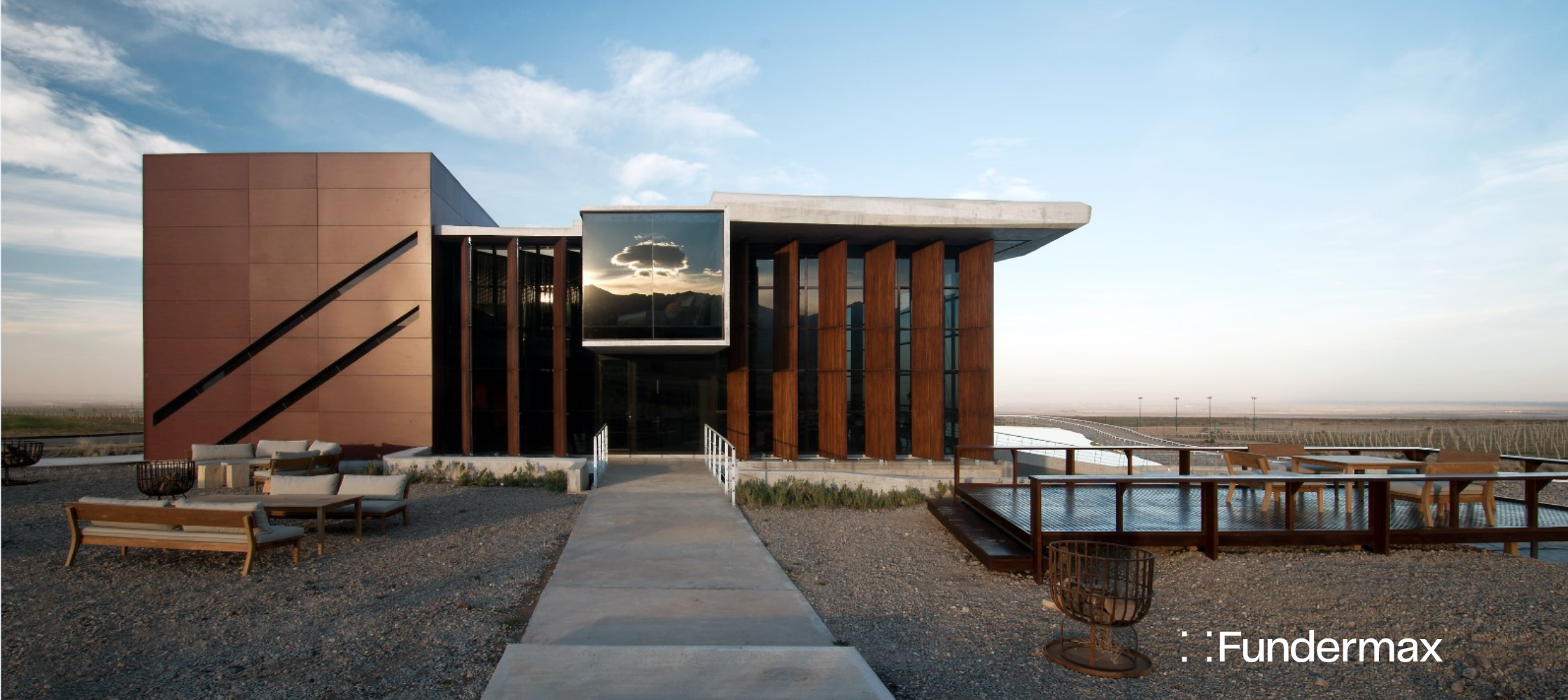 16 Ways to Incorporate Phenolic Panels in Your Hotel
Hotels present a unique need for exceptional durability combined with high design. This very combination – unmatched durability + uncompromising design – explains why more and more architects are leveraging phenolic panels in their hotel designs.
As manufacturers of high-pressure laminates for more than 100 years, Fundermax is well versed in the features of the material and how it can benefit hotel design. We have partnered with architects around the world on hotel designs using HPL panels for a wide variety of applications.
What are Phenolic Panels?
Phenolic panels, also called high-pressure laminate (HPL) panels, are versatile architectural products crafted with thermosetting resins and cellulose fibers. Core layers of resin-impregnated kraft papers and outer decor layers are bonded together by high-pressure and heat, resulting in nonporous, homogeneous boards that are durable, versatile, and sustainable.
Major Benefits of Phenolic Panels
As one of the most innovative building materials available today, it is no surprise that architects around the world are incorporating HPL panels in hotel design.
Phenolic panels are scratch-, graffiti-, stain-, weather-, and impact-resistant, making them a durable solution for both exterior building façades and interior wall lining in hotels.

Safety and fire rating are essential considerations, which is why testing and code compliance are a priority at Fundermax and all of our exterior phenolic panels are Class A fire rated.

Phenolic panel systems work well for dividing spaces like locker rooms or office environments.

Phenolic panel manufacturers like Fundermax can fabricate phenolic panels into many different shapes and design specifications.

Phenolic panels are environmentally friendly, producing less ground contamination and waste compared to traditional building materials.
How are Hotels Using Phenolic Panels?
This composite building material can withstand extremely harsh treatment, providing a versatile solution to virtually endless design requirements, both for exterior and interior applications.
Hotel Building Exterior
From sidewalk level façades to top floor balconies, hotel exterior products must be scratch-, impact-, and UV-resistant, withstanding daily exposure of weather and traffic without concern. In addition to impact resistance, phenolic cladding panels are colorfast and can handle direct UV exposure while maintaining their vibrant color and texture.
Exterior phenolic wall panels offer exceptional longevity with minimal maintenance, making them an attractive, reliable, and code-compliant option for the following applications:
Balconies

Sunshades

Decks

Signage

Rainscreen façade / exterior wall lining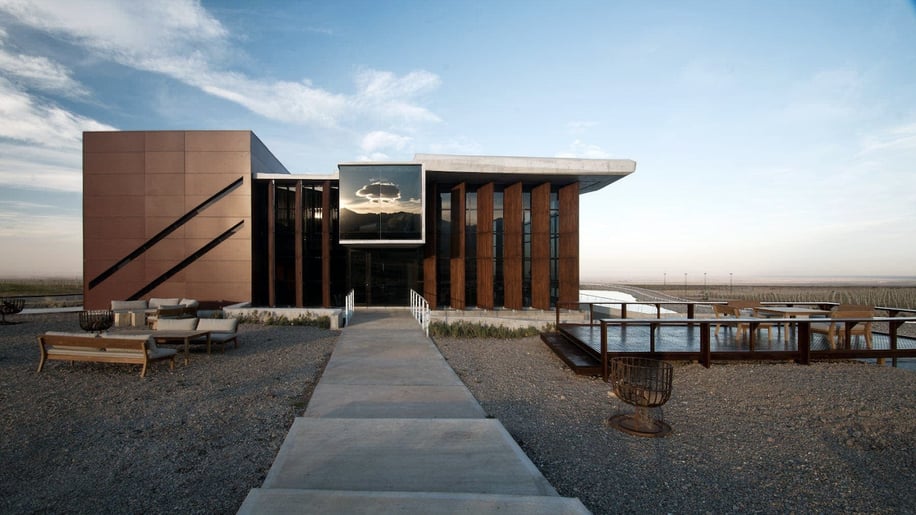 Here, Fundermax exterior phenolic wall panels are used for the rainscreen façade and sunshades at the hotel at Casa de Uco Vineyards & Wine Resort in the Mendoza Valley of Argentina.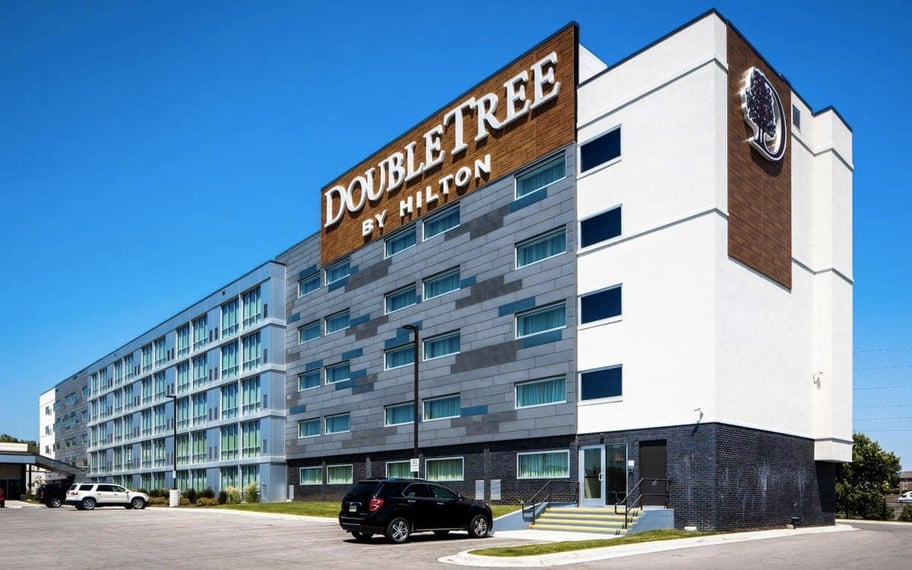 Above, using Fundermax phenolic panels for the signage at the DoubleTree Hotel by Hilton in Omaha, Nebraska.
Hotel Building Interior
Hallways
Corridors and hallways demand hotel wall lining products made for ultimate durability. An interior phenolic wall panel system provides impact resistance from everyday wear and tear, incidental damage by carts and luggage, and instances of graffiti and vandalism.
Reception
A beautiful entrance and reception area welcomes guests and indicates where to check-in. Hotel designs using HPL panels can maximize the opportunity to create a branded experience while remaining highly functional and capable of handling heavy exposure to foot traffic and luggage.
Café
Using phenolic panels in your hotel café or breakfast area provides a sanitary, decorative, and damage-resistant environment. Fundermax has an FDA food safe certificate.
Elevators
Decorative, durable, and code-compliant: that is the formula for success in hotel elevator wall lining, and phenolic panels deliver.
Kitchen
Whether designing for the hotel's service kitchen or for kitchenette areas within guest suites, using phenolic panels for wall lining and countertops offers sanitary, durable, and easy-to-clean surfaces for staff and guests.
Gym
The hotel gym is a valuable feature, but its walls and surfaces can look neglected at an accelerated pace with potential damage from weights, equipment, and generally more aggressive wear and tear of the gym environment. A phenolic wall panel system offers the required durability without compromising style.
Guest Rooms
Closing off guest rooms for wall repairs or repainting means lost revenue. Instead, leverage phenolic wall lining in hotel rooms that can handle the wear and tear of shoes, luggage, furniture, pets, and other heavy use, without compromising its color or finish.
Bathrooms
Phenolic resin panels are a smart choice for wall lining, partitions, and countertops in public restrooms located in hotel common areas as well as private bathrooms in the hotel guest rooms. In addition to the material's durability and moisture-resistance, phenolic panels are chemical resistant and can withstand the regular harsh cleaning required for hotel bathrooms.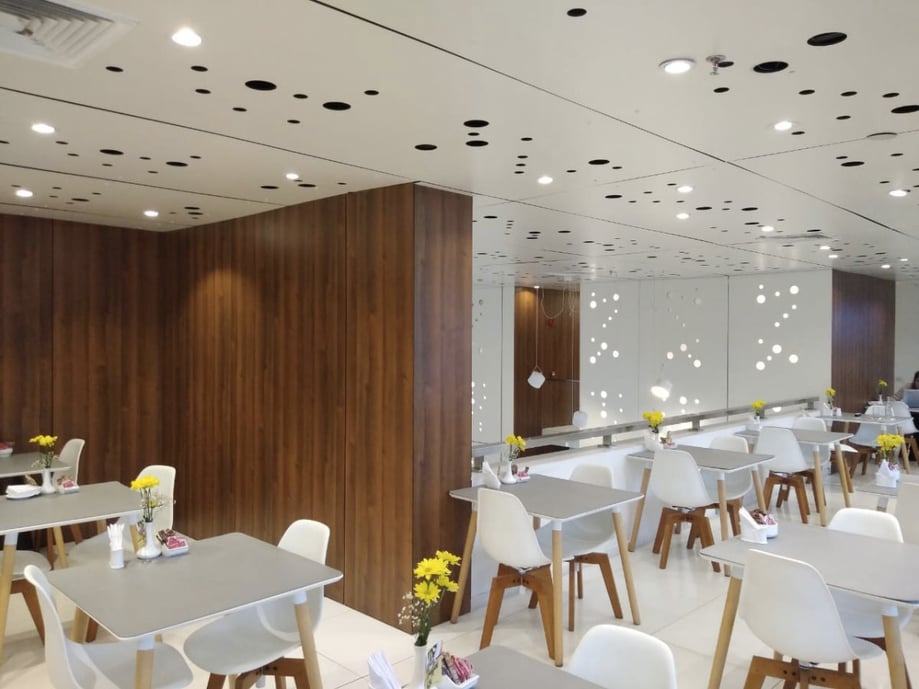 Here, designers leveraged interior phenolic panels as wall lining with backlit cutouts as well as café furniture at the Esplendor by Wyndham Asunción.
Furniture
Outdoor Furniture
Moisture-, UV-, and impact-resistance make phenolic panels an exceptional material for outdoor furniture design.
Indoor Furniture
High-traffic areas like the hotel restaurant or the common lounge areas can benefit greatly from furniture designed with high-pressure laminates.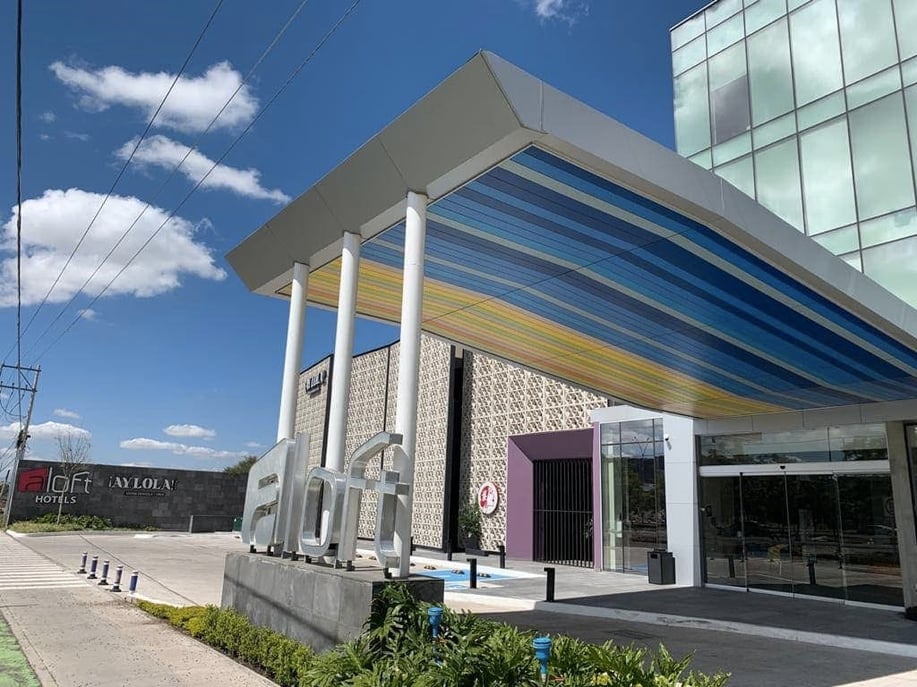 Above, colorful soffits are crafted of Fundermax phenolic panels at Hotel Aloft Querétaro in México.
Whether you are designing for new hotel construction or a remodel, contact Fundermax today to see how your hotel project can benefit from phenolic panels.