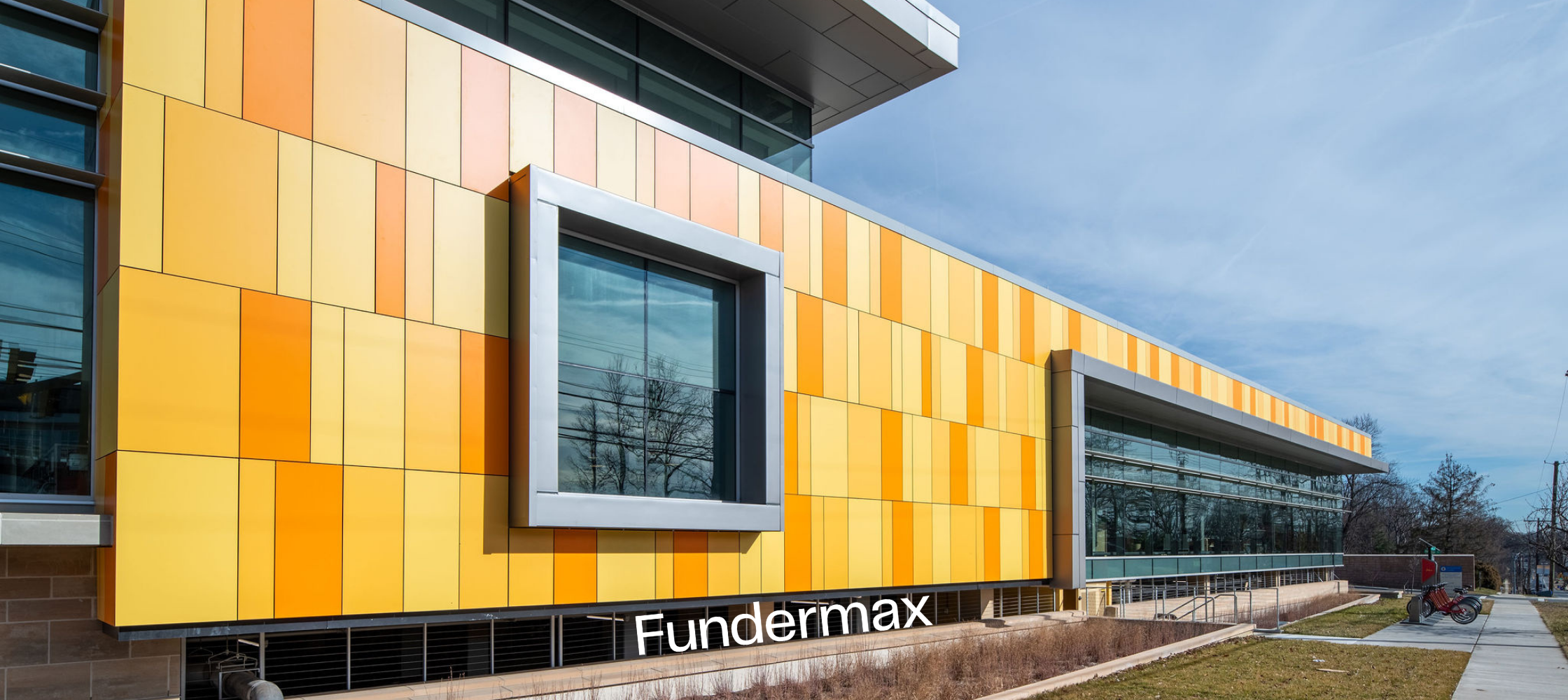 Why Fundermax is The Name You Want on Your Phenolic Panels
Market analysts expect demand for phenolic panels is on the rise. Why? These high pressure laminate (HPL) paneling products open the door for innovation. For durability, versatility and easy maintenance, HPL panels are a great solution.
Globally, many are turning to Fundermax. But we know our customers wonder about the name and what it has to do with phenolic panels. Allow us to explain...
The History of Fundermax
Fundermax is a combination of two separate companies that existed in parallel. It started in the lumber industry when Funder founded his first sawmill in 1890.
Then as business grew, we built the first Funder factory, which produced wet process hardboard, in St. Veit an der Glan, Austria, where the company remains headquartered currently.
Today, there are five plant locations in Austria producing the range of Fundermax products including Compact Exterior, NCore, Compact Interior, Individualdecor, Max HPL, and Max Resistance.
In 2005, Funder's business merged with Isomax Decorative Laminates, a firm known for its technical plastics. Fundermax was chosen as a fitting name for a manufacturer of products comprised of wood and composites combined.
A subsidiary of Constantia Industries AG since 1981, Fundermax has developed a reputation for reliability and high quality. Under the umbrella of Constantina, one of the largest industrial companies in Austria, Fundermax is joined by sister companies:
IsoSport (which produces innovative plastics and composites for the sporting goods industry)

Isovolta (which provides technical composites for many industries including solar and aircraft)
In recent years Fundermax, the leading specialist in central Europe for manufactured wood products and decorative laminates, has also expanded worldwide. We have opened new branches in France, India, and Spain between 2006 and 2012. The business also moved into the North American market when it opened a Charlotte headquarters.
After all, demand for phenolic paneling is estimated to increase.
Transparency Market Research (TMR) attributes the market growth primarily "to rise in the utilization of cabinets and ready-to-assemble furniture and floorings."
Per TMR, in North America, the primary market for phenolic panels is commercial construction. Yet in Europe the commercial sector is behind the high demand for these innovative and versatile laminates. Meanwhile, in developing countries the construction industry is recognizing the value of high quality high pressure laminates.
The Benefits of Fundermax HPL Panels
Fundermax HPL compact panels provide many advantages.
Stable panels are subjected to rigorous resistance testing — whether its moisture, UV, temperature, fire, scratches, graffiti, impact or more, phenolic panels can withstand the worst
Double-sided panels are manufactured with attention paid to reducing carbon footprint and hazardous wastes

Phenolic panels come in a broad range of colors, materials, surfaces and texture designs – including superior wood grains

Flexible fastening systems make panels easy to install and maintain

Interior lining and exterior cladding meet LEED and other regulatory standards

Customization is available with graphically printed panels
Be as imaginative as you dare dream with Fundermax phenolic panels.
Why Choose Fundermax for Phenolic Panels?
Funder began as a family business. Today, there are more than 1,000 employees at the headquarters alone. Yet the company remains rooted in its core values:
Trust

Honesty

Transparency

Partnership

Respect

Responsibility

Teamwork
ISO-certified in several international standards, Fundermax focuses on reliability, innovation, and sustainability.
As our products cross over in several industries — from lab workstations to commercial building rain facades or interior restroom partitions or lockers — Fundermax partners can share R&D and learn from each other to always be innovating.
As for sustainability, Fundermax phenolic panels originate from natural fibers. Our raw renewable material panels consist largely of by-products of sawn lumber production or of sawmills that are processed into "kraft papers." Fundermax sources its materials from Forest Stewardship Council standards (FSC®*) or PEFC™-certified vendors.
Fundermax also prioritizes sustainability throughout all its processes. Production is a closed cycle to prevent pollution and reduce waste.
Our St. Veit an der Glan and Neudörfl factories even generate certified green electricity to support our needs and those of the surrounding community.
You Can Trust The Fundermax Name
All this helps explain why Fundermax is a name that people in the industry trust.
Our wood-based materials and compact laminates are resource- and environmentally-friendly. Our customers count on us as a production facility, a service partner, and a design laboratory offering reliable, high-quality phenolic panels.
Whether our panels are put to use in the residential buildings of France, the laboratories of Asia, the furniture of Italy or the building exteriors of the United States, Fundermax always brings the same commitment and passion to its solutions and materials.
When you specify Fundermax, you know you're getting a name you can trust to last and look great too.