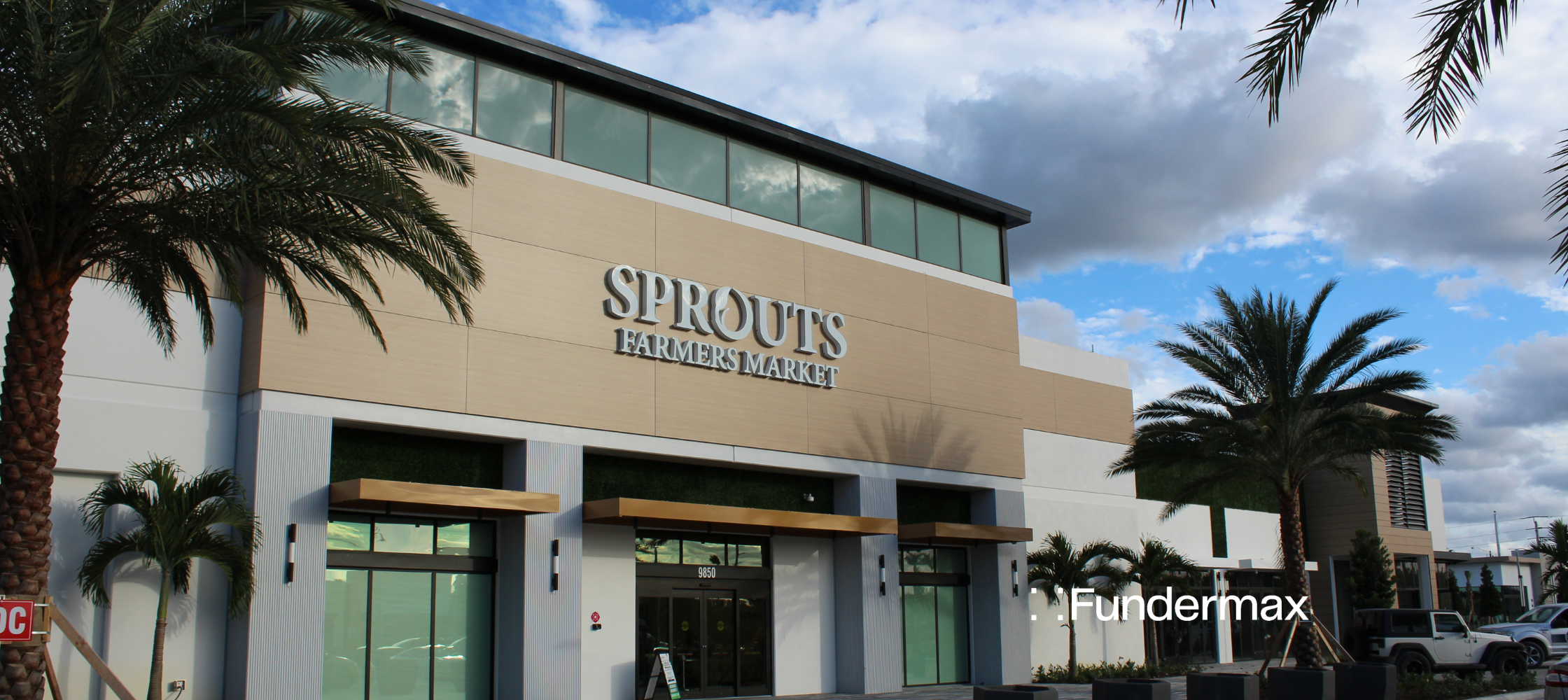 Why Building Owners Should Choose Fundermax Phenolic Panels
Phenolic panels can be used for a wide variety of exterior and interior applications. The benefits of this material include versatility, durability, and sustainability, which have led to its rise in popularity among architects and building owners alike.
From aesthetic reasons to financial, and from immediate advantages to long-term, phenolic panels benefit people in virtually every role of designing, constructing, maintaining, and occupying a building.
In this article we will focus on the five key reasons why building owners should choose phenolic panels for their wall cladding material.
What are Phenolic Panels?
Phenolic panels (also called high-pressure laminate panels or HPL panels) provide a creative and technical solution for interior and exterior construction and design.
These solid compact boards are manufactured with natural core materials, decorative layers, and thermosetting resins cured under high heat and pressure.
The result is a highly resistant architectural panel that is crafted for ultimate durability with maximum design freedom. Phenolic wall panel systems provide a versatile and sustainable option for building owners worldwide. (Review this article for a more detailed look at how HPL panels are made.)
Who is Fundermax?
The root of Fundermax's strength is our well-researched and thought-out wood-based materials and compact laminates. Our high-quality interior, exterior, and laboratory phenolic panels are used worldwide. Fundermax headquarters are located in Austria, and there are branches across the globe including in France, India, Spain, and North America.
With over a century of experience, we are much more than just phenolic panel manufacturers; Fundermax operates as a production facility, service partner, and design laboratory. Our strength in all three areas results in top-notch performance for each and every project.
Fundermax's commitment to provide the very best service and support in the industry drives us to continually innovate to meet evolving market demands. We are proud to be one of the world's most trusted phenolic panel manufacturers, providing high-quality interior, exterior, and laboratory phenolic panels to our customers around the globe.
​​
Five Benefits of Fundermax Panels to Building Owners
1. Total Cost of Ownership
When building owners learn the lifetime costs of phenolic panels compared to other materials, they tend to sit up and take notice; that's because owners, perhaps more than anyone, recognize that assessing the total cost of ownership (TCO) is essential for making smart purchases and getting the most value for your dollar. Owners who consider only upfront prices leave themselves wide open to hefty maintenance and/or replacement expenses and more.
Therefore, one of the main benefits of phenolic panels for building owners is the investment value, which is realized in the TCO. The durability, longevity, and minimal maintenance involved with a phenolic wall panel system reduces lifetime costs in a way that greatly benefits building owners; so much so, the total cost of ownership for Fundermax phenolic panels is very nearly equal to the initial purchase price. How? Consider the following:
Fundermax phenolic exterior wall panels
are resistant to all forms of weather, from hail to wind to sun exposure and temperature changes

have a Class A fire rating

have a 4-5 greyscale rating (the industry standard is only 3) which certifies their colorfastness when exposed to weathering

include a polyurethane acrylic surface that is 5x thicker than comparable products from other phenolic panel manufacturers

have a longer lifespan than other wall panel materials (and thanks to their durability and colorfastness, they continue to look new for longer too)

are exceptionally durable, even down to high-traffic, sidewalk level installations.
Bottom line: Fundermax's high-quality phenolic wall panels are worth the investment because, thanks to their superior longevity and durability, the lifetime costs are significantly lower than other materials. For more details on calculating lifetime costs of phenolic panels, see this article.
2. Can Contribute to LEED Certification
LEED stands for Leadership in Energy and Environmental design, and accounting for products that help contribute to LEED certification is an important matter for building owners. Whether the goal is to maximize tax benefits available on LEED-certified buildings or to simply do the right thing regarding sustainability, using materials that meet LEED standards can help accomplish both.
While many of today's projects require LEED certification, even those that don't will still benefit from Fundermax's sustainable HPL panels. LEED-certified properties save on operating and maintenance costs, and they also tend to command higher rental rates by appealing to today's eco-conscious consumers.
At Fundermax, we believe it's important to not only account for LEED but to do the right thing; luckily our panels do both. In addition to ethically sourcing renewable raw materials, Fundermax uses closed loop production cycles, and we own our own power-generating facility where the off cuts of our material are used to provide heat to thousands of households in Austria. Read more here.
3. Longevity & Low Maintenance
Due to the extraordinary durability of phenolic panels, maintenance is only a minor consideration for building owners who choose phenolic wall cladding. HPL panels are scratch-, impact-, graffiti-, and weather-resistant, and they see minimal fading over time; this means that maximum longevity can be achieved with minimal maintenance.
Phenolic panels offer unparalleled product longevity thanks to the material composition. For example, Fundermax panels do not delaminate; delamination of our compact phenolic panels is actually impossible!
After curing the core layers and thermosetting resins under high heat and pressure, the resulting HPL panels are non-porous, homogeneous boards. That means there are no longer any separate layers, and there is nothing to separate or delaminate.
Panel longevity isn't the only reason why building owners should choose phenolic panels. Consider the protection such a durable material offers the building structure itself. In fact, high-quality phenolic wall cladding has a lifespan of 40-60 years. That's a lot of protection for a structure – and peace of mind for an owner.
4. Cleanability
Since HPL panels are nonporous, when fungus, dirt, and dust particles make their way onto the panel surface, they can normally be removed by rinsing with water. Rainwater actually serves as a self-cleaning method for an exterior phenolic wall panel system! Compare this to a highly porous building surface that requires abrasive cleaning treatments like sanding, grinding, or blasting to remove dust and fungus, which strongly adheres to such surfaces.
In cases of stains or graffiti where water alone won't suffice, high-quality phenolic panels like Fundermax can tolerate harsh solvents – including acetone – without damaging the nonporous panel.
Not all phenolic panels can tolerate such harsh chemicals, though, so always reference manufacturer specifications for precise details. Note that abrasive-coated scouring pads and powders should not be used on phenolic panels, as they may permanently scratch or dull the high-pressure laminate surface.
5. Warranty
A warranty testifies to a manufacturer's confidence in its product. No matter the industry, the most important thing about a warranty is the consumer's protection from defective products and the assurance that a product will meet certain standards. When comparing manufacturers' warranties, it's essential to look for the length, limitations, and fine print.
At Fundermax, we confidently stand behind our products with a 10-year industry-leading warranty that covers material AND labor, and our U.S. Fundermax exterior warranty applies to any décor and any application, including vertical and horizontal applications (such as a roof application).
Furthermore, while our U.S. exterior warranty is the best in the industry, there have been virtually no Fundermax warranty claims – yes, nearly zero warranty claims on our U.S. exterior phenolic wall panels – which further supports the confidence that we and our customers can have in our products.
We understand that there are many different materials and manufacturers to consider for your project; that's why we created a resource to help building owners compare Fundermax HPL panels to others on the market. We hope to provide the information you need to determine the best option for your building. Download our newly updated Phenolic Panel Comparison eBook and check it out for yourself.