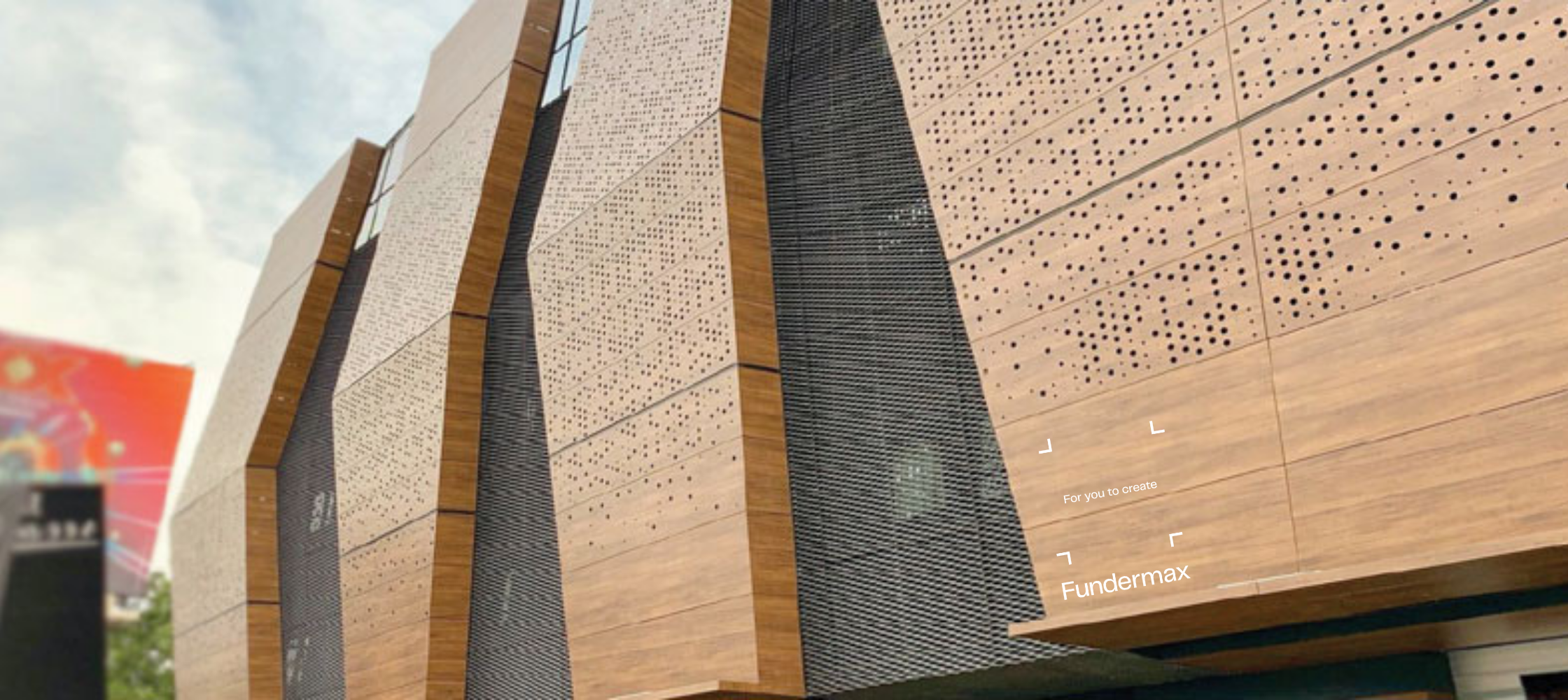 Phenolic Panels: What They Are & Why You Need Them
Phenolic panels are currently on a trajectory path to rising within the market. Industries such as construction, education, transportation, laboratory, and defense are turning to high-pressure laminate panels for sustainability, durability, and high quality.
To make the right decision for your project, you need to understand what are phenolic panels and why they're needed.
Fundermax has been an industry-leading, global leader in the building products industry for over 130 years. With our headquarters in Europe and North America architects, designers, and builders are revamping the benefits of phenolic panels.
What Are Phenolic Panels?
Phenolic panels (also called high-pressure or HPL panels) are highly resistant architectural panels made of natural core material layers and thermosetting resins, manufactured under high pressure and temperature.
Crafted specifically for durability with unlimited design freedom, phenolic wall panel systems provide both versatile and sustainable options for architects and designers globally.
How Are Phenolic Panels Made?
1. Kraft Paper
This specially selected core paper with precise parameters for color, weight, and tear strength is sourced from raw materials from vendors certified according to Forest Stewardship Council standards (FSC) or PEFC™. The foundation of its strength comes from long fibers within kraft paper that allow the paper to be impregnated by the resin in step two.
2. Phenolic Resin
The core papers are impregnated with two of the most important resin types in HPL panel creation; melamine, and phenol. These resins allow the layers to be joined together long-term with bound strength. Most high-pressure laminates basis is a phenolic resin. Phenolic resin can mix with flame retardant additives which keeps the panel core flexible. This is essential when it comes to the bending strength of phenolic cladding panels.
3. Layers
After the impregnation of core papers with phenolic resin, they are dried, cut, and placed on steel plates. The specified panel thickness determines the number of core paper layers needed.
4. Pressure + Heat
After stacking, the panel is pressed between two heated press plates. The thermosetting with symmetric pressure and consistent heat guarantees an appropriate joining of resin-impregnated paper layers and creates irreversible bonds that contribute to the phenolic panel's durability.
What Are The Benefits Of Phenolic Panels?
The primary benefit of multi-material compatibility is design versatility. No matter the creative thinking and motivation towards combining material, you can expand visual aesthetics rather than being limited.
Design Flexibility
Fundermax has been creating high-pressure laminates for more than a century as one of the industry-leading manufacturers globally. Fundermax is committed to providing the highest quality phenolic panels that allow free range in flexibility while maintaining design-focused. Check out our case study, Ash Street + Studio 84, on wall and roof panels.
Versatility
In a humid weather environment, they are a good architectural choice for rainscreen facades and cladding. They are also a good option for interior applications where they are exposed to high humidity levels, such as in washrooms.
The panels are also ideal where they are in permanent contact with any solvents or chemicals, such as lab worktops or other lab surfaces.
Another good reason for using them in a laboratory setting? The panels are also anti-microbial.
Sustainability
Fundermax phenolic panels do not contain organic halogen (or chlorine, fluorine, bromine, etc.) compounds, which are found in greenhouse gases, or PVC. They contain neither asbestos nor wood protection agents (fungicides, pesticides, etc.), and are free from sulfur, mercury, and cadmium.
Because they are non-porous, the HPL phenolic panels are moisture resistant and well suited for any applications where they are in contact with water or steam.
Longevity and Durability
Phenolic panel non-porosity also makes them graffiti resistant, very easy to clean, and resistant to UV rays, preventing the panels from fading in color. They are suitable in extreme weather conditions and can tolerate a temperature range from -112F to +356F.
Ease of Installation
The reinforced strength of the phenolic panels makes them very easy to fabricate and easy to install, by using different fastening types. It also makes them resistant to scratches and impacts.
Code Compliance
Fundermax also has created HPL phenolic panels that are fire resistant and flame-retardant, in compliance with NFPA 285, with a
noncombustible panel option
for higher demands. When it comes to
code compliance for HPL
,

we strive to go above and beyond.
What Type Of Applications Should You Use Phenolic Panels For?
Durable, high-quality HPL phenolic panels are well suited for several interior and exterior applications.
Exterior
The panels are an excellent option for rainscreen façades, where they help create a durable and energy-saving envelope for the building with an aesthetically pleasing design. Phenolic panels can also be used for soffits, balconies, signage, deck flooring, furniture, and many other exterior applications. With an 11-month timeline from design to completion, Lockhart Stadium + Perez & Perez Architects used Fundermax panels to achieve their ambitious stadium project for inter-Miami CF. Read more at our case study!
Interior
For interior use, they are an excellent choice for wall lining, bathrooms, lockers, lab work surfaces, furniture, and other interior applications.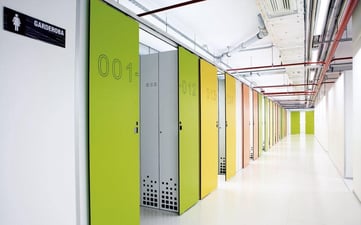 Meeting such a broad range of application needs, phenolic panels are gaining ground in various industries such as education, healthcare, residential and mixed-use, office, transportation, lab, government, and many more. The many benefits are clear.
Identified by Markets and Research as one of the industry's key players, Fundermax has an extensive history of providing creative and technical components offering a positive change in the way exterior and interior structures are designed and built.
Laboratory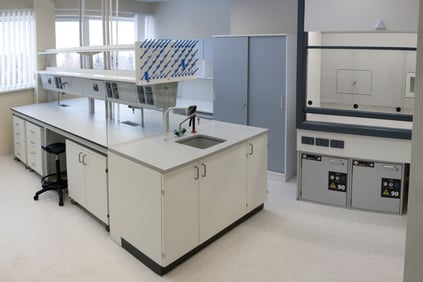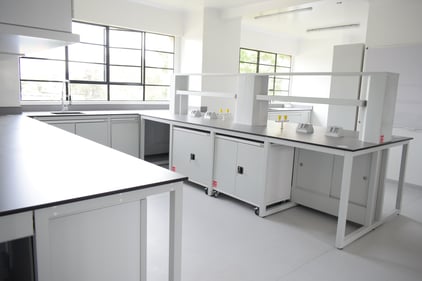 With a wide range of thickness options, our lab work surfaces are perfectly suited for fume hood decks, casework, and more because of our phenolic resin panels. Fundermax offers three options for interior laboratory materials from the base level to superior lab grade.
Why Choose Fundermax Phenolic Panels?
The rise of phenolic panel system use in the United States is an exciting development for architects and designers. According to Research and Markets, "The global phenolic panel market size is projected to grow from USD 1.7 billion in 2020 to USD 2.4 billion by 2025, at a CAGR of 6.5% during the forecast period,"
The research firm also found:
Construction is the fastest-growing end-use industry of phenolic panels in terms of value

Interior application

is the largest segment of the market in terms of value

Sandwich type is the fastest-growing application segment of phenolic panels in terms of value

Class A phenolic panel is the fastest-growing segment of the phenolic panel market in terms of value

North America

is the fastest-growing phenolic panel market
At Fundermax, innovation is one of our core values. We strive to rise above and beyond. From sustainability to versatility phenolic panels add value to any project. For more information on phenolic panels and how they can contribute to the design and success of your project, contact us today!