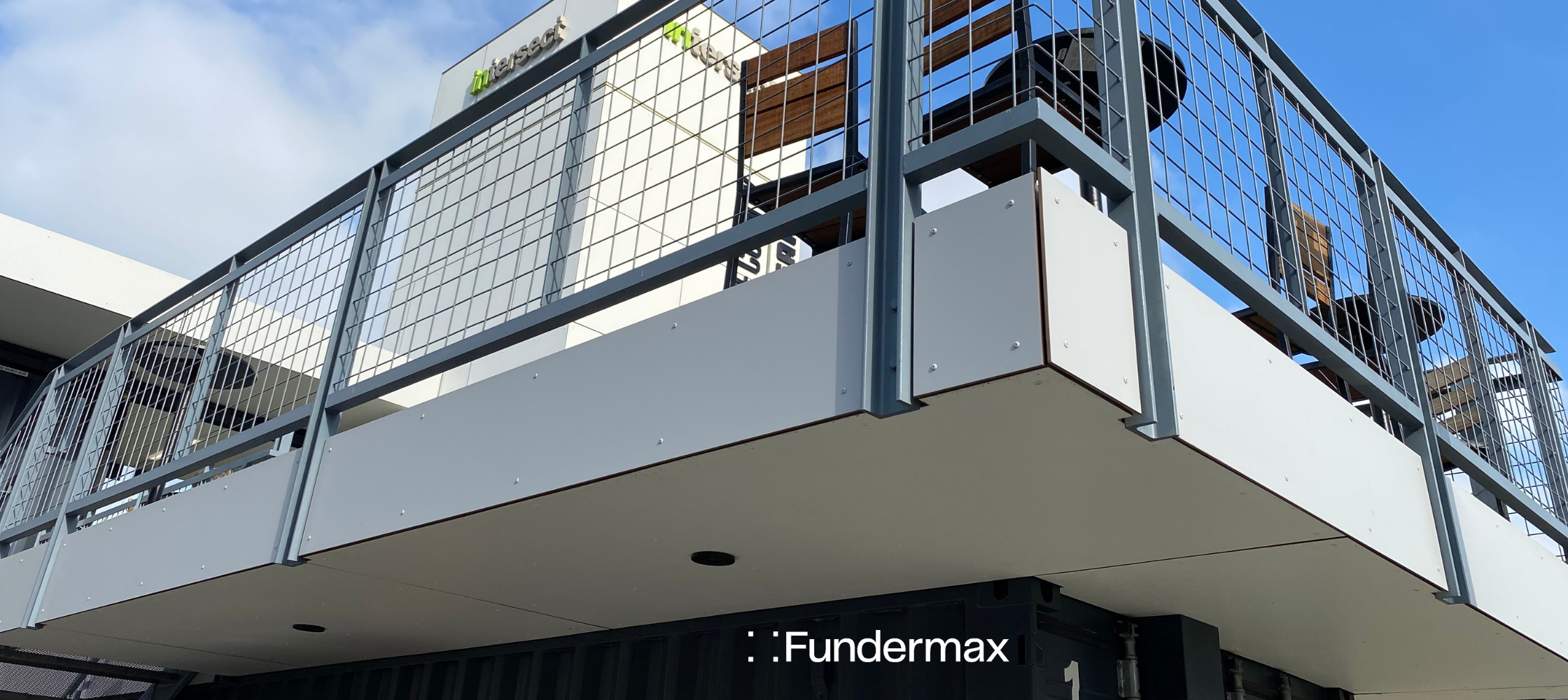 Why Air Gaps and Joint Spacing Are Vital to a Phenolic Wall Panel System
When installing phenolic wall panel systems, particularly rainscreen façades, incorporating air gaps and joint spacing are an industry standard. However, as a global leader among phenolic panel manufacturers, we have noticed that there is not widespread understanding of why air gaps and joint spacing are vital in phenolic panel applications.
There is much to appreciate about phenolic cladding panels, and we believe one key to that appreciation is understanding what air gaps and joint spacing are, why they are necessary, and a few other factors that promote the effectiveness of a phenolic wall panel system -- including how they help prevent panels from warping.
What is an Air Gap?
An air gap is the open space behind a wall panel system that allows air movement behind the panels, preventing moisture, mold, and damage to your insulation and structural wall. This includes having a point of entry and escape for the air at the top and bottom of the cavity.
The best way to defend against moisture migration is by installing a wall system that not only drains, but also ventilates; this is called a rainscreen system. Air gaps are an industry standard for wall panel installation, especially with rainscreens.
Why Are Air Gaps Necessary?
Air gaps are vital to ensuring there is airflow on the front and back of the panels. This airflow helps prevent panel warping by equalizing pressure and providing space for the panels to move without pressing on each other.
In order to optimize the effectiveness of a phenolic wall panel system, care must be taken to control the amount of air space, or the size of the air gap. When building code compliance comes into play for installations above a certain height, there is a maximum amount of air space allowed, which is also an important consideration.
Air gaps help to avoid the prolonged formation of condensation in a rear ventilated facade, by ensuring a constantly functioning ventilation. The free vertical ventilation gap must be at least 200 cm²/m and for aluminum substructures a free minimum cross section of 150 cm²/m is required for inlet and outlet openings. To enable a vertical flow, the support profiles must always be aligned vertically.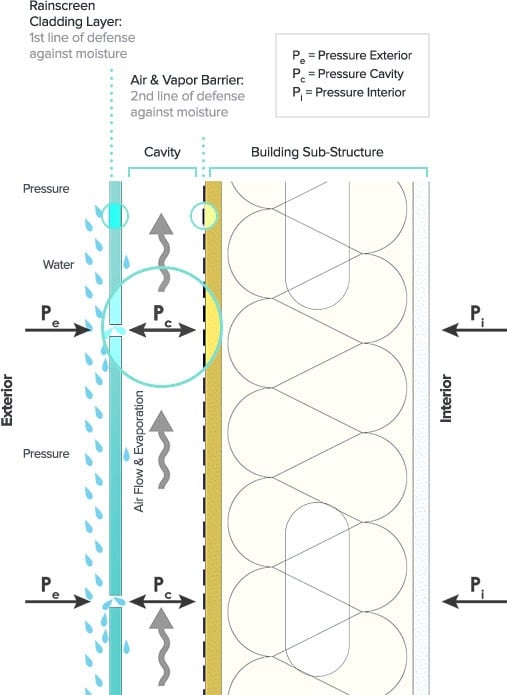 It is worth emphasizing that moisture is found in the air; we're not just talking about rain. That means air gaps are essential for interior phenolic panel applications as well.
There is humidity present, even indoors, although it's typically less noticeable due to HVAC systems. When installing an interior phenolic wall panel system, it is still important to have at least a ⅜" air gap at the top and bottom of the cavity to allow for ventilation through air entry and escape, and give the proper joint spacing for expansion and contraction.
Consider when the sun shines through windows and hits the interior walls; or when the air conditioner is on high, and moisture builds in windowed areas due to the temperature contrast. Also, if you are offering amenities such as a shower, bathroom, gym, lockers, etc. it's important to account for humidity and heat. That is the purpose of the air gap.
What is Joint Spacing?
Joint spacing refers to the space in between the panels that allows for expansion and contraction to further ensure the panels don't warp. There are two types of joint systems: closed and open.
Closed Joint System
In a closed joint system, you cannot see behind the joint. Closed joint systems are well suited for high traffic areas like schools, because no one can access the space behind the wall panels.
For example, at a school, children would not be able to slip something through the joints. This type of system can also be more aesthetically pleasing in applications where the joint system will be highly visible.
This Maryland Sheraton Hotel features Fundermax exterior phenolic cladding panels installed in a closed joint system utilizing our Modulo fastening system.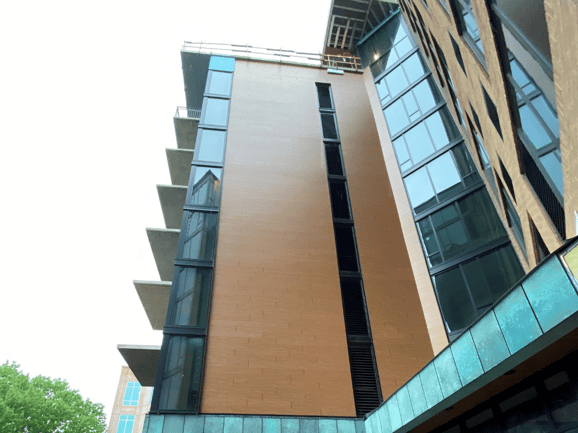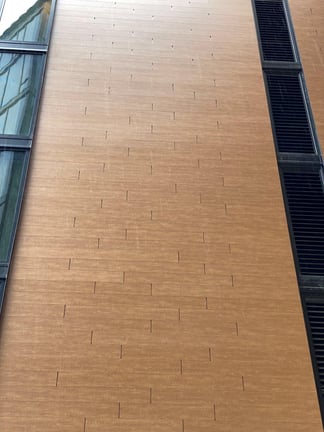 At this New York YMCA, Fundermax exterior phenolic wall panels are installed in a closed joint system achieved with our Scaleo fastening system.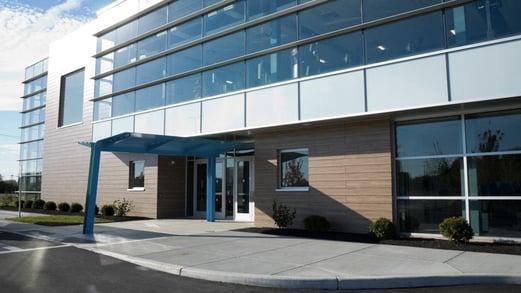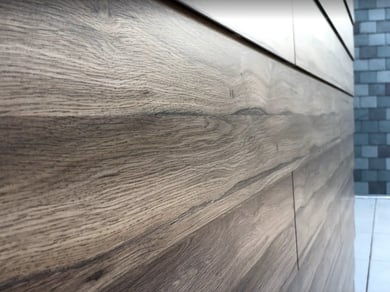 Open Joint System
In an open joint system, when up close, you can actually see behind the joint. However, from a distance or on a large scale, open joints are not very noticeable. Depending on the mounting system used, the joints may or may not allow you to see the cavity space behind. Additionally, an open joint system allows for more movement, which means the design can utilize larger panel sizes.
Fundermax exterior phenolic wall panels are installed on this Massachusetts courthouse in an open joint system with concealed fasteners.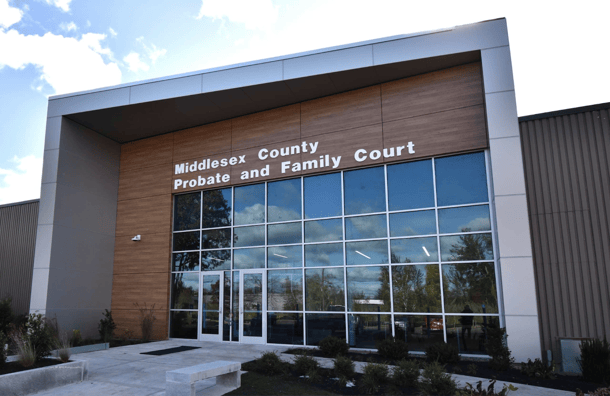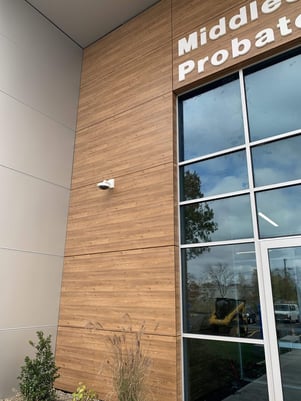 At Hangar 24 Taproom in Irvine, Calif., Fundermax exterior phenolic cladding panels are installed in an open joint system using color-matched, exposed fasteners.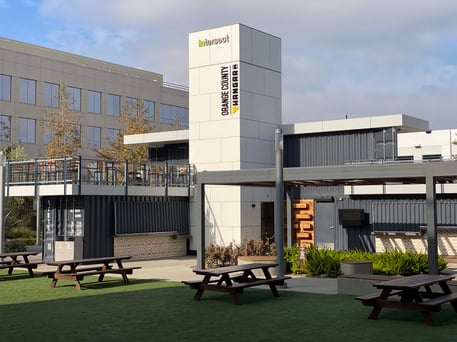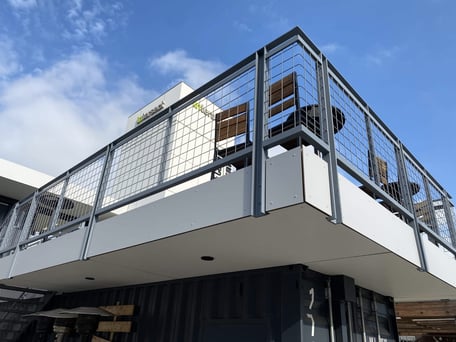 What Prevents Panel Warping?
HPL panels are 65% paper (wood), so it is important to keep in mind that the airflow and joint spacing is critical to keeping the panels flat. Wood based products will naturally expand and contract based on moisture and humidity.
Panel warping can be prevented by allowing air gaps for airflow and ventilation and joint space for the expansion and contraction that naturally occurs with phenolic resin panels.
Below, you can see the difference between installation with insufficient joint spacing (Left) vs installation with proper joint spacing (Right).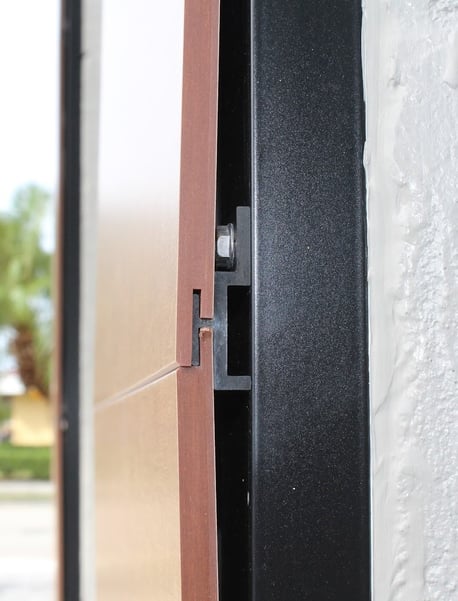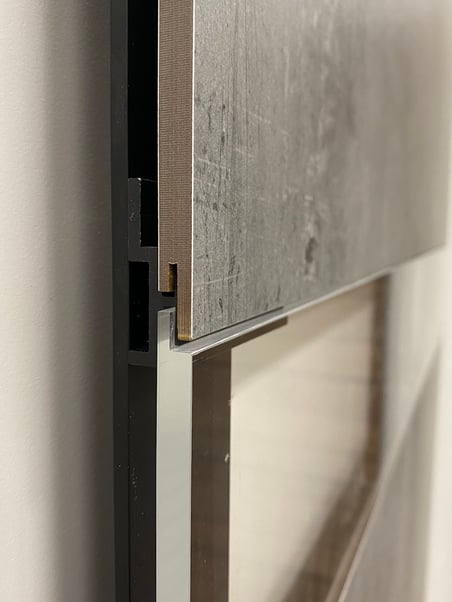 It is also extremely important to have one fixed point and the balance of the holes in the panels be sliding points when installing both interior and exterior phenolic wall panels.
Fixed Point
The fixed point is the screw that has the precisely sized hole in the panel for the screw and is a perfect fit so the screw is tight. This ensures that the panel expands from where we want it to within the sliding points.
Sliding Points
The sliding points are the other screws that have slightly oversized screw holes to intentionally allow for movement and expansion of the panels.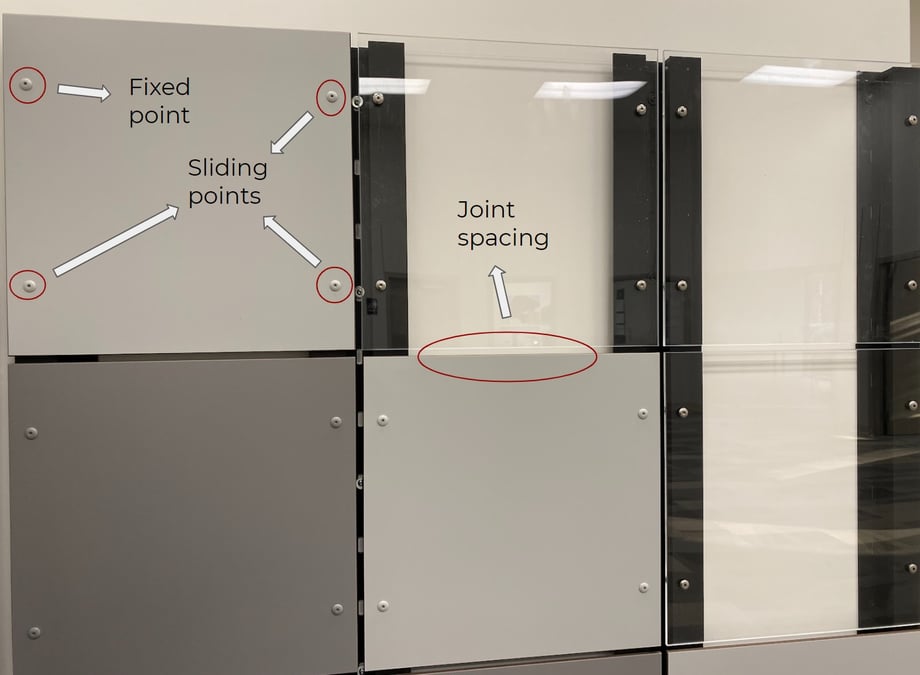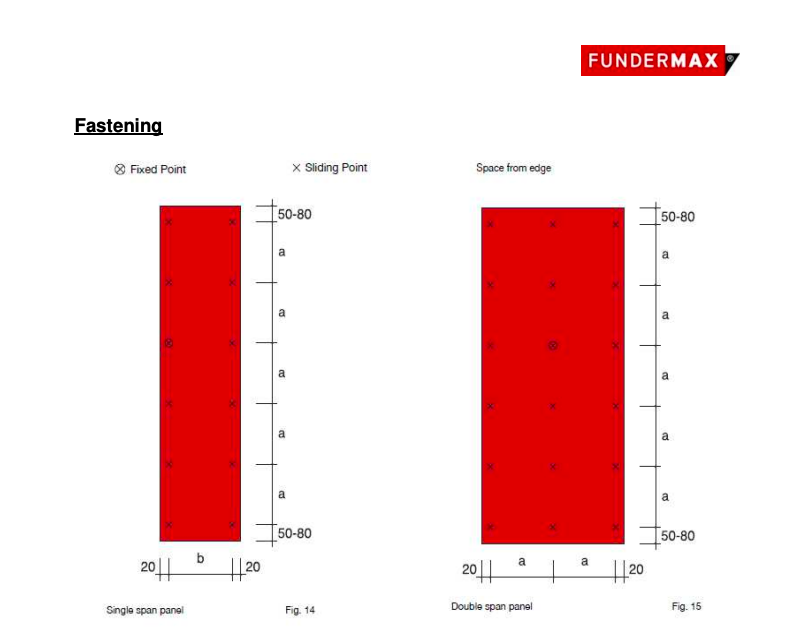 This article provides more detailed information about how to install phenolic panels.
To learn more and see the technical specifications showcasing installing rainscreen facades with an air gap, joint spacing, fixed point, and sliding points, download the full Technique Exterior brochure here.
Although the notion of strengthening a wall system by intentionally including gaps in it certainly sounds counterintuitive, wall panel systems with proper air gaps are a proven solution that will help extend the life of your building and design. For more information about phenolic cladding panels, contact Fundermax today.