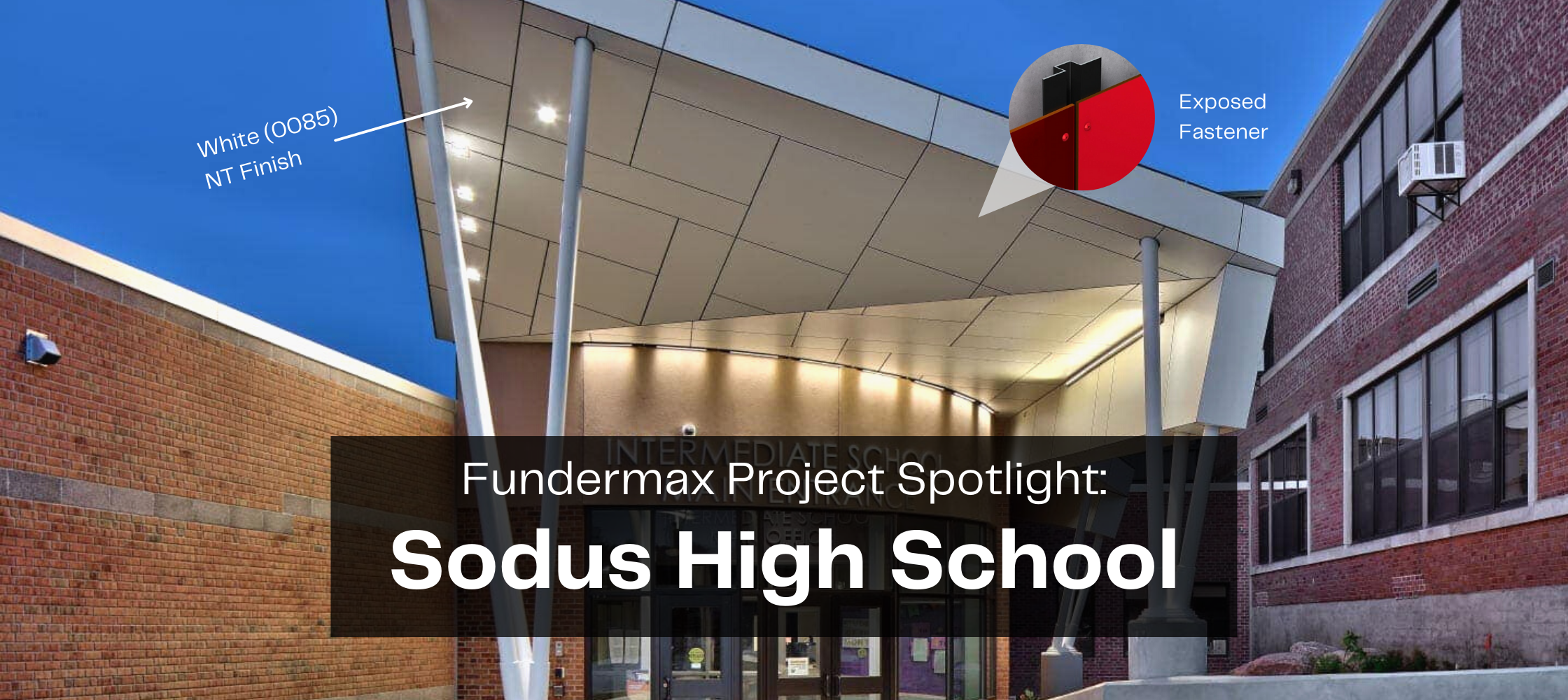 Project Spotlight: Sodus High School
The Sodus High School project is one of the first instances in North America of phenolic cladding panels being used as a roof material.
While this type of application is not new to Fundermax, it is relatively new to the U.S. and makes for one of our more exciting and unique case study examples.
Challenge: Security + Function

In 2019, Sodus High School in Sodus, New York, was due for some key structure and design updates. The immediate issue was the need for a secure entrance to their Intermediate School. This straightforward need served as a jumping-off point to exploring the functionality and design of the entry area in more depth.
The existing school entrance was marked by an underwhelming and deteriorating masonry canopy. The area also included the convergence of several different floor elevations, leaving an underutilized circulation space riddled with ramps and stairs.
This part of the school served many functions, including essential access for staff, students, and visitors as well as athletic venues, concession facilities, and more. Unfortunately, the space fell far short of its potential.
In addition to improved security and functionality, durability and longevity were high priorities. Due to the climate of upstate New York, which includes an average annual snowfall of 96 inches, the school district knew their project required durable materials that could withstand not only withering summer heat but also harsh cold and significant precipitation.
Solution: Renovation + Redesign
More than simply renovating, SEI Design Group and architect Gian-Paul Piane explored redesign options for the school's entrance. The redesign ultimately involved relocating the main office and re-grading the exterior; this reduced the number of floor elevations to a manageable two, and the change helped to organize and optimize the usability of the space.
In addition to added security, the changes made way for a proper, welcoming entrance for visitors to the facility. The entrance redesign and renovation included an innovative canopy made with Max Compact Exterior phenolic panels from Fundermax.
Sodus Central School District wanted to do something fun and unique with their renovation, which made this the ideal project for this type of application. The resulting phenolic panel canopy system was one-of-a-kind, creating two light, modern, and highly visible entry markers.
The canopy positioning over the roof of the existing structure allowed daylight to pass through, further enhancing the interior space while offering protection for the building.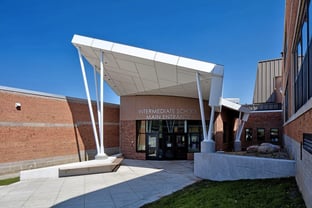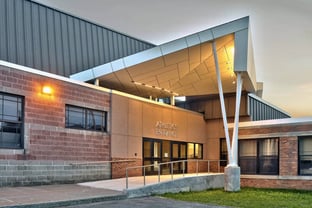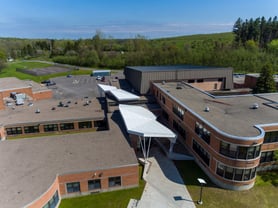 Using exterior phenolic panels to create the canopy structure involved essentially turning a rainscreen façade on its side. It has been well-established that rainscreen façades composed of phenolic cladding panels covers a building's insulation and manage moisture through drainage and ventilation.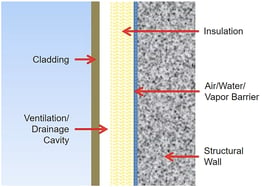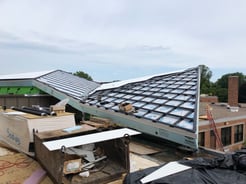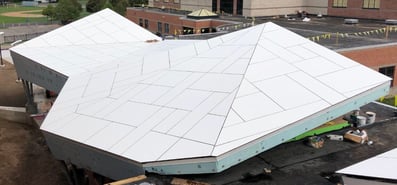 Results: Performance + Aesthetics
Architect Gian-Paul Piane reflects, "The Max Compact Exterior panels helped us transform what was an uninviting, deteriorating masonry entryway of the school into a highly modern canopy that not only enhanced the exterior aesthetics but also allowed for natural daylighting to improve the interior environment."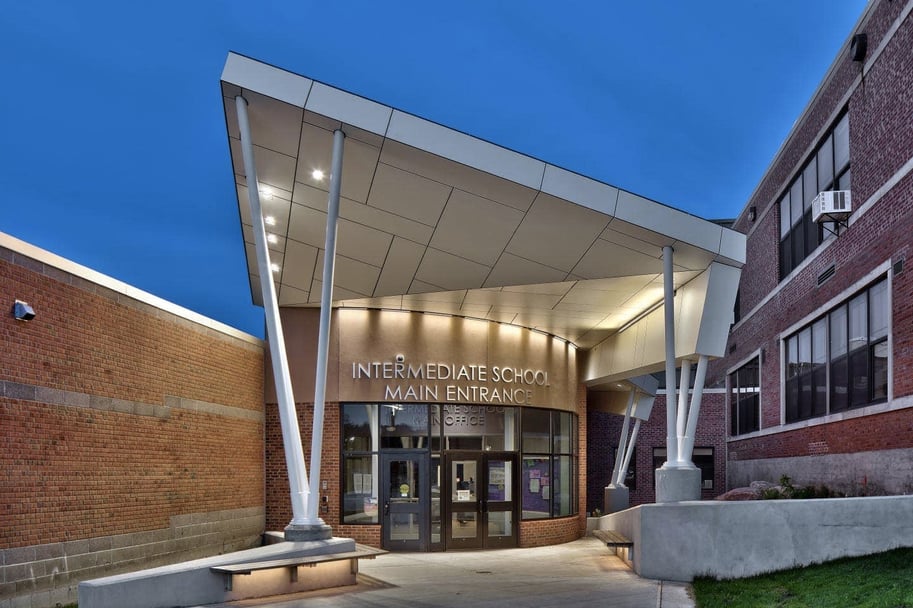 In addition to the show-stopping visual effect at ground level, this piece of architecture is also uniquely stunning when viewed from above. Its geometrical triangular pieces, corresponding as in a 3D puzzle, can be seen from the school's upper-level windows, appearing as the wings of a bird in flight.
Sodus City School District was specifically looking for a design solution that was "wild," "fun," and "funky." Their project is a beautiful example of Fundermax panels offering maximum design freedom right along with maximum product durability and longevity.

The Fundermax Difference
As mentioned earlier, this is one of the first phenolic panel system applications of its kind in North America. With the additional exposure to weather and UV rays that come with a roof/canopy application, the architect knew he must marry the canopy design with an adequate material option. The Fundermax exterior phenolic panel system offered both design freedom and material performance.
Furthermore, Fundermax phenolic panels are created to handle the increased exposure without limiting the product's warranty. Not all phenolic panel manufacturers' warranties will cover a roof or canopy installation of their product Fundermax's does.
Most phenolic panel manufacturers were not interested in this project, because it was a roof application. Not only was this type of application essentially unheard of in North America at the time, but most other manufacturer warranties would not cover this use of phenolic cladding panels.
Piane worked with Fundermax's technical director to optimize the usage of the phenolic panels, maintaining the integrity of the design while ensuring proper installation for maximum durability, longevity, and full warranty coverage.
Fundermax happily took on this project, and we are pleased to now be the school district and architect's go-to phenolic panel manufacturer. We are also excited to have another project already in the works that is sure to be another exciting HPL rainscreen case study.