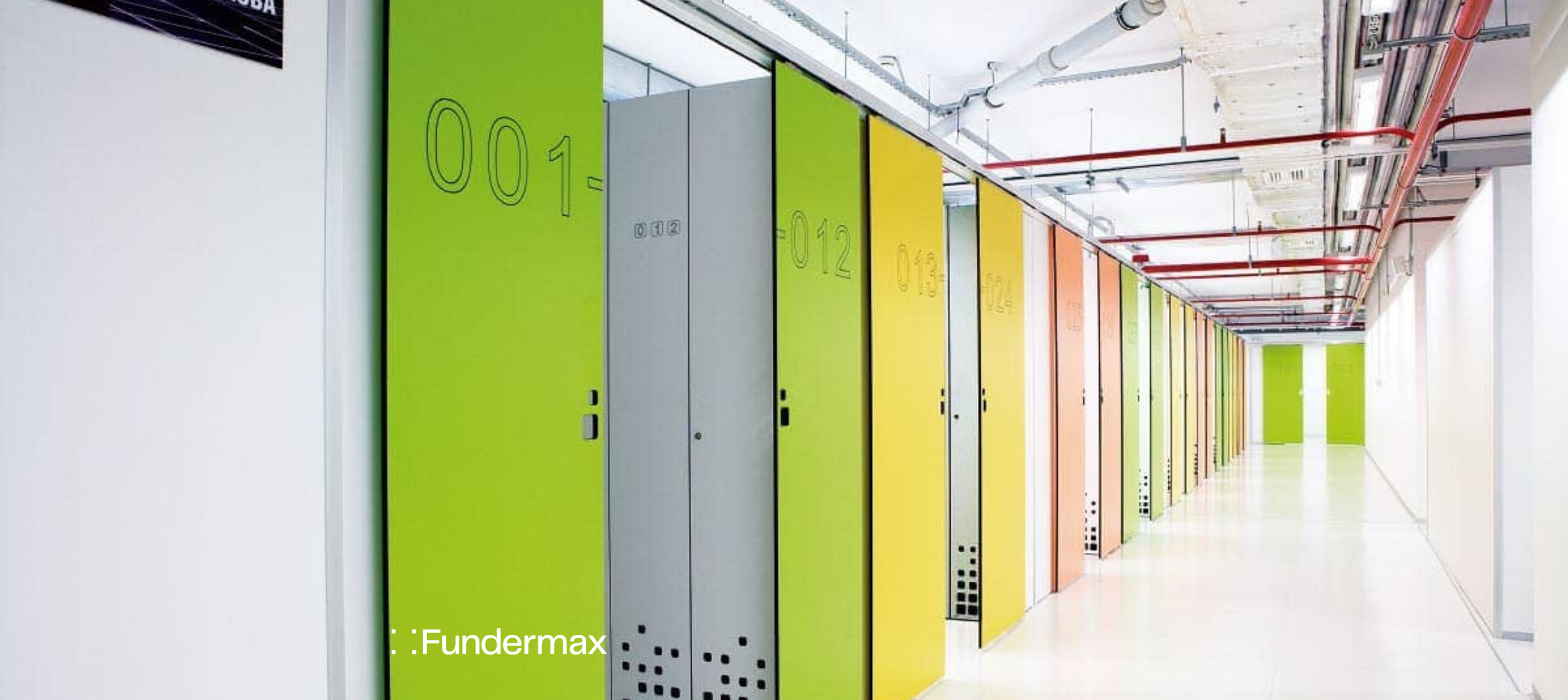 Phenolic vs. Stainless Steel vs. HDPE Bathroom Partitions
When designing public and commercial spaces, seasoned designers know that specifying commercial bathroom partitions is more than an afterthought. Bathroom partition walls have to meet high demands for function, and yes, they ought to support the space's appearance as well.
As a global leader in high-pressure laminates, it will come as no surprise that Fundermax is partial to phenolic panels. However, while we know phenolic panels through and through, we also remain familiar with adjacent materials in order to provide helpful comparisons between our products and others.
In this article, we will provide a look at three strong options for commercial bathroom partitions and the pros and cons of each.
Factors to Consider When Choosing a Bathroom Partition
When evaluating bathroom partitions for public and commercial restrooms, keep the following seven factors in mind:
Durability / Water Resistance

Fire Classification

Cost

Longevity

Sustainability

Appearance

Regulations and Code Compliance
Taking care to identify bathroom partition materials that meet high standards of both function and design, you find three primary options rise to the top: HDPE plastic, phenolic panels, and stainless steel.
What is HDPE?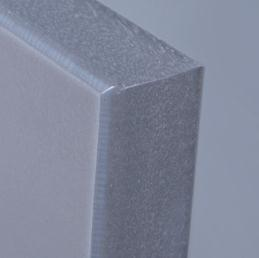 HDPE stands for high-density polyethylene. This material is made by applying intense heat to petroleum in a chemical process called cracking. The cracking process creates ethylene gas, whose gas molecules then group together to form polymers. The polymers in turn produce polyethylene in a sludgy state. After putting it through a number of molds, the sludgy polyethylene hardens into a strong plastic.
Usually, HDPE is used to create sturdy jugs that store liquids like bleach and laundry detergent. When used to create bathroom partition walls, the plastic is made thicker. HDPE's high strength to density ratio means that the thicker the material, the stronger it is.
Why Use HDPE as a Bathroom Partition?
Antimicrobial
Solid plastic bathroom partitions stand out because of their antimicrobial properties. Mold and mildew will not grow on solid plastic, making it an ideal material for public restrooms and commercial bathroom partitions which are susceptible to mold and mildew growth.
Low Maintenance
Solid plastic bathroom partitions require minimal maintenance. In addition to mold and mildew resistance, HDPE remains free from rot, rust, oxidization, and delamination. Quickly remove dust and loose dirt with a damp cloth and a mild cleaning agent; and when a rare stain occurs, non-abrasive and industrial strength cleaning products can be used without concern. Because the solid plastic is not porous, water can easily rinse off any cleaning product without damaging the material. Another benefit of the nonporous material is that it does not absorb odor.
HDPE Plastic Bathroom Partitions: Pros and Cons
Pros
Durable

Resists water and moisture

Resists mold and mildew

Resists stains and graffiti

Rust-proof

Does not de-laminate

Does not absorb odor
Cons
Expensive

Not fire retardant
What are Phenolic Panels?
Phenolic panels are also known as HPL panels (high-pressure laminates). High-pressure laminate panels begin as natural core material layers impregnated with thermosetting resins. These are cured under high pressure and heat to create highly resistant and versatile architectural panels. HPL panels provide maximum design freedom by offering high performance and abundant aesthetic options.
Specifically, Fundermax phenolic panel manufacturing begins with sustainable raw materials sourced from vendors certified according to Forest Stewardship Council standards (FSC) or PEFC™. Next, a proprietary phenolic resin is added to the kraft paper layers which are cured under high heat and pressure to create the panel core. The manufacturing process can be replicated to create a wide variety of panel decors and finishes.
Phenolic bathroom partitions have proven to be more durable than solid plastic.[1] The superior durability of HPL panels, even under harsh conditions, results in extraordinary longevity. The initial investment in phenolic resin panels is admittedly more expensive than other bathroom partition materials, but the higher price makes sense when considering the longevity of the product.
Like HDPE, phenolic panels are low maintenance, water-, moisture-, rot-, rust-, and odor-proof. HPL panels will not delaminate or peel, and they resist fading as well. HPL does not have the same antimicrobial properties as HDPE, but its durability includes chemical resistance that allows for virtually any cleaning product. High-traffic and vandalism-prone areas like public restrooms are no match for the graffiti-, scratch-, and wear-resistance of phenolic bathroom partition panels.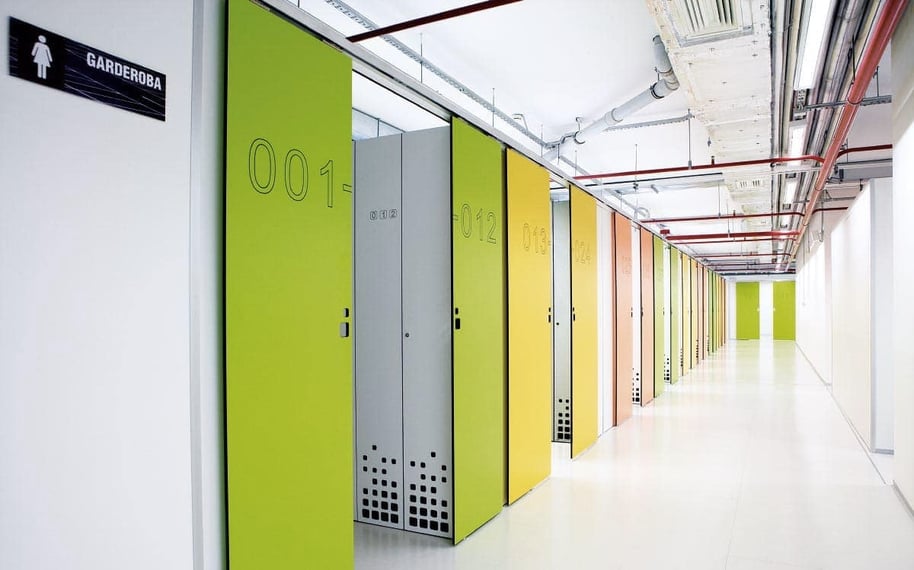 Why Use Phenolic Panels as a Bathroom Partition?
Flame Retardant
When safety matters, building owners choose phenolic bathroom partitions because they are flame retardant. Phenolic panels do not require additional layers of flame retardant substances or coatings.
Low Maintenance
As we mentioned above, maintaining high-pressure laminate bathroom partition panels is simple. Regular cleaning requires only warm water and mild soap, and the material's durability can withstand more thorough cleanings when necessary. (It is not advisable, however, to use bleach-based or abrasive cleaners.)
Phenolic Bathroom Partition Panels: Pros and Cons
Pros
Durable and wear-resistant

Resists water and moisture

Resists stains and graffiti

Rust-proof

Does not de-laminate

Does not absorb odor

Fire retardant

Wide variety of décor options
Cons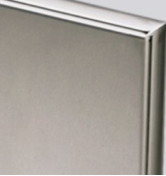 What is Stainless Steel?
Stainless steel is a corrosion-resistant alloy of iron, chromium, and, in some cases, nickel and other metals.[2] Stainless must contain a minimum of 10.5% chromium, but the exact contents and ratios vary depending on the grade and intended use of the steel. The specific composition, as well as the particular manufacturing process, will influence the characteristics of different stainless steel products.
Why Use Stainless Steel as a Bathroom Partition?
Aesthetics
Among bathroom partition materials, stainless steel offers a distinct aesthetic. Stainless steel bathroom partitions can complement a modern, industrial, or elegant design. The material is durable, resistant to vandalism, and easy to clean.
Durability
Stainless steel is durable and resists corrosion. However, it is important to note that while stainless steel holds up well under most conditions, it is not well-suited for high-moisture environments. It's true that the material's composition makes rust- and corrosion-resistant, but stainless steel bathroom partitions will rust if installed in showers.[3] If installed in the right space, stainless steel bathroom partition walls can offer great longevity; but if your space is a high-moisture environment, stainless steel is not the right choice.
Stainless Steel Bathroom Partitions: Pros and Cons
Pros
Durable

Resists rust and corrosion

Resists stains and graffiti

Does not de-laminate

Does not absorb odor

Fire retardant
Cons
Not suitable for high-moisture environments

Limited décor options
Consider the specific exposures in your facility to guide you toward the bathroom partition materials that will be not only the best design choice but also the best financial investment. Contact us today to discuss the best solution for your next project.
---