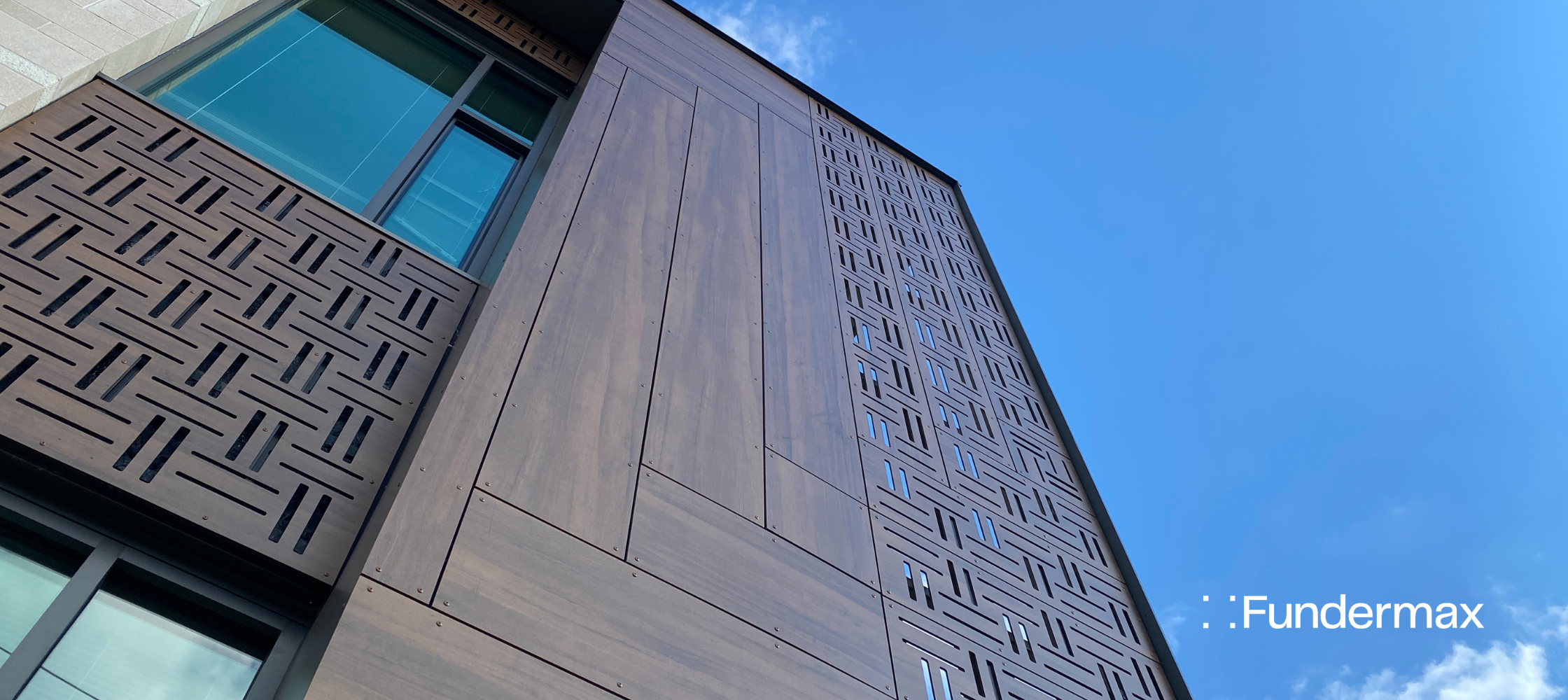 Using Phenolic Panels for a Perforated Design
Exterior architecture has been heavily influenced by perforated design with beautiful and exciting results. Various takes on perforated building facades even made The Architect's Newspaper's list of enclosure trends of the decade. Perforated designs are commonly achieved using Aluminum Composite Metal (ACM) panels. Using metals of any type is very popular in construction today, and many times, architects choose ACM panels because the material is well-known and feels familiar.
But just because something is more familiar doesn't necessarily mean it is the best choice.
Architects and designers consistently face the challenge of leveraging high-performance materials without compromising high design. Incorporating perforated architectural elements into a design is certainly no exception. The good news for today's architects is that phenolic panels can be used in perforated designs. Architectural perforated phenolic panels open the door to exciting, unique, and modern design while retaining all of the performance benefits of high-pressure laminates.
Benefits of Phenolic Panels for Exterior Wall Cladding
Versatility & Design Freedom
Fundermax works hard to offer the highest quality phenolic panels while remaining design-focused. We manufacture our phenolic panels to meet the needs of an architect's specific design according to their original intent. Fundermax architectural phenolic panels can be used for all types of applications to ensure maximum flexibility for an architect's vision and, meanwhile, continue to deliver panel durability and longevity.
Longevity & Durability
Easy-to-clean, impact-resistant wall panels are absolutely essential to avoid the high costs of replacing or maintaining wall panels made of other, less durable materials. With phenolic panels, architects can even extend perforated wall panels at sidewalk level below ten feet without concern. Phenolic panels are manufactured for ultimate durability, resulting in unparalleled product longevity, and even better, maximum longevity (40-60 years!) can be reached with minimal maintenance.
Code Compliance
Offering code-compliant products is a big deal at Fundermax. So much so that we invested in a full ICC Evaluation Services Report for our Max Compact Exterior phenolic wall panels even before high-pressure laminates were included as a specific segment of IBC Chapter 14. Additionally, our phenolic panels meet ICC AC92 Testing Criteria, which remains far beyond the minimum IBC Code requirements for HPL. (You can review this article for more details on why testing and compliance are such a high priority.)
Sustainability
Fundermax maintains a company-wide commitment to operating in a responsible manner, and we demonstrate this in our ISO certifications. These certificates document the consistent way Fundermax has operated for decades, including our energy management, environmental efficiency, and the safe and healthy internal work environment we provide to our employees.
Additionally, Fundermax products may contribute to LEED standards in a number of categories:
Max Compact Exterior and Max Compact Interior F-quality panels are FSC-certified and consist of 65% natural fibers. This may contribute to MRc "Building Product Disclosure and Optimization Sourcing of Raw Materials" under "Leadership Extraction Practices."

Max Compact Interior, Max Compact Interior Plus, and Max Resistance2 contain 100% Post-Consumer Recycled Paper. These products contain 65% paper by weight and may contribute to MRc "Building Product Disclosure and Optimization Sourcing of Raw Materials."

Fundermax provides Environmental Product Declaration (EPD) and Health Product Declaration (HPD) Certificates.

The EPD may contribute to LEED MRc "Building Product Disclosure and Optimization Environmental Product Declarations."

The HPD may contribute to LEED MRc " Building Product Disclosure and Optimization Sourcing Material Ingredients."

Our GreenGuard certificates may also help your project gain IEQ credits.
Can You Add Perforation to Fundermax Panels?
Yes! You may add a perforated design to any type of Fundermax Max Compact panel. Perforated wall panels add texture and interest to interior and exterior designs. This is also a creative design choice with sunshades in order to allow more light while still protecting windows from the most intense sunlight.
Perforation Guidelines for Fundermax Panels
When designing perforated phenolic panels, consider the following guidelines:
Distance from the edge of the panel to the first machined area, minimum 60mm.

Distance between the perforations, minimum 30mm.

Spacing between holes should be at least 1.5X the diameter of the hole.

No 90-degree edges at any machined out areas; minimum radius of 5mm at every edge or corner.

Around the fixing points for rivets or screws, minimum 40mm diameter without any material removed.

Over 20% perforation will decrease the stability of the panel and may require reduced fastening distances.

When possible, perforations should be kept to 30% or less open area.

All patterns must be approved by the Fundermax Machining Center.

All perforated Fundermax panels are subject to review and approval by the Project Engineer.
Examples of Projects Using Fundermax Perforated Panels
There are a plethora of ways to use Fundermax panels, and we've seen an increase in perforated designs.
Below are some examples, but we'd also like to encourage you to watch our case study on D.C. Bilingual Public Charter School in Washington, D.C. The video is below, or you can watch the full longer version of our D.C. Bilingual Case Study on YouTube here.
.
At Fundermax, we pride ourselves in combining ultimate design freedom with unmatched product performance. We are more than phenolic panel manufacturers. We are dedicated partners who go above and beyond to empower and enable architects to create without limits.
Fundermax's team of experts will gladly review your CAD Drawings for any application. Our state-of-the-art CNC Processing Center can make your vision a reality. If you are evaluating the best panels for a perforated design, contact Fundermax today.