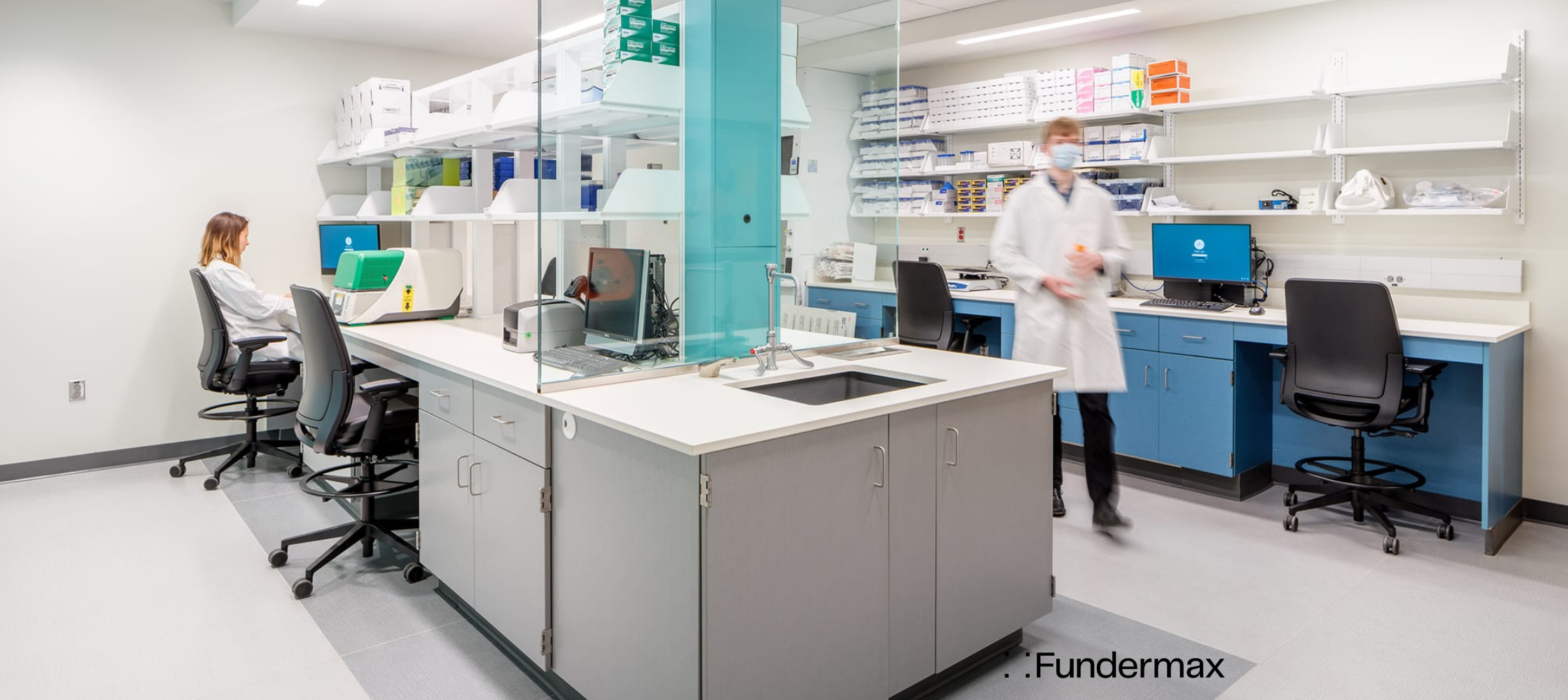 Benefits and Applications of Phenolic Panels in Laboratories
When selecting materials for laboratory applications, special consideration must be given to safety and performance, as well as design, functional flow, efficient access to disinfection stations and shared spaces, as well as zoning and occupancy.
Phenolic panels offer the durability and versatility required for the demands of laboratory use.
Why Use Phenolic Panels in Laboratories?
Laboratory material selection is largely based on specific design and application needs. When looking for a material that can meet the needs of most laboratory environments at a reasonable price point, phenolic panels (also known as high-pressure laminate or HPL panels) stand out as the best work surface for labs.
The major benefits of using phenolic panels in laboratories include:
Sustainable
Made of raw renewable materials, phenolic panels are the smart and sustainable choice for lab applications.
For over 130 years, Fundermax has specialized in processing renewable raw materials. Our interior panels and phenolic lab countertop panels are manufactured with 100% recycled core paper, keeping us a step ahead of other phenolic panel manufacturers.
Resistant
Most laboratory environments require materials that can withstand chemical, moisture, and heat exposure, and many require a contamination-free environment. Its highly resistant properties are among the top reasons to use phenolic panels in laboratories.
Consider the following features of Fundermax double hardened phenolic resin panels:
Non-porous and easy to clean

Anti-bacterial

Does not support micro-organic growth

Moisture-resistant

Heat-resistant

Chemical- and solvent-resistant

Stain-resistant

Scratch-resistant

Graffiti-resistant

Colorfast (fade-resistant)
Safe and Code-Compliant
Safety must be a consideration for any area, but especially in one as sensitive as a laboratory. For labs that require compliance with fire safety, combustion, and toxicity standards, phenolic resin panels are an excellent choice.
Phenolic resin panels are flame resistant and non-conductive, making them not only the best work surface for labs, but also the best choice for other laboratory applications like interior wall cladding, column cladding, and partitions.
Fundermax phenolic panels meet and surpass SEFA 3 standards for chemical resistance We have always been ahead of the curve among phenolic panel manufacturers when it comes to code compliance for durable high-pressure laminates.
Accessible and User-Friendly
Phenolic resin panels are lightweight, particularly in comparison to epoxy resin panels, making them more affordable to ship and easier to install. Additionally, Fundermax phenolic resin panels are stocked in the USA and come with a 10-year warranty.
Laboratory Applications for Phenolic Panels
Fundermax phenolic panels can be used for a wide array of laboratory purposes. We have four products designed for various functions in the laboratory environment:
Available in Color Through Core, these durable phenolic panels offer high quality and design versatility.
These phenolic panels were created for demanding applications such as laboratories, interior wall cladding, wet rooms, hospitals, hallways, nursing homes, etc. They have a double hardened, pore-free, sealed urethane acrylate layer.
The Interior Plus HPL panels are designed primarily for vertical applications in heavily frequented areas with more intensive cleaning or hygienic requirements, such as in hospitals, schools, and universities.
Also available in Color Through Core, these phenolic panels offer 25% higher impact and scratch resistance and 3x higher abrasion resistance compared to EBC or Melamine surfaces.
Max Resistance² also provides excellent heat and flame resistant properties, and it received zero level threes when tested to the SEFA 3 chemical resistance standard.
Max Resistance² offers chemical, stain, scratch, impact, and heat resistance; a phenolic lab countertop is also easy-to-clean and disinfect, making it the best work surface for labs and clinical settings.
This product utilizes customizable graphics, allowing a convergence of science and style.
While scientific methods are universal, every laboratory is unique. With brand awareness being ever more important, the range of Fundermax high-pressure laminate (HPL) printed panels can help architects and building developers provide a distinctive lab space while maintaining the durability required.
Examples of Phenolic Panels in Laboratories
While a phenolic lab countertop may be the most widely recognized use of phenolic panels in laboratories, consider these examples of phenolic panels serving all kinds of laboratory purposes.
Lab work requires precision; designing and building the space for that lab work requires the same attention to detail regarding compliance, chemical resistance, and contamination resistance, not to mention considerations for workflow and design aesthetics.
When considering the unique requirements presented by the laboratory environment, Fundermax phenolic panels make an excellent choice.
If you are designing a laboratory space, our experts are available to discuss the unique qualities of our surface technologies. Using examples of our various laboratory applications around the world, our team can help design a space suited for superior performance.
Contact us today for more information.