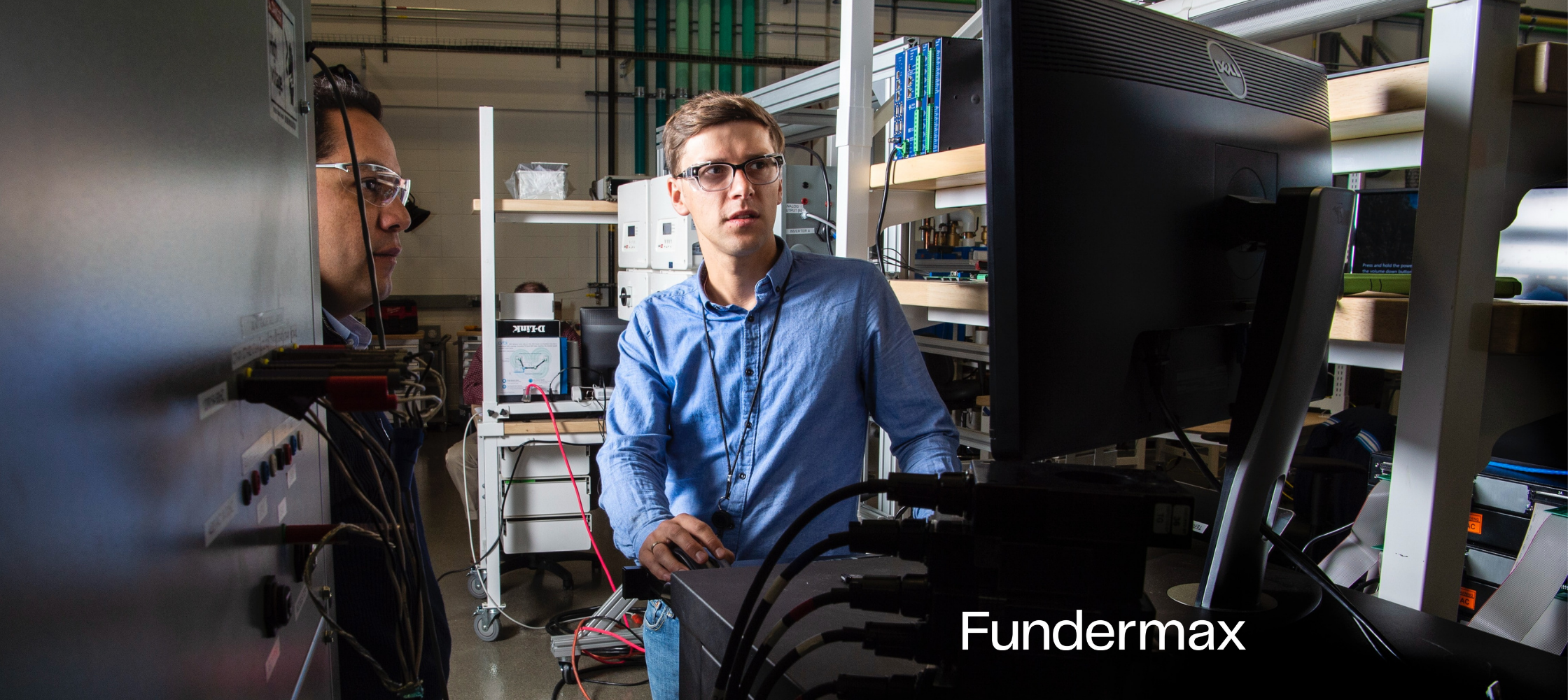 Why Testing & Code Compliance is Crucial for HPL Panels
Over a hundred years ago, Fundermax got its start providing panels for interior and exterior applications. From the beginning, our founder Karl Funder, innovated in the high pressure laminates industry with safety in mind.
That's why testing and code compliance remain a top priority for our teams today.
"Fundermax has always set an example for market education regarding the various technical parameters of code compliance and building occupant safety," says Paul McCafferty, Fundermax's North American Technical Director.
"The way we operate here, and particularly with what we do, is real-world technical service," he said. The advantage of working with Fundermax is that the people here understand more than just the product attributes of the high pressure laminate (HPL) panels (otherwise known as phenolic panels).
You won't just get answers from a catalog, he said. "We understand walls and construction and we can work through things with our customers."
Additionally, the high pressure laminates Fundermax offers have been tested rigorously and comply with many codes to offer added peace of mind of compliance with local and national code requirements.
How is Fire Resistance Tested on Phenolic Panels?
Fire safety has always been top of mind, however, the 2017 Grenfell Tower fire tragedy prompted a revisiting of building regulations in the United Kingdom. The blaze brought façade fire safety to the forefront for many building designers globally.
Fundermax tested and developed a truly non-combustible HPL panel, called NCore. This paneling has a mineral fiber core and the same durable surface and décor options that Max Exterior is known for. The NCore panel has also passed ASTM E136 testing.
NCore is suitable for use over certain brands of foam plastic insulation, which presents designers with the option for higher R-value per square inch in the wall assembly than a standard HPL façade.
Here in the United States, Fundermax has always been ahead of the curve of code compliance for High Pressure Laminates. Many years before the 2012 Code adoption of High Pressure Laminates as a specific segment of IBC Chapter 14, Fundermax invested in a full ICC Evaluation Services Report for our Max Exterior Façade Cladding. Even in 2019, the ICC AC92 Testing Criteria for this type of building material was far above and beyond the minimum IBC Code requirements for High Pressure Laminates.
Surpassing Expectations for Safety & Quality
Good enough isn't enough at Fundermax. Innovation is one of our core values. From the unique fastening systems to the better wood grain available on our double- or single-sided panels, our product lines are always evolving.
The testing and code compliance efforts are only one piece of the overall effort to provide the highest quality high pressure laminates. Fundermax also takes an integrated management approach with four ISO certifications supporting the high caliber of our work.
Ultimately, McCafferty said, "I spend more than half of my time talking about things that are not Fundermax because it's all relevant to the whole." He added, "We're not just here about our product. we're here to get this right.