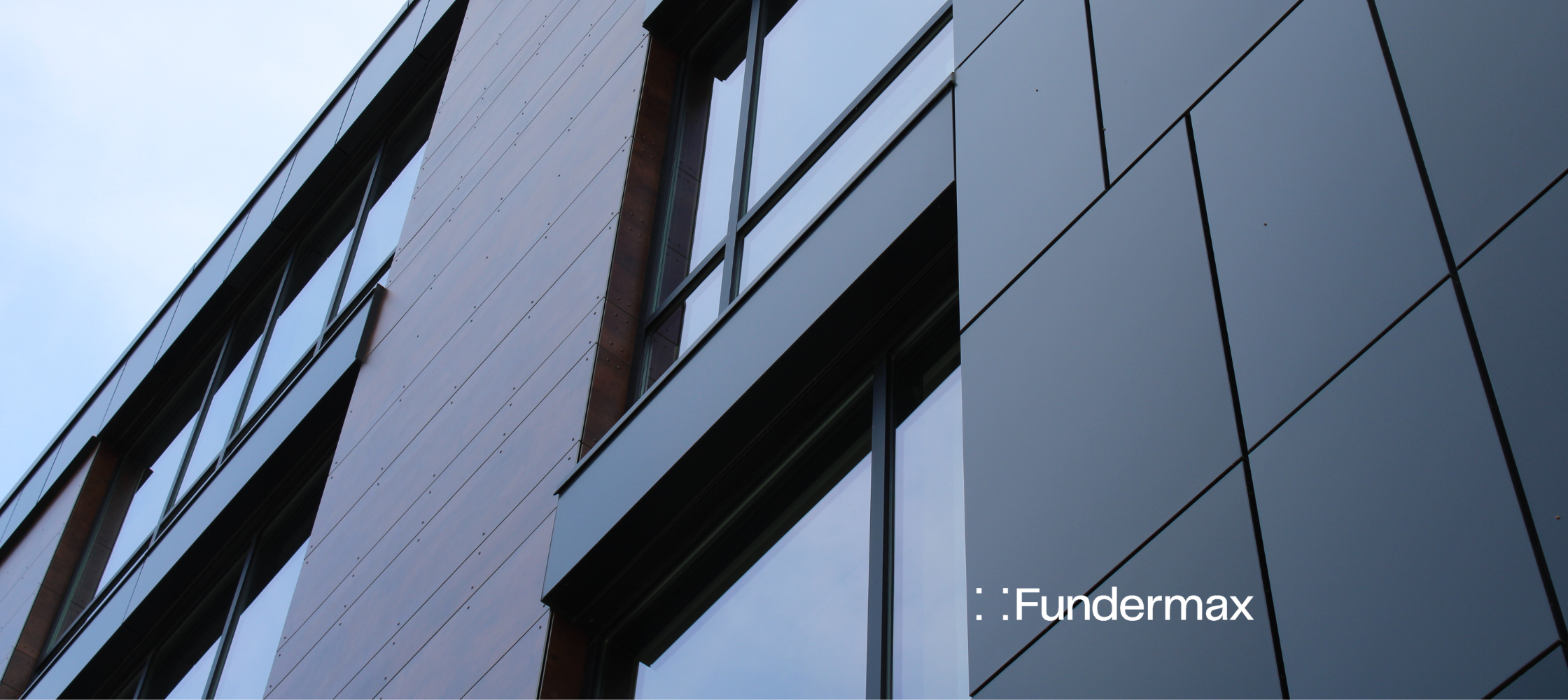 Can You Paint Phenolic Panels?
Fundermax has been around for over a century, and we love answering questions about high pressure laminates and phenolic panels. One question we commonly hear is, "Can you paint phenolic panels?" The answer is yes and no; or rather, you can – but you don't want to, and you definitely don't need to!
Phenolic panels are highly resistant architectural panels crafted for ultimate durability. They're made from a core of kraft paper and phenolic resin that is coated in a protective outer layer of polyurethane acrylic and then cured under high pressure and heat. (Refer to this post on our blog for a more in-depth look at how phenolic panels are made.)
The highly resistant surface means that painting phenolic panels is not necessary or recommended. Read on to find out why.
Can You Paint Phenolic Panels?
Painting phenolic panels are not necessary. Often this question comes up because other types of panels (such as fiber cement or brick) require frequent upkeep including paint.
However, unlike other materials, Fundermax phenolic wall cladding has minimal fading or change in color. That means, with phenolic wall cladding, paint is not needed to keep your design looking fresh and new.
Sometimes this question arises because the phenolic panels are paired with a different material that requires painting, and the owner may be concerned about getting paint on the phenolic cladding. Not to worry. If you have already painted your phenolic panels (or if someone painted them and you didn't want them to), removing paint on phenolic panels is simple with a harsh chemical like acetone (and it won't damage the surface).
Occasionally the question of painting phenolic panels arises from color fatigue or a desire to keep up with changing design trends. However, it's better to just reorder new panels, or even better, plan from the beginning to choose a timeless panel color and décor that is always on trend.
How Durable Are Phenolic Panels?
Phenolic panels are extremely durable. They are impact-, scratch-, weather-, UV-, and graffiti-resistant, and they are engineered for high-traffic areas. HPL panels are suitable for installations below 10 feet, in curved designs, and even in roof applications!
Crafted for ultimate durability, you can see a lifespan of 40-60 years from a high-quality phenolic wall panel. Even better: you can achieve maximum longevity with minimal maintenance.
Do Phenolic Panels Require a Lot of Maintenance?
No! The beauty of high-quality HPL panels is they require very little maintenance. The panels are non-porous, so when fungus, dirt, or dust land on the surface, it's easy to clean away.
We get this question a lot because other panels like fiber cement require more upkeep. While definitely long-lasting, this longevity can only be achieved through frequent maintenance and repainting. Phenolic panel maintenance, on the other hand, equates to a lower lifetime cost of ownership because they are easier to care for.
How to Clean Phenolic Wall Cladding
The three main methods used to clean phenolic wall cladding are:
Water

Cleaning solutions

Solvent chemicals
Where water is concerned, rainwater also serves as a self-cleaning method for exterior walls. Due to its non-porous makeup, the surface is resistant to stains and spray paints, and routine cleaning is more than enough to maintain them. Contrast this to other highly porous exterior wall materials, which require sanding, grinding, and blasting to keep clean. The non-porous surface also allows phenolic panels to tolerate harsh chemicals like acetone (but avoid rough/sharp scouring pads as those can dull the surface).
The image above features the Roseland Toth Theatre in New Glasgow, Nova Scotia, Canada. Design and art by Christian Toth and owned by MacGillivray Law. Uses Fundermax Max Compact Exterior panels in Individualdecor.
Do Phenolic Panels Have a Lot of Decor Options?
Yes! Fundermax offers HPL panels in a broad range of colors, patterns, materials, finishes, and textures, including superior woodgrains.
But, what if the precise color is not part of a manufacturer's standard range? Designers can specify custom panels in any color or design thanks to digital printing. The result is virtually unlimited design freedom.
The color capability of digital printing allows for any specific color to be printed. That means architects and designers can break out of even the widest range of colors offered by phenolic panel manufacturers. Fundermax also works with project architects to go beyond solid colors, creating panels with custom images that are crisp, clear, and perfectly sized. Our Individualdécor wall panels are digitally printed on one side (the reverse side remains a standard, matte color), and Fundermax stores the customer's digital image for ten years, making panel reprints simple if needed (and painting unnecessary!).
Fundermax also provides wall panels that can be mounted both horizontally and vertically, use wood, steel, or aluminum substructures, and pair them with multiple options for fastening. This degree of flexibility allows architects to embrace the full breadth of their imagination and creativity.
Unlock Your Imagination
As one of the world's most trusted manufacturers and suppliers of phenolic panels, Fundermax has worked with countless designers and architects. We have perfected our products over time to cater to any design and decor needs and provide phenolic panels that promise durability, longevity, and easy maintenance. As a result, Fundermax is able to manufacture precisely what you need – paintbrushes not required!
If you wish to learn more about phenolic panels and the options available to you, download our free ebook where we compare the top five exterior phenolic panel manufacturers and help you find your best fit.