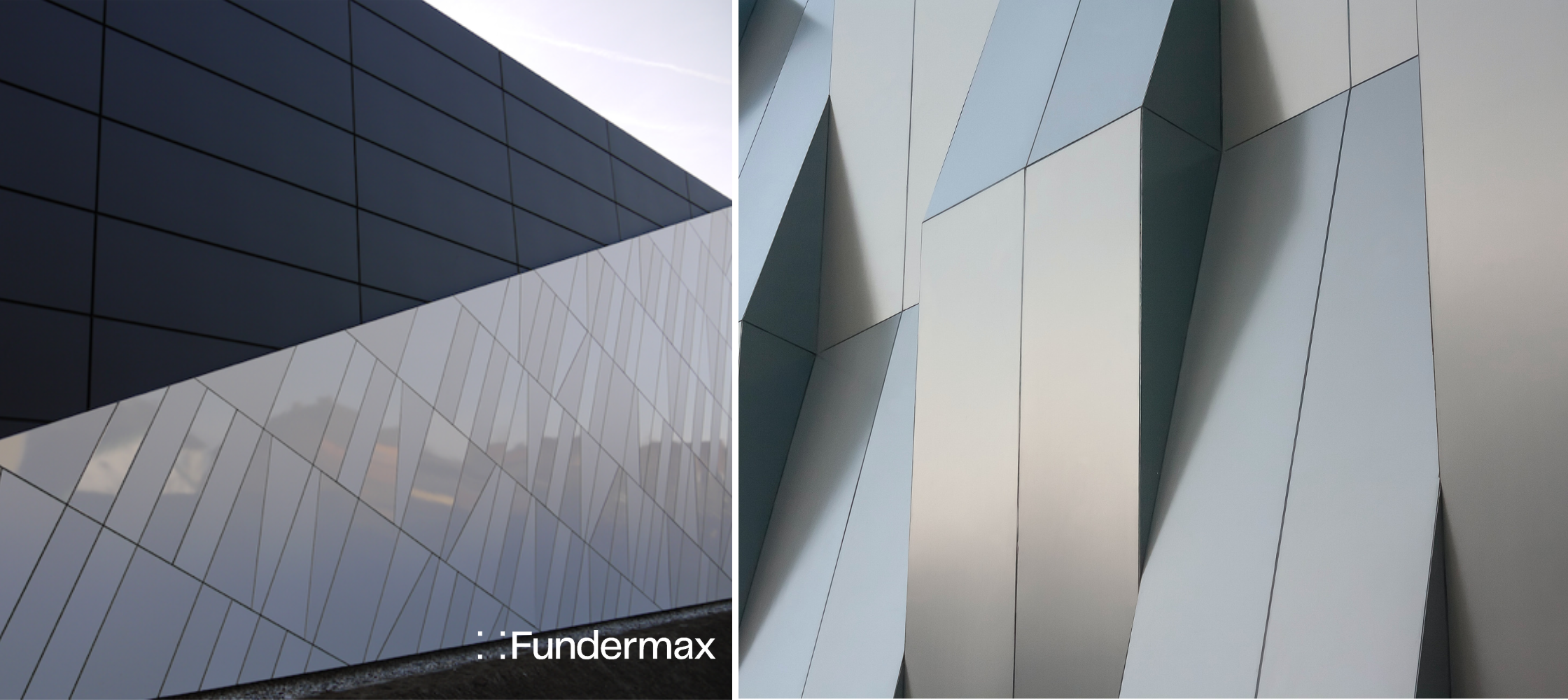 Aluminum Composite Metal (or ACM) vs. Phenolic Panels
As a global leader in high pressure laminates, Fundermax is certainly partial to the benefits of phenolic panels; however, we recognize that other materials can be used for similar applications. Therefore, to provide a helpful measure of comparison between our products and other materials, we remain knowledgeable about the other available options. For example, let's compare phenolic wall cladding and aluminum composite cladding.
If you are an architect researching exterior wall panel options for a project, you have likely compared aluminum composite metal panels to phenolic panels. Both types of panels can be used for similar applications, so side-by-side comparisons provide a helpful resource.
In this article, we will provide a high-level look at metal panels vs. phenolic panels, and specifically, ACM panels vs. Fundermax exterior phenolic wall panels.
What is ACM?
ACM stands for aluminum composite material. ACM (and aluminum composite panels or ACP) are flat panels that consist of two thin aluminum sheets bonded to a non-aluminum core. There are insulated and uninsulated metal panels.
Using metals of any type is very popular in construction today in all types of settings, from residential to commercial and industrial. Many times, ACM panels are chosen for an application because the material is well-known and feels familiar. But just because something is more familiar doesn't necessarily mean it is always the best choice.
Types of Metal Panels
Single Skin Metal Panels
Single skin metal panels (also called roll formed or preformed metal panels) consist of a single interlocking layer of natural or prefinished metal that has been preformed for the desired application, whether wall panels, roofing, etc.
You can install most single skin metal wall panels horizontally or vertically in less time and with less expense than other metal wall panel systems. This type of metal panel can include protective coatings to help prevent fading and corrosion, but single skin metal panels are less rigid than other types of metal wall panels, so consider that these are quite susceptible to damage, especially at ground level installations.
MCM Metal Panels
Metal composite material (MCM) panels are formed by joining two thick metal skins to a polyethylene (or other fire-retardant plastic) core and then bonding under a prescribed pressure and temperature. The metal skins are most commonly aluminum but can also be steel, stainless steel, copper, zinc, or titanium. The result is a plastic and metal composite that offers advantages over solid metal panels of the same thickness.
Insulated Metal Panels
Insulated metal wall panels feature an insulating foam center of expanded polystyrene or polyisocyanurate that is layered between two steel or aluminum panels. This kind of metal panel can work well for industrial, commercial, and climate-controlled buildings; note, however, that you must properly seal insulated metal panels to prevent water intrusion. Additionally, a facility's humidity, temperature, and air movement are important considerations for the installation location.
Overall, single skin metal panels have the cheapest upfront cost, MCM lands in the middle, and insulated metal panels are at the highest price point, coming in even higher than phenolic panels.
What are Phenolic Panels?
Phenolic panels are highly durable architectural panels, also referred to as high-pressure laminate or HPL panels. Like other materials, the specific composition of HPL panels can vary among different phenolic panel manufacturers.
Generally speaking, though, phenolic cladding panels are composed of natural core material layers impregnated with thermosetting resins and cured under high heat and pressure. The result is solid, compact panels that are sustainable, durable, and virtually maintenance-free.
Phenolic wall cladding is on the rise today in part thanks to the material's strength and sustainability without compromising on high design. Available in a wide variety of colors, textures, fastener systems, and custom printing, phenolic panels offer maximum design freedom for even the highest-exposure applications.
Types of Exterior Phenolic Panels
Max Compact Exterior
Max Compact Exterior phenolic panels are manufactured for a wide range of exterior applications including:
Rainscreen façades

Soffits

Exterior phenolic cladding

Sunshades/louvers

Flooring

Outdoor furniture

Balconies

Building façades

Rainscreens

Soffits

Balconies

Signage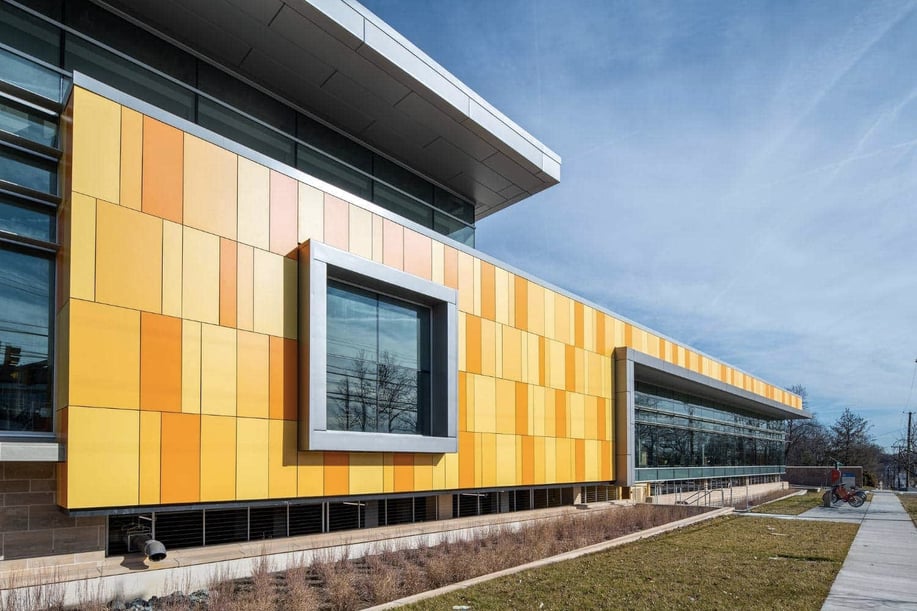 Authentic
The exposed, yet protected core layers of these exterior wall cladding panels offers an organic look. The surface of the rainscreen façade is protected against strong graying via Fundermax's patented NT surface. The absence of a special lightfast décor allows these phenolic panels to take on a "natural" appearance as they weather.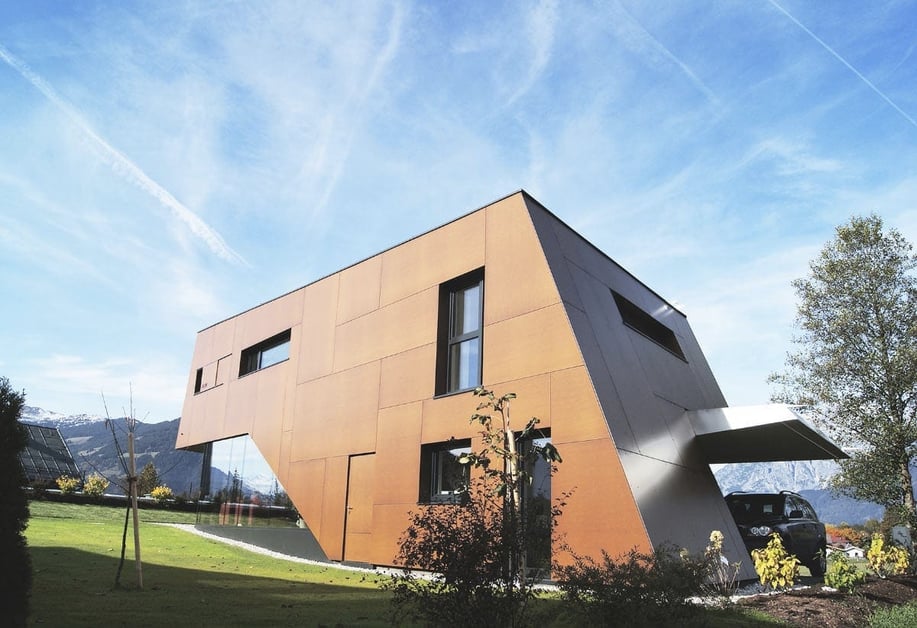 Individualdécor
Anything is possible with Fundermax's Individualdécor exterior digitally printed phenolic wall cladding. Individualdécor HPL panels are used globally in a wide range of applications including: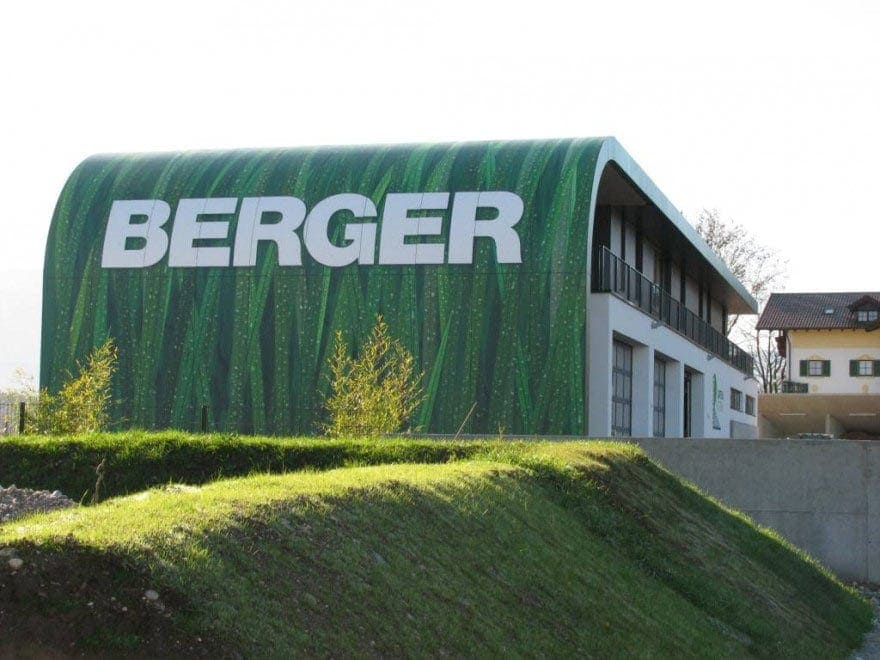 Metal vs. Phenolic Panels
Durability
ACM Panels
Aluminum composite cladding is easily susceptible to damage and requires regular maintenance and/or replacement when the ACM panels incur damage. Metal panels are not engineered for high traffic spaces, so they are not typically a wise choice for applications below ten feet.
Various stresses within ACM panels can cause the appearance of warping or waviness on the flat metal panel surface; this is called oil canning. The metal expands based on heat and temperature and is more reactive than HPL (ACM can expand and shrink in the same day).
In contrast, the expansion/contraction in phenolic panels happens over a season. Rather than reacting to temperature changes, HPL panels expand/contract in response to humidity (like wood), which is much more stable than temperature.
One method used to reduce oil canning is installing a formed shape in the flat area of the panel called a stiffener. Unfortunately, the stiffener may become visible on the face of the panel. This is called shadowing.
As aluminum composite cladding is exposed to weather and pollution, the protective coating on the metal can become compromised, resulting in a pitted appearance. Pitting doesn't affect the wall's stability, but it compromises the material's aesthetic.
When combining dissimilar metals, negative interactions may occur. This can cause problems like galvanic corrosion and water runoff.
Phenolic Panels
Phenolic panels are manufactured for durability and can handle high-impact environments better than ACM panels. When comparing aluminum composite metal specifically to Fundermax panels, it is worth noting that the acrylic surface of Fundermax's Max Compact Exterior phenolic wall panels is even 5x thicker than comparable phenolic products from other phenolic panel manufacturers.
Maintenance/Longevity
ACM Panels
Metal panels typically last around 10 years before showing signs of age. ACM panels do require regular, ongoing maintenance in order to keep the panels looking clean. Replacing panels can be required at times since they are easily damaged.
Phenolic Panels
Phenolic panels typically last 30-40 years before showing signs of age. Phenolic panels are extremely durable and don't require regular maintenance or cleaning. Additionally, with the majority of Fundermax decors, if a panel is actually somehow damaged, the reverse side may be used instead of replacing the entire panel.
Versatility/Décors
Both aluminum composite cladding and phenolic wall cladding offer a variety of decor options.
ACM Panels
Historically, metal panels have been a popular cladding material thanks to their vast color options and textures.
Phenolic Panels
With today's emerging technology, high pressure laminates are keeping up with the color and texture options of aluminum composite metal. Fundermax phenolic panels are available in virtually any aesthetic you can imagine, including woodgrains, metal, stone, solid colors, glitter, abstract, and even custom digital printing.
Sustainability
ACM Panels
ACM panels are considered sustainable materials. It is important to note, however, that metals are nonrenewable resources. A nonrenewable resource cannot be naturally replaced. That means, like many other materials, the sustainability of aluminum composite metal panels is only as good as the recycling programs used.
Phenolic Panels
Phenolic panels are also a sustainable material, and among phenolic panel manufacturers, Fundermax places a particularly high priority on sustainability in our products and business operations. We have FSC, PEFC, and Greenguard certifications, and Fundermax HPL panels contribute to LEED standards and are part of the Mindful Materials library.
Fundermax's sustainability efforts continue to grow with our new climate-friendly district heating pipeline. With the new district heating pipeline of the Klagenfurt-Maria Saal regional heating network, existing residual heat from our production facilities in St. Veit/Glan will be made usable for 10,000 households. This is an important contribution to climate neutrality, and we are honored to be a part of it.
Ease of Installation
Metal and phenolic panels are quite comparable when it comes to ease of installation. Both install similarly, depending on the sub-framing, application, and fastening system. However, note that field modifications are not possible with ACM panels. The ability to make field modifications to phenolic panels can make a big difference if an issue arises onsite.
Costs
For both phenolic and metal panels, the cost will vary depending on what brand and quality you choose. As with most things, the price will correspond to the quality of the product; so, higher-quality materials will be more expensive and lower-quality materials will be less expensive.
Typically, single skin and MCM metal panels are less expensive than phenolic panels. However, insulated metal panels can actually come in at a higher price point than phenolic panels. With high pressure laminates, the higher-end phenolic panels like Fundermax may be more expensive upfront but come with notable long-term savings. TCO (total cost of ownership) is an essential measure of comparison for materials like wall cladding.
Code Compliance
Metal panels are relatively code compliant, as are phenolic panels. Specifically, Fundermax's phenolic panels have many NFPA285 compliant assembly options and our factories are ISO 9001, ISO 14001, ISO 45001, and ISO 50001 certified.
Fastening Systems
With metal panels, you can choose between concealed or exposed fasteners (most architects choose concealed) which increases the installed cost for any project. Not all types of ACM panels offer an exposed fastening system.
Fundermax phenolic panels offer exposed, concealed, Modulo, and Scaleo fastening systems. This means there is an option for every type of application: exposed is the least expensive option, concealed is more expensive, Modulo is a unique offering that is essentially a concealed system at an exposed system price, and Scaleo is a great option for unique applications including residential buildings. (See more detail about these fastening systems in this article.)
Which Product is Right for my Project?
The choice between aluminum composite metal panels and phenolic panels ultimately depends on your specific application, budget, and how much durability is needed. ACM panels and HPL panels are both strong options that can compete on many factors.
If you are considering wall panel options, we would love to help. With more than a century of experience and projects around the globe, we can help you determine when to use phenolic panels – and when another material may be a better fit. Contact Fundermax today for more information.