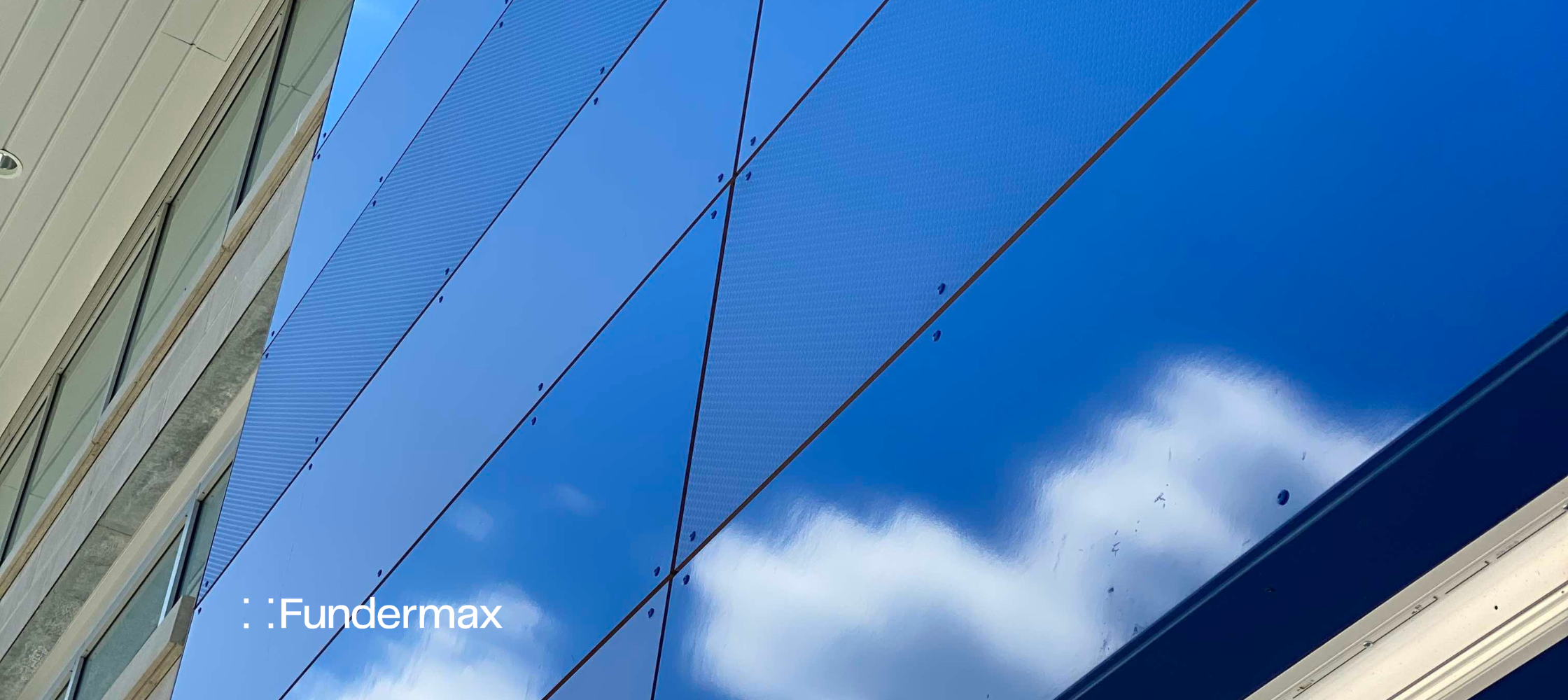 Benefits and Applications of Max Compact Exterior Panels
First impressions become lasting impressions – which makes design freedom in exterior building applications crucial. A building's exterior presents an opportunity to establish the kind of impression you'll make – and any architect or designer knows they mustn't overlook a design opportunity.
That's why we've created exterior products that allow architects and designers to create without limits. Fundermax has been around for over a century and is a globally trusted, sustainable brand. Our unique offering of compact exterior phenolic panels provides durable, attractive alternatives to traditional exterior building cladding.
What Are Max Compact Exterior Phenolic Panels?
Phenolic panels (also known as high-pressure laminates or HPL panels) are highly durable, compact laminates. Exterior-grade phenolic panels consist of multiple layers of compressed kraft paper impregnated with thermosetting resins and bonded together by heat and high pressure. (Check out this blog post for more details on how high-pressure laminates are made.)
What are the Benefits of Max Compact Exterior Phenolic Panels?
Durability & Longevity
Phenolic exterior panels are manufactured for durability. The high-pressure manufacturing process contributes to the panels' colorfastness and fire classification and also offers protection from weather and UV-ray exposure. Fundermax exterior panels are not only engineered for weather exposure, though; they're also engineered for high traffic. Our exterior phenolic panels are highly scratch-, graffiti-, and impact-resistant, so Fundermax exterior wall cladding benefits building applications at or below 10 feet, as well as high up.
The extreme durability of phenolic exterior wall cladding also makes the panels low maintenance and easy to clean. Phenolic exterior panels are easy to clean, primarily because phenolic panels are nonporous; that means they're impervious to moisture and don't support mold or mildew growth. Fungus, dirt, and dust particles can typically be removed from the nonporous panel surface by simply cleaning with water. For example, when Max Compact Exterior panels are used in a rainscreen facade, the panel system is considered self-cleaning, thanks to rainwater and ventilation.
Fundermax stands behind the durability and longevity of our phenolic panels with our industry-leading US exterior 10-year warranty on material plus labor.
Aesthetics
Creating an intentional aesthetic appearance includes selecting materials with the proper color, form, and texture. To support aesthetic design freedom, Fundermax exterior phenolic panels offer virtually limitless options. Exterior wall cladding comes in a wide color range and a variety of finishes and can even be digitally printed to achieve complete customization. Additionally, exterior phenolic panels can be mounted horizontally or vertically and can even be used in curved designs.
But what good is it to achieve the intended aesthetic if it doesn't last? That's why our panels are manufactured for minimal fading or color change. The exterior phenolic panel color is actually the result of the high pressure laminate technology with thermal heat that binds the core of the material with the color layer. The resulting Fundermax HPL panels have a strong Greyscale score, which indicates the panels will have minimal fading or color loss when exposed to even the harshest conditions and UV rays.
Code Compliance
Fundermax has created phenolic panels that are fire-resistant and flame-retardant, in compliance with NFPA 285. We strive to go above and beyond when it comes to code compliance and HPL wall cladding.
ISO Standards
To that end, Fundermax has oriented its production facilities and processes on internationally recognized standards such as:
ISO 9001- Quality Management

ISO 14001 - Environmental Management

ISO 45001 - Occupational Health and Safety Management

ISO 50001 - Energy Management.
(Consider this blog post for a more detailed look at our commitment to panel testing and code compliance.)
Sustainability
Fundermax Max Compact Exterior phenolic panels can contribute to LEED standards in a number of categories, are FSC-certified, and have an EPD and HPD. Our exterior phenolic panels also contribute to the environment by reducing negative impact. Using phenolic panels in exterior building applications supports sustainability and helps reduce negative impacts on the environment in multiple ways:
Fundermax sources rapidly renewable raw materials from vendors certified by the Forest Stewardship Council (FSC) and/or the Programme for the Endorsement of Forest Certification (PEFC).

Fundermax exterior phenolic panels are a high-yield material, which reduces construction waste.

HPL exterior wall cladding panels are durable with a long lifespan, which further reduces waste.

Phenolic exterior wall cladding benefits the environment with materials that promote energy efficiency and low emissions.
This modern residential project was created and built by 28 graduate students from the University of Kansas School of Architecture and Design and features gray exterior rainscreen façade cladding with Max Compact Exterior panels. (Fundermax donated all of the exterior phenolic panels for this project as part of a sustainability push and learning program with the University of Kansas, Studio 804.) The contribution to reducing energy consumption is one of the highlights of this project that will likely lead to a LEED Platinum certification.
Applications Using Max Compact Exterior Panels
Max Compact Exterior panels are suitable for countless exterior building applications, including:
Commercial & office buildings

Hospitals & nursing homes

Schools & university buildings

Residential & Mixed-Use

Sports & Recreation Centers

Hospitality

Retail
Consider the highlighted applications below.
Rainscreen Facades
Rainscreen facades protect the building's insulation and manage moisture through a ventilation plane and drainage. This is a tall order, as the drainage and ventilation plane contribute to the overall building health. Building facades and rainscreen systems must be well-suited to control and manage things like heat transfer, water and air filtration, UV radiation, negative wind pressure, rain and moisture, and fend off mold, mildew, and rot. Simply put, exterior phenolic panels are made for the job.
The Mill at Ironworks is a mixed-use residential building that offers over 200 apartment homes for rent in Indiana. Max Compact Exterior HPL panels from Fundermax were chosen due to their ability to be installed below 10 feet, extreme durability, industry-leading US exterior warranty, and ease of installation.
Soffits
Exterior soffits must be able to withstand harsh weather conditions without compromising a finished, attractive appearance. Exterior phenolic panels are an ideal material for this application.
Mainstreet Shopping Center is a brand-new retail space in Boynton Beach, Florida. The designers needed rainscreen and soffit panels that provided a clean woodgrain while being durable enough to handle Florida weather and heavy foot traffic. In addition to handling high traffic, Fundermax panels are made to handle Florida's high heat, humidity, and UV rays while remaining colorfast.
​​
Sunshades/Louvers
Sunshades and louvers allow design freedom with style and sustainability while providing heat protection and comfortable shade. Phenolic panels are a strong choice for exterior building applications like sunshades and louvers because they are highly UV- and weather-resistant.
This Sprint Store in Denver, Colorado (owned by Century 21), leveraged phenolic panels for a modern and attractive design featuring a robust structure of sunshades. The positioning lets in the sun's heat during winter while offering protection from the sun's intense rays during summer.
Outdoor Furniture
Exterior furniture must withstand weather conditions, remain colorfast, and still be easy to clean. Enter: exterior phenolic panels for building patio and outdoor furniture.
Thanks to the characteristics of exterior-grade HPL, outdoor furniture made with this material can hold up to rain and moisture, fend off mold and mildew, resist rust and corrosion, and endure extreme weather conditions – all without cracking or fading.
The woodgrain of Max Compact Exterior panels offered the perfect aesthetic for these residential decks located in Chapala, Valle Real, Lomas del Valle, and Zoto Grande in Mexico. The phenolic material is well-suited for furniture and other applications in areas exposed to high levels of moisture (like around swimming pools!). The 3D anti-slip finish of the Hexa surface made these panels perfect for a deck flooring application.
Balconies
Balconies add a special element to the design of any building's exterior, but they must be durable and reliable. In this application, exterior phenolic panels offer weather protection and aesthetic appeal while remaining colorfast and code-compliant.
Simphonia WOA Beiramar is located on the seafront of Florianopolis on the Atlantic coast of Brazil. The woodgrain of the Max Compact Exterior panels brought the aesthetic the architect desired for the rainscreen and balconies of these exclusive apartments – a natural touch in an urban landscape with the sea as the beautiful backdrop. High UV- and climate-resistance make these exterior phenolic panels the perfect architectural material to resist the impact of the sun as well as the humid and salty sea air.
After considering the many benefits – like durability, ease of care, sustainability, versatility, and value – it is no wonder so many designers and architects select this material for their exterior building applications. Contact Fundermax today to discuss how phenolic panels may benefit your next exterior design.