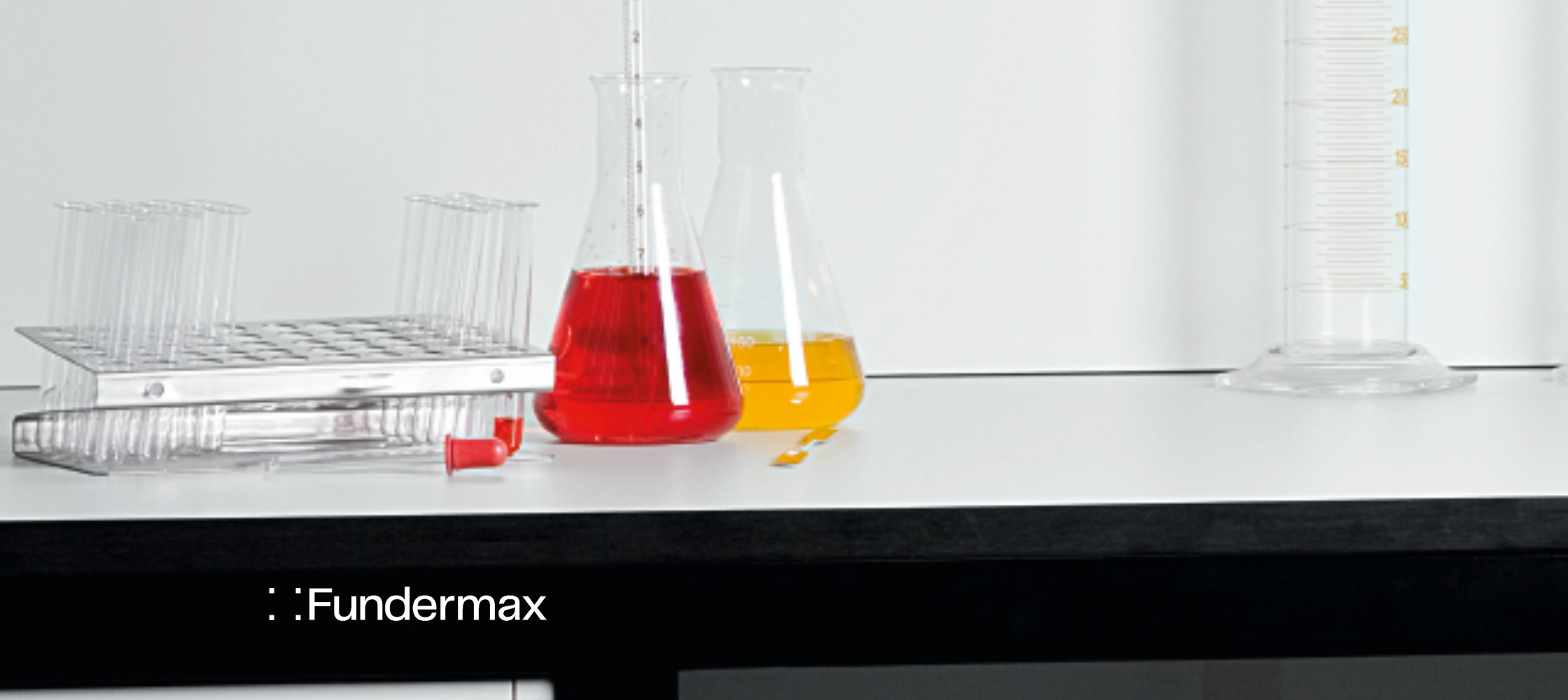 How to Choose Lab Work Surfaces: Chemical Resistance
The open bench has changed significantly over the last 30 years in wet labs, as have many of the reagents and their usage. These changes give rise to evolving considerations for determining and understanding the need for chemical resistance on lab work surfaces.

Various laboratory work surfaces include (but are not limited to) phenolic resin, epoxy resin, polypropylene, solid surface, ceramic, and stainless steel. When comparing these options, there are many important performance criteria to consider, including
durability

sustainability,

abrasion & scratch resistance,

ease of cleaning,

heat / cold resistance (including thermal shock),

flammability/ flame spread,

impact resistance,

and arguably the most important criteria: chemical resistance.
Generally speaking, phenolic resin countertops are highly chemical-, bacteria-, moisture-, scratch-, and impact-resistant, as well as lightweight and easy to clean. Phenolic resin work surfaces also tend to be very cost efficient. However, it is important to also understand the surface technology used for phenolic resin panels, as this will play a major role in the chemical resistance.

Epoxy resin countertops offer high chemical, heat, and moisture resistance but are easily scratched, are extremely heavy, and can be cost prohibitive.

Polypropylene work surfaces provide high chemical resistance but are heat sensitive and scratch prone.

Stainless steel lab work surfaces offer a good level of chemical resistance but are known for their high levels of bacteria resistance. Stainless steel is, however, prone to scratches.
Solid surface work surfaces, depending on the materials used to create the product, can offer a level of chemical resistance and are fairly durable in terms of scratch resistance. However, they can be cost prohibitive.

Ceramic work surfaces, depending on the glaze used, offer a high level of chemical resistance and are extremely heat resistant but can be both cost prohibitive and relatively fragile.

With so many options, to confidently select the chemical resistant lab panels that will suit your work surface needs, it's essential to
Identify the test methodologies that can reliably certify a material's capabilities.

Establish the chemical and stain resistant requirements of your particular lab.

Determine which material options (including color) are available (within budget) and can withstand harsh cleaning applications.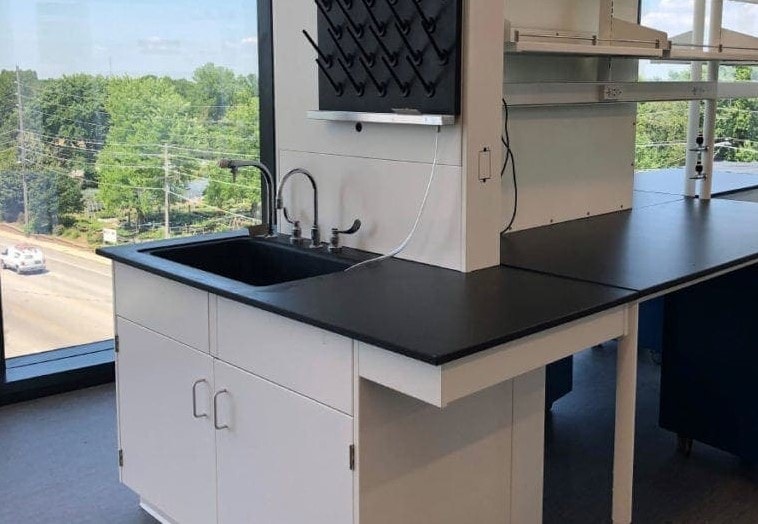 What is SEFA and Why is it Important?
Any conversation about test methodologies for lab work surfaces begins and ends with SEFA (The Scientific Equipment and Furniture Association). SEFA was organized in 1988 to meet the needs of the lab designers and manufacturers of laboratory furniture. The association has grown from strength to strength since this time. Commenting on the association, David Sutton, JD, CAE, Executive Director and General Counsel said,
"Since the time SEFA members began the process of establishing laboratory grade standards for lab furniture and related equipment (such as lab work surfaces) our membership and influence has grown exponentially throughout the world. Perhaps the most important aspect of our laboratory grade standards is the chemical resistance testing for every major lab surface that can be exposed to the many harmful chemicals commonly encountered in a lab environment. No lab should have furniture or related equipment that has not been previously tested to SEFA's standards."
SEFA members work closely with laboratory owners, architects, contractors, and others to advance the goal of creating a safe "Laboratory Grade" environment. SEFA strives to
stimulate users to consider and define their needs,

advance the professionalism, reputation and effectiveness of its members' participation in the lab design and construction industry,

equip users to evaluate materials based on performance characteristics deemed appropriate for a material's specific use.
What is the SEFA Standard?
The SEFA standard related to laboratory surfaces, is SEFA-3, the standard for horizontal laboratory surfaces (i.e., lab work surfaces and countertops). SEFA-3 should not be confused with the chemical test under SEFA-8, for vertical laboratory surfaces (i.e., lab casework and door fronts, etc.).
SEFA-3 Standard for Laboratory Work Surfaces (Horizontal)
The SEFA-3 Chemical/Stain Resistance Test evaluates a material's resistance to chemical spills. The SEFA-3 standard is a longer test than that used in SEFA-8 because a horizontal lab work surface must be durable enough to handle contact with chemicals more than any other laboratory surface.
SEFA-3 testing must be performed and documented by a SEFA-approved third-party testing facility. In-house testing is not allowed; this helps keep tests reliable and companies honest. The test results are then sent to SEFA, who then publishes that a material has met the requirements on its website. Material manufacturers that are SEFA members are also held to a high standard of ethics, thus we can't reiterate enough to only select materials that are listed on the association's site: https://sefa.memberclicks.net/sefa-compliant-products. Visiting the site will provide additional assurance that the surface selected is both compliant and held to a high standard.
Lab planners and designers should select a manufacturer whose materials have passed. However, although manufacturers need only say whether they passed SEFA-3, we believe that users are wise to review a product's actual SEFA-3 test scores/ratings. (More on this later.)
The SEFA 3 list of recommended practices are continually evaluated by the Work Surface Committee, co-chaired by Dawn Jacobs (Fundermax) and Hank Von Der Bruegge (Durcon). The testing methodologies and RPs are currently being updated to create a standard that architects, lab planners and users can rely on to ensure material tested meets the needs of today's lab. The committee is also considering revising the rating system to remove potential subjectivity.
SEFA-8 Standard for Laboratory Casework (Vertical)
Intended for vertical surfaces like casework, the SEFA-8 chemical test is a 1-hour test – with different pass/fail criterion relative to the material being tested. For instance, polypropylene doesn't allow any Level 3 failures. This article focuses primarily on horizontal laboratory work surfaces, so we won't cover SEFA-8 in depth here. However, it is valuable to understand the difference in each testing standard's focus and purpose.
Test Methods for SEFA-3
SEFA-3 tests resistance to 49 different chemicals using one of two test methods. Test method A or B depends on whether the chemical is volatile or non-volatile.[1]
Test Method A: Volatile Chemicals
A cotton ball saturated with the test chemical is placed in a one-ounce bottle (10mm x 7mm test tube or similar container). The container is inverted on the test material surface for 24 hours. Temperature of test: 23° +/- 2°C (73° +/- 4°F). This method is used for the organic solvents:
Acetate, Amyl

Acetate, Ethyl

Acetone

Alcohol, Butyl

Alcohol, Ethyl

Alcohol, Methyl

Benzene

Carbon Tetrachloride

Chloroform

Cresol

Dichloroacetic Acid

Dimethylformamide

Dioxane

Ethyl Ether

Formaldehyde, 37%

Furfural

Gasoline

Methyl Ethyl Ketone

Methylene Chloride

Monochlorobenzene

Naphthalene

Phenol, 90%

Toluene

Trichloroethylene

Xylene
Test Method B: Non-Volatile Chemicals
Five drops (1/4cc) of the test chemical are placed on the test material surface. The chemical is covered with a watch glass (25mm), convex side down for 24 hours. Temperature of test: 23° +/- 2°C (73° +/- 4°F). This method is used for all chemicals other than solvents:
Acetic Acid, 98%

Acid Dichromate, 5%

Ammonium Hydroxide, 28%

Chromic Acid, 60%

Formic Acid, 90%

Hydrochloric, 37%

Hydrofluoric Acid, 48%

Hydrogen Peroxide, 30%

Iodine, Tincture of

Nitric Acid, 20%

Nitric Acid, 30%

Nitric Acid, 70%

Phosphoric Acid, 85%

Silver Nitrate, Saturated

Sodium Hydroxide, 10%

Sodium Hydroxide, 20%

Sodium Hydroxide, 40%

Sodium Hydroxide Flake

Sodium Sulfide Saturated

Sulfuric Acid, 33%

Sulfuric Acid, 77%

Sulfuric Acid, 96%

Sulfuric Acid, 77% & Nitric Acid, 70% equal parts

Zinc Chloride Saturated
Test Ratings
For both test methods, after 24 hours of exposure, exposed areas are washed with water, then a detergent solution, and finally with isopropyl alcohol. Materials are then rinsed with distilled water and dried with a cloth. Samples are numerically rated as follows:
Level 0 – No Effect – No detectable change in the material surface.
Level 1 – Excellent – Slight detectable change in color or gloss but no change in function or life of the surface.
Level 2 – Good – A clearly discernible change in color or gloss but no significant impairment of surface life or function.
Level 3 – Fair – Objectionable change in appearance due to discoloration or etch, possibly resulting in deterioration of function over an extended period.
To pass as "Laboratory Grade," a material may not receive more than four Level 3 results.
The SEFA-3 test results for our chemical resistant lab panels, Fundermax Max Resistance2, as depicted below, highlight that these laboratory grade phenolic panels received no Level 3 results. The surface for black received Level 0 ratings (No Effect – best possible rating) on 37 out of 49 reagents, nine Level 1 ratings (Excellent), and three Level 2 (Good). As a chemical resistant lab panel, this material didn't just pass SEFA-3 – it passed with flying colors.
It is important to note that stains can impact colors differently, and thus the test results pertaining to lightest and/or darkest colors should also be considered. For instance, the white Fundermax RE panel received Level 0 ratings (No Effect – best possible rating) on 39 out of 49 reagents, six Level 1 ratings (Excellent), and four Level 2 (Good).
How to Know What Product to Use as Your Work Surface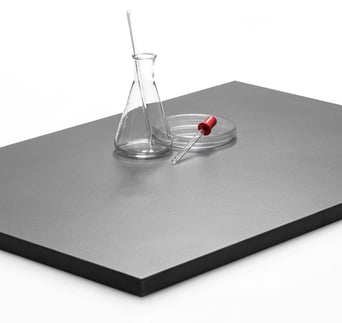 Laboratories use a wide variety of work surfaces, so the key to knowing what's right for your lab is clarifying what kind of lab you have and what chemicals will be used (now, and in the future). Since different materials offer different levels of chemical resistance, this knowledge equips you to specify appropriate work surfaces for your lab's chemical exposure.
SEFA-3 certification is an essential baseline for certifying chemical resistance. But remember, chemical and stain resistance is affected by concentration, time, temperature, humidity, housekeeping, and other factors; therefore, users should consider testing samples in their actual environment with the substances they use.
For example, researchers may take a Fundermax phenolic panel sample and test it with the chemicals they'll use in the lab, considering all chemical and staining agents they might use on or near the laboratory work surface. We advise choosing the product that offers the most chemical resistance your lab might need, even in the future. The current exposure may be hydrochloric acid, and the lab may use much harsher chemicals in a year or two. It is always wise to utilize the highest level of chemical resistance possible, combined with other important considerations.
Other things to keep in mind when selecting a chemical resistant work surface include whether the material is
Abrasion- and scratch-resistant

Non-porous

Durable enough for harsh cleaning agents
Lab Maintenance
Including maintenance and facilities managers in material specification is crucial to appreciating their role in lab material maintenance. Likewise, in university laboratories, ensure that students are well-advised about their responsibilities pertaining to work surfaces. SEFA offers stringent testing for chemical resistance, but remember that the SEFA-3 testing method is for 24 hours; it remains critical that any type of spills and/or chemicals are cleaned immediately, regardless of the material selected for the work surface.
If you are evaluating lab work surfaces, our experts are available to discuss the unique qualities of our phenolic panel lab surface technologies. In addition, our experience in various laboratory applications worldwide allows our team to help support your lab design, ensuring it meets your specific qualifications. We also stock some of our most popular work surfaces in the US, which negates the impact of supply chain issues.
In contrast to other compact work surfaces, Max Resistance2 phenolic panels are unaffected by contact with even the most concentrated or aggressive chemicals. You can rely on total chemical resistance; Max Resistance2 not only meets the standards set by SEFA 3, it surpasses them.
Contact us today for more information on the durable, sustainable, and chemical resistant lab products manufactured by Fundermax.
[1] https://www.sefalabs.com/assets/docs/recommended-practices/sefa-3-2010-work-surfaces.pdf (p 121)