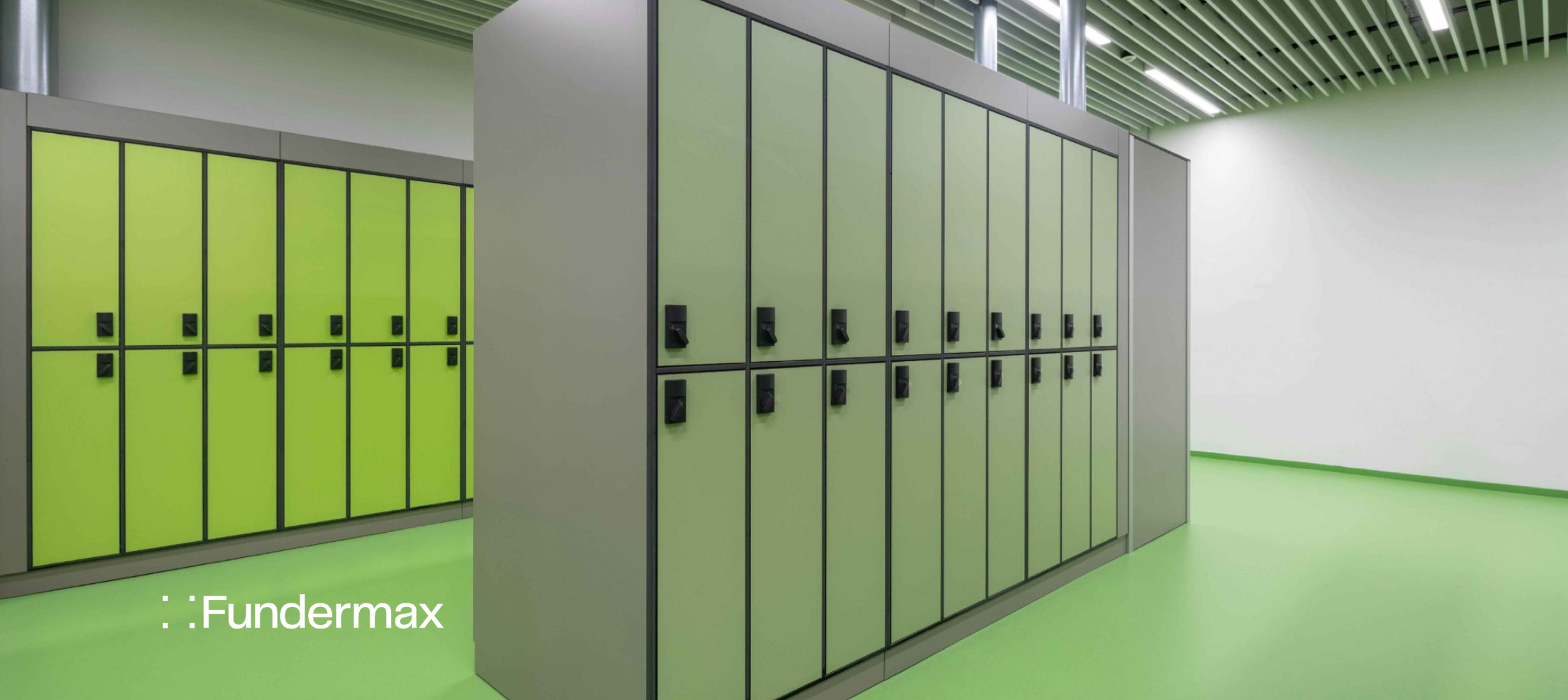 Benefits and Examples of Interior Architectural Phenolic Panels
Spaces like schools, airports, and public restrooms require materials that are engineered for high traffic. But, being engineered for high traffic should not negate design versatility.
Fundermax has been in the HPL industry for more than 130 years, and over those years, we have become highly familiar with the interior wall paneling options generally available to architects and designers. We know you need real solutions for high-traffic spaces. That's why our Max Compact Interior HPL panels are made to withstand high traffic AND provide maximum design freedom.
What Are Max Compact Interior Panels?
Max Compact Interior panels are high-pressure laminate (HPL) wall lining panels – also commonly called phenolic interior wall panels – that offer high quality, durability, and design versatility. With Max Compact Interior panels, we offer our architects and designers the freedom to create whatever their minds can imagine.
Interior phenolic panels are lightweight and include flexible options for texture and decor. Our HPL panels are sustainable materials, and our manufacturing process results in fewer emissions than other architectural materials. Fundermax Max Compact Interior HPL panels are double-sided, so they can also be used in non-decorative applications such as tables, molding boards, and more.
(See this blog post for a detailed look at how HPL panels are made.)
What Are the Benefits of Max Compact Interior Panels?
Durability & Longevity
Max Compact Interior panels are long-lasting phenolic cladding panels that are manufactured for extreme durability. Additionally, because our panels can be installed at 10 feet and below, it's important that they are engineered for high-traffic applications and can resist the inevitable impacts from that exposure – especially in places like schools where students may intentionally try to damage interior wall cladding. The extreme impact resistance of chemical-, scratch-, and graffiti-resistant interior wall cladding offers architects significant technical and creative advantages.
Fundermax subjects its interior HPL panels to rigorous testing to ensure the phenolic resin panels can resist even the harshest conditions, including fire, moisture, UV exposure, and more. This ensures code compliance in addition to the long lifespan of the material.
Cleanability
The lower an interior panel is installed, the higher the amount of traffic; and with traffic comes all types of exposure, including germs and chemicals, dirt and grime, stains and graffiti, and more. The hygienic, non-porous surfaces of Fundermax interior phenolic panels make for easy cleaning and strong resistance to chemicals. Because phenolic panels are non-porous, they are impervious to mold and mildew, and their chemical resistance means Fundermax interior HPL panels can withstand disinfectants and harsh solvents like acetone when needed.
Appearance
When it comes to decor options and appearance, interior HPL panels offer maximum design freedom. Fundermax offers a broad range of colors, finishes, and textures, including superior wood grains and digitally printed phenolic panels that can be crafted with any custom color or image. Panels can also be installed horizontally or vertically.
And remember, because of their technical properties, phenolic panels can be leveraged in multiple locations like lockers, bathroom partitions, interior wall lining, and even lab work surfaces and furniture. When a versatile, durable material meets an abundance of décor options, architects have the opportunity to leverage both a technical advantage and a creative advantage.
What Are the Applications of Max Compact Interior Panels?
While phenolic resin panels are most commonly used as interior and exterior wall cladding, the material offers many other unique applications and possibilities.
Washroom Partitions
Moisture-, impact- and scratch-resistant partitions are a must in high-traffic areas like airports where suitcases and bags will frequently contact the panels.
Lockers
Lockers constructed with phenolic resin panels offer all of the durability required to endure the frequent and rigorous use found in schools, gyms, and healthcare facilities. Lockers are meant to protect personal belongings, which is why they need to be able to withstand any form of contact.
Interior Wall lining
Interior wall lining presents the opportunity to evoke an emotional response or create an aesthetic experience when entering a room. The versatility of Max Compact Interior panels means architects and designers can create a lasting impression, accomplishing their project objectives with design freedom and flexibility. Additionally, Max Compact Interior wall panels are code compliant and manufactured sustainably to potentially contribute to LEED certifications.
Examples of Max Compact Interior Phenolic Panels
Washroom Partitions
Bathroom partitions: Max Compact Interior in Electric #6010 | Bathroom stall & urinal partitions: Max Compact Interior in Red #0067 | Individualdécor Washrooms: Interior Digitally Printed Panels in Custom Digital Print
Lockers
Gym Lockers: Max Compact Interior in Skyline #0427 and Electric #6010 | School Lockers: Max Compact Interior in Diabolol #0012 and White #0085
Medical Facility Lockers & Cubbies: Max Compact Interior in White #0085, Patina Bronze #0794, and Pastel Grey #0074 with the FH (Fine Hammered Embossed) finish
Interior Wall Lining
Terminal 5 at Chicago O'Hare Airport features Max Compact Interior in Ceramic White #2313 with the NG (gloss) finish. | Interior wall lining: Max Compact Interior in Skyline #0427 and Electric #6010
Laboratory interior wall lining: Interior Digitally Printed Panels and Max Compact Interior in White #0085, Glacier Blue #0706, Golden Yellow #0647, Atlantis #0056, and Custom Digital Prints
As we move into the future and technology continues to advance, building materials like HPL panels will offer even more flexibility, versatility, and resilience. Wondering if phenolic interior cladding may be the right solution for your next project? Reach out to a Fundermax rep today.