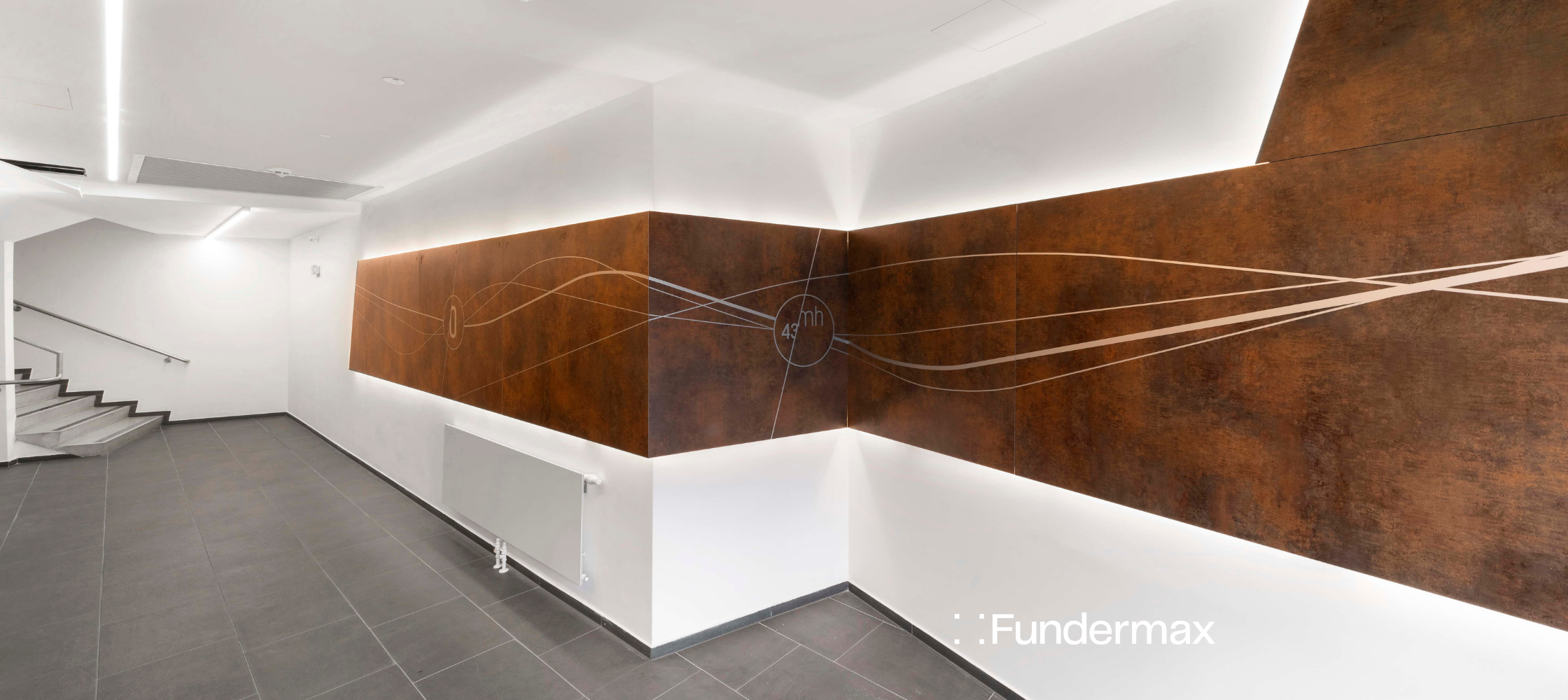 Four Common Applications of Interior HPL Panels
Among today's most innovative architectural materials is phenolic cladding (also called high-pressure laminate or HPL). While HPL is on the rise as an exterior cladding material, it is also being leveraged in a growing number of architectural interior wall panel systems.
Fundermax produces innovative, durable architectural panels by combining cellulose and resin to make a versatile and lightweight material that can be leveraged in many parts of a building's design.
We've been processing renewable raw materials for over 100 years, and in that time, we have seen exciting advances in technology and in the materials created by that technology.
Our high-pressure laminate (HPL) panels provide a safe and eco-friendly material for a variety of interior applications that extend well beyond interior wall paneling.
Benefits of Interior HPL Panels
Durability & Longevity
Fundermax subjects its interior HPL panels to rigorous testing to ensure the panels can resist even the harshest conditions, including fire, moisture, UV exposure, and more. This ensures not only code compliance but a long panel lifespan.
Impact Resistance
The impact resistance of graffiti-, scratch-, and chemical-resistant phenolic resin panels offers architects significant technical and creative advantages, especially when designing for high-traffic interior applications.
Cleanability
When choosing interior materials for any application, especially below ten feet, a material that can withstand harsh cleaners is absolutely essential. Fundermax interior HPL panels can tolerate disinfectants and harsh solvents like acetone without a problem. HPL panels are nonporous, making them impervious to moisture, unsupportive of mold or mildew, and easy to clean.
Appearance
Interior HPL panels deliver maximum technical performance without compromising design flexibility. The versatility of the material means it can be successfully leveraged across multiple locations including interior wall paneling, lockers, bathroom partitions, and even furniture.
Thickness Options
HPL panels are crafted in a range of thicknesses. Fundermax offers more thickness options than other HPL panel manufacturers, with interior HPL panels ranging from 5/64" (2mm) to 13/16" (20mm).
Size Variations
HPL panels are also manufactured in a range of sizes. Panel sizes vary widely based on the manufacturer, and like thickness options, Fundermax offers more panel size options than other HPL panel manufacturers. These varied options can add valuable flexibility for an architect.
Decor Options
Fundermax offers HPL panels in a broad range of colors, materials, finishes, and textures, including superior wood grains. Additionally, Individualdécor, Fundermax's digitally printed phenolic panels, can be crafted with any custom color or image. Fundermax partners with project architects, ensuring precise images that are clear, crisp, and perfectly sized.
Types of Interior HPL Panel Applications
Indoor Furniture
Did you know that interior HPL panel solutions are not limited to interior wall paneling?
Because of its durability under both physical and environmental stresses (including impact- and scratch resistance), this is an ideal material for interior furniture that will be used in everyday settings.
Additionally, remember that HPL panels are also UV-resistant, which means you can place your furniture anywhere in a space without concern about the color or finish fading. Finally, HPL panels are moisture- and solvent-resistant, making them an ideal solution for surfaces regularly facing spills and cleaning.
HPL panels offer an excellent option for creating furniture that complements the interior décor but is still resilient and practical for everyday, high-traffic exposure.
Bathroom Partitions
Bathroom partitions need to be moisture-resistant, not to mention impact-, scratch-, and graffiti-resistant. These features make interior phenolic resin panels an attractive solution for any bathroom or locker room application. Additionally, thanks to digital printing capabilities, HPL panels can even elevate the interior décor within your washroom space.
In addition to the highly durable and resistant surface of HPL panels, thanks to its lightweight construction, it's also easy to install. These features make HPL panels an altogether excellent option for companies that need a flexible, durable solution for their washroom separators.
Interior Wall Lining
Whether a client wants a space to evoke feelings of welcome, innovation, or even inspiration, architects are expected to deliver the desired effect. When leveraged properly, architectural interior wall panel systems can create an impression from the moment someone enters a space.
Fundermax's HPL interior wall panels offer the design versatility you need to accomplish your design goals with freedom and flexibility. Our interior wall lining panels are also code compliant and sustainably manufactured to potentially contribute to LEED certifications.
We manufacture a wide range of colors, patterns, finishes, and superior woodgrains in our innovative Max Compact Interior panels. And, when your interior wall paneling requires custom colors or images, Fundermax offers Individualdécor – our digitally printed interior wall panels that offer all the same performance characteristics as our standard panels.
Lockers
Lockers constructed with phenolic resin panels offer all of the durability required to endure the rigors of regular use. Whether in a school, at the gym, or in a healthcare setting, HPL lockers provide a secure, simple way to give users peace of mind.
You might assign lockers to employees, students, or visitors on a long-term basis. Or perhaps your lockers will be used on a temporary – even hourly – basis. In each situation, lockers need to be reliable and ready to withstand heavy use.
Phenolic resin panels allow you to get creative without compromising any of the durability you need. With greater design flexibility, even lockers become an opportunity to create an impactful design element. Add to the impression your space makes with bright, bold, natural, metallic, or custom finishes for your lockers.
Examples of Interior Designs Using HPL Panels
Interior Wall Lining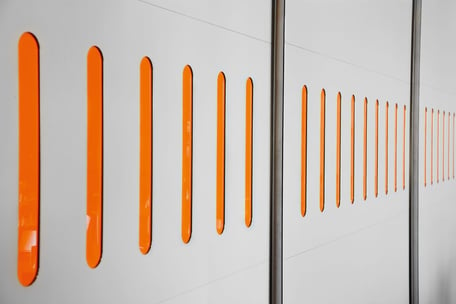 Bathroom Partitions
Lockers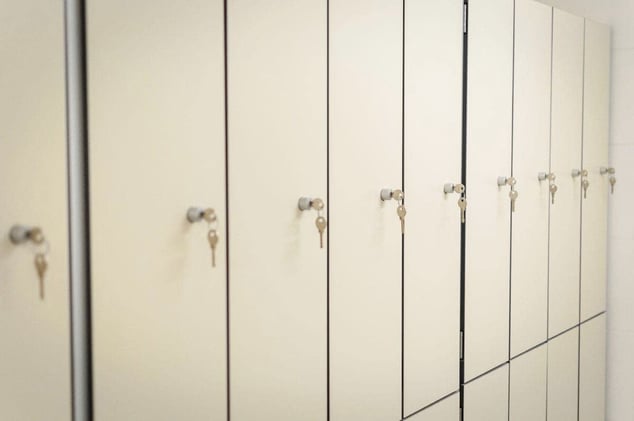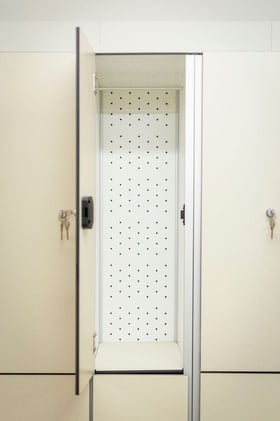 Furniture
Fundermax remains committed to providing design-focused flexibility while offering the highest quality interior architectural panels. To this end, we offer a variety of interior phenolic panel products, all created to meet the vision and design needs of architects. Contact us today to discuss how Fundermax can elevate your next design.