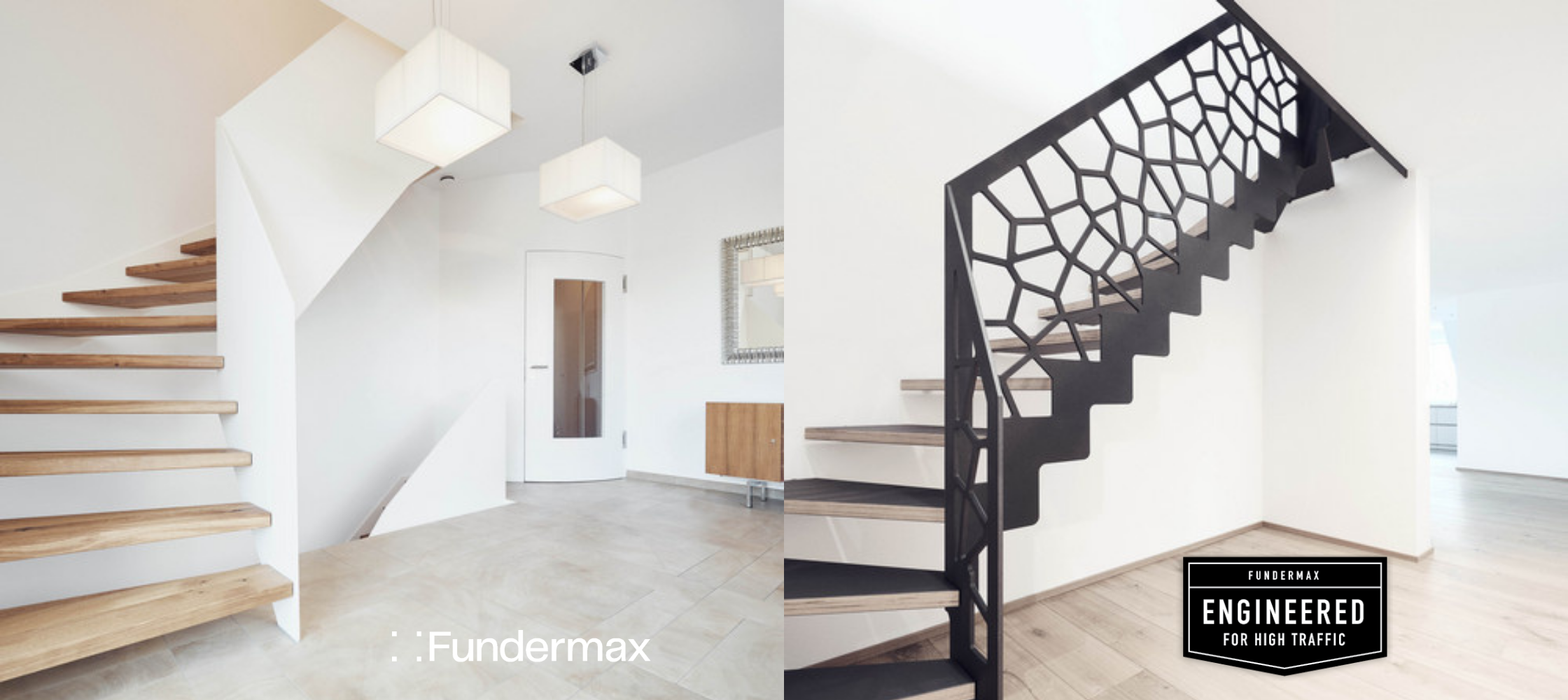 Key Factors to Consider When Installing Interior Wall Cladding
When installing interior wall cladding designs, there are a few essential factors to consider. Interior HPL panels offer more than the practicality of exceptional strength; they are also highly decorative interior wall cladding materials. That means it's important to consider not only technical factors like sub-framing and fastening options, but also aesthetic factors like panel decor, finish, and edge details.
As a sustainable and globally trusted phenolic panel manufacturer, Fundermax's interior wall cladding panels are used all over the world in commercial and residential buildings, labs, university buildings, public facilities, and more. From our depth and breadth of experience, we've gathered several important considerations for architects leveraging interior wall cladding designs.
What to Consider When Installing Interior Phenolic Panels
Air Gaps
An air gap is the open space behind a wall panel system that allows air movement behind the phenolic panels. Air gaps are the best way to defend against moisture migration. Ensuring there is airflow on the front and back of the panels also helps maintain panel flatness and the joints provide space for the panels to move without pressing on each other.
The ventilation guarantees a control of temperature and moisture, particularly for existing moisture in the walls of the building or climatic variations in adjacent rooms.
Subframing
As discussed above, an unequal climate in front of and behind interior wall cladding materials can lead to moisture issues and panels not staying flat after installation. The answer to this problem is a substructure, or subframing, to guarantee air circulation between the panels and the wall, from top to bottom.
Regardless of the mounting substructure material, the subframe assembly must allow minimum clear air space (air gap) of ¾" behind the vertical attached substructure for ventilation of panels.[1]
Additionally, a phenolic wall panel system must have horizontal and vertical joints of equal dimension. (The exact joint dimensions may vary depending on wall panel size.) Joints between the panels can be closed, but the expansion room of the panels must be preserved. The joint allows for controlled expansion and contraction of panels.
Substructure options include an Aluminum Rail System. This is the most common type of subframing used for installing interior wall cladding; uses aluminum z-clips and must be designed to handle the weight per square foot of the specified panel.
Fastening Systems for Interior Wall Cladding
Exposed
An exposed fastening system provides maximum design freedom at an economical price point. Exposed fastening systems use screws or rivets that can be color-matched to the phenolic panel decor. As an alternative, designers sometimes specify black or polished fasteners to provide more contrast or to achieve a more industrial aesthetic.
When using screws or rivets as fastening devices, the following points must be followed:
The center of the borehole in the substructure must correspond with the center of the borehole in the phenolic cladding panels.

The mounting devices should be attached from the middle of the panel outwards.

A slide point and a maximum of 1 fixed point must be used.

Sufficient expansion room must be ensured.
Concealed
If you do not want the mounting fastenings to be visible, then interior wall cladding panels can be mounted on the wall with various suspension fastenings. This option, called a concealed fastening system, utilizes the aluminum rail subframing system and has a z-clip which provides a quarter-inch air gap.
The profiles which are fastened to the backside of the phenolic cladding panels can be mounted using blind fasteners or screws

Ideally, screws or sleeves are used with a metal thread. (In both cases, the hole in the phenolic panel only needs to be pre-drilled one thread less.)

Remember to space the horizontal suspension fastenings in such a way that a vertical rear ventilation is possible.

Additionally, the fixing strips should be slidable (or spaced accordingly) in order to avoid distortion of the element due to differences in tension.
For additional details specific to Fundermax panel installation, including our downloadable resource library, click here.
Additional Considerations
Finishing Touches
It's important to consider what design you want for the edge, trim, reveals, and corners of an interior phenolic wall panel system. For example, something like this aluminum trim is a convenient and cost-effective option that is commonly used. It offers designers (and phenolic panel manufacturers) the freedom to prioritize the design of the desired phenolic cladding panels and then choose from a variety of off-the-shelf trim options.
Panel Size Options
Fundermax offers various panel sizes to help improve panel yield, including more panel size options than other phenolic panel manufacturers. These varied options can add valuable flexibility for an architect.
Panel Thickness Options
Fundermax also offers various panel thicknesses, ranging from 10-19 mm thick, making Max Compact Interior phenolic panels ideal for many types of applications.
Decor Options
Fundermax has over 100 decor options ranging from solid colors and woodgrains to abstract and custom digitally printed panels.
Examples of Interior Wall Cladding
Movie Theater: Decorative Interior Wall Cladding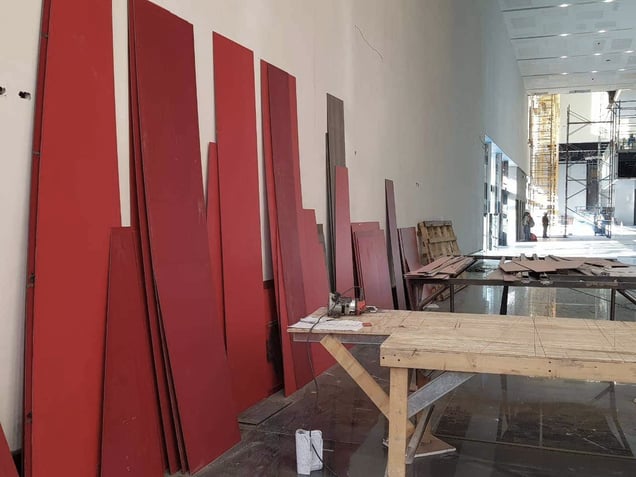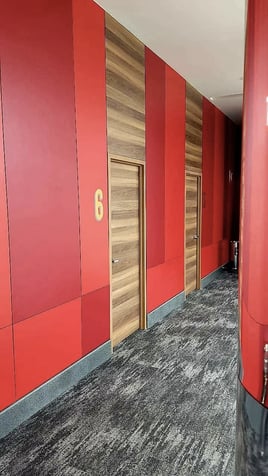 Showcenter Complex in San Pedro Garcia Garza, Mexico; Fundermax Max Compact Interior with concealed fasteners.
School: Durable Interior Wall Cladding Materials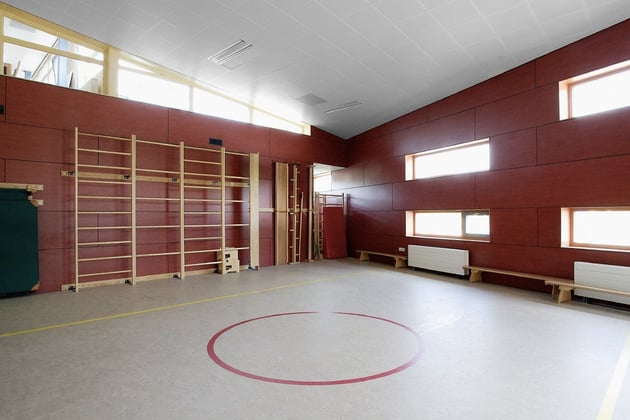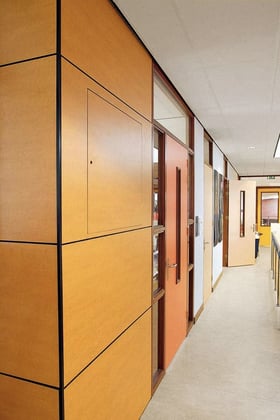 Brede School Oude Landen in Nuenen, Netherlands; Fundermax Max Compact Interior with concealed fasteners.
Laboratory: Interior Feature Wall Cladding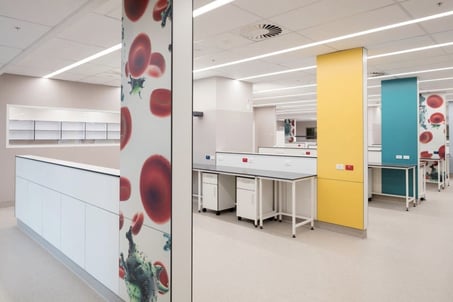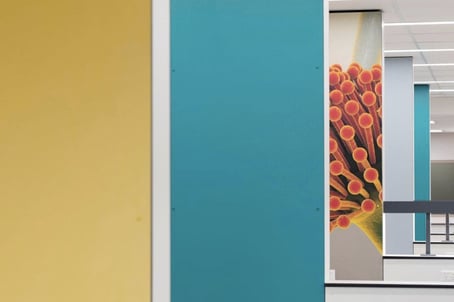 Middlemore Hospital in Auckland, New Zealand; Fundermax Individualdécor, Max Compact Interior with exposed fasteners.
In addition to the important factors we discussed above, consider that, overall, installing Fundermax interior wall cladding is simple and straightforward. Add to that the variety of panel sizes (more than other phenolic panel manufacturers), fastening systems, and decor options, Fundermax provides solutions for a wide variety of specifications.
As a global leader in phenolic panel manufacturing, Fundermax creates sustainable, high-quality, innovative interior wall cladding materials. Contact us today to discuss the best solution for your next project.
---
[1] https://fundermax.us/wp-content/uploads/2021/08/SECTION-097700-FunderMax-Wall-Lining-Specification-Max-Interior-2021-AUGUST-2021.pdf