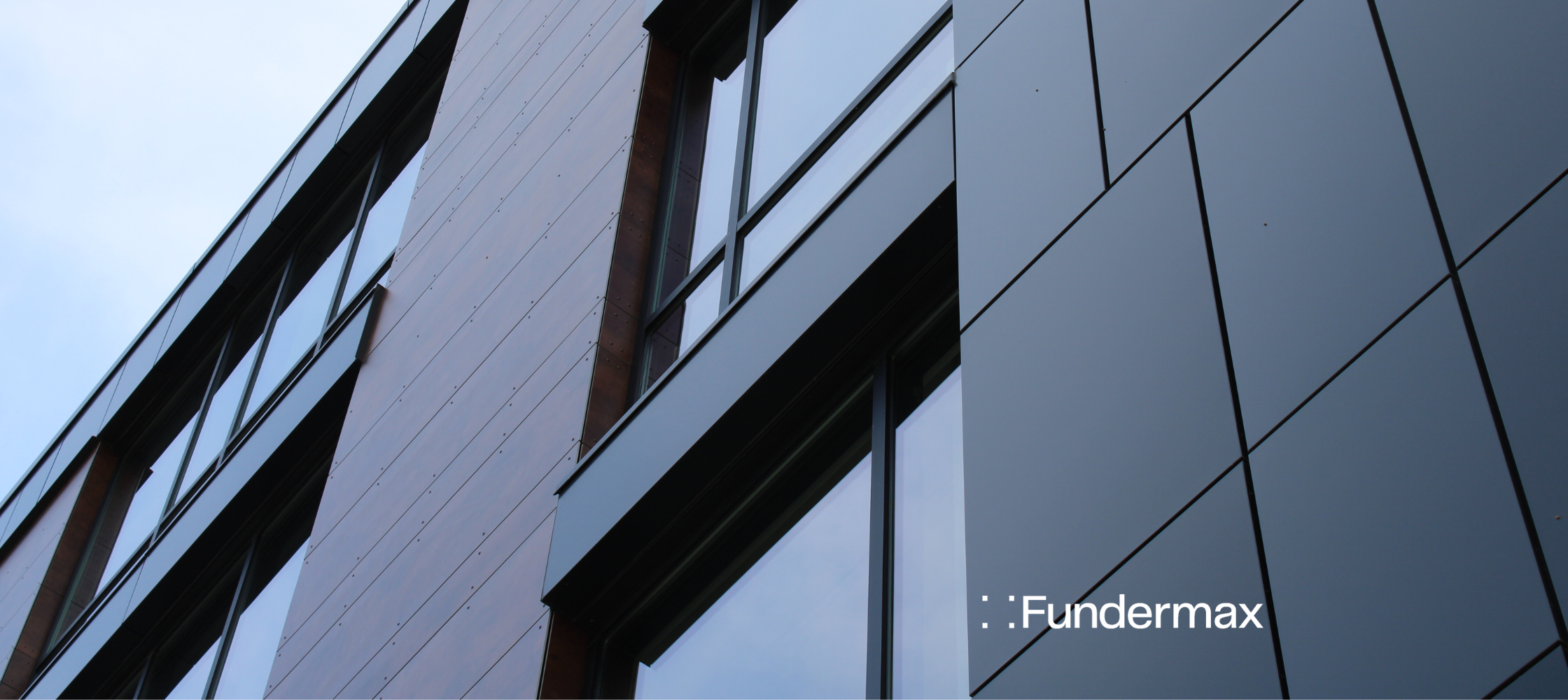 Three Important Factors to Look for in Your HPL Rainscreen Cladding
Choosing HPL rainscreen cladding can be overwhelming. With different types of exterior wall cladding available, it can be difficult to choose the exact mix of components necessary to fulfill your design needs. Here, we've boiled it down for you; the best phenolic rainscreen cladding systems have these three key ingredients:
Quality kraft paper

UV-stable top coat

Solid warranty
With over a century in the industry, Fundermax has a great appreciation for and understanding of what's essential to the rainscreen systems of a wide variety of structures in all types of environments. We're dedicated to sharing our knowledge and experience dealing with rainscreen cladding and phenolic cladding panels to help equip architects and designers to make the best choice for their application. Read on for more about choosing the right rainscreen cladding material.
What is a Rainscreen Facade?
A rainscreen facade, also called rainscreen cladding, is a term used to refer to the outer wall covering; but the rainscreen facade also includes the components behind the outer wall. The main purpose of a rainscreen is to prevent moisture infiltration.
Added benefits of rainscreen cladding include protection against
ultraviolet radiation

negative wind pressures

heat transfer into and out of the building

air infiltration

vapor transmission.
What Are The Parts That Make Up a Rainscreen System?
A solid rainscreen system has five main components: supporting wall, thermal layers, an air cavity, cladding, and a substructure.
Supporting Wall
As its name implies, the supporting wall provides stability for the building and supports the weight of the cladding. Concrete, brick, wood, or similar durable materials are used to construct the supporting wall.
Substructure
The substructure allows space for the open air cavity behind the exterior facade cladding. The material used for the exterior facade impacts the choice of material for the substructure. Typically, substructures are made of wood, galvanized coated steel, or aluminum. Consider project specifics carefully when choosing durable exterior wall cladding and substructure materials.
Wood:
Wood is a sustainable option that is relatively low cost and readily available. However, wood is more flammable and typically offers a shorter lifespan. That's why some manufacturers recommend an EPDM covering; just remember to account for the added cost. Additionally, consider that chemical treatments can impact product quality.
Steel
Hat and zee shapes are popular and come in at low price point for steel substructures. However, consider that cut ends must be painted in order to avoid corrosion. Additionally, for some cladding fasteners the substructure must be 16ga steel or better (but even then, there are potential issues with manufacturer compatibility).
Aluminum
Aluminum costs more than wood or steel, but the long lifespan of this non-corrosive material justifies the upfront investment. Also, all phenolic panel manufacturers allow aluminum substructures, so there are many supplier options.
Thermal Layers
On the outside of the supporting wall, there is a thermal layer that provides insulation. Along with air and moisture barriers, the thermal layer thickness and material type varies based on the project.
Air Cavity
Open on the top and bottom, the air cavity promotes water drainage and allows water vapor to escape. This open air cavity is a hallmark feature of the rainscreen façade system.
Cladding
Cladding is the exterior panel affixed to the substructure. Though wood and metal are available options, phenolic panels (also called high pressure laminate or HPL panels) are a clear frontrunner based on durability, among other qualities including low maintenance and aesthetic appeal.
Three Key Factors to Look at for Phenolic Rainscreen Cladding
1. Kraft Paper
Kraft paper is specially selected core paper with precise parameters for color, weight, and tear strength. Fundermax sources kraft paper raw materials from FSC certified vendors. The strength and durability of kraft paper comes from long internal fibers. When impregnated with phenolic resins, the fibers go through a thermosetting process creating strong irreversible bonds with our stable top coat.
2. UV Stable Top Coat
Fundermax phenolic panels have a polyurethane acrylic top coat which protects the panels from damage, dirt, debris, and UV rays. The irreversible bonds created in the thermosetting process mean that delamination is not an issue with Fundermax cladding panels. Note that the top coat formula varies by manufacturer, so it's important to look into what your specific phenolic panel manufacturer uses. Be sure you choose a phenolic panel that is protected and will remain beautiful for your clients throughout the years. To ensure that your HPL panels do not fade, they must have a UV stable top coat.
3. Warranty
Although most manufacturers offer some type of warranty on their rainscreen cladding panels, there is no required standard for HPL panel warranties. The level of warranty a phenolic panel manufacturer offers is a testament to their confidence in their phenolic panels. A strong exterior cladding warranty mitigates risks as it ensures the builder is covered in case of defect or failure in the phenolic exterior wall panels. It is important to note whether a phenolic panel manufacturer covers horizontal application of the HPL panel, the labor to replace any faulty materials, and the length of the warranty. Fundermax stands behind our HPL cladding panels with an industry-leading warranty that covers materials AND labor for 10 years, including horizontal applications.
Examples of HPL Rainscreen Facades
Although function, structure, and durability are primary demands of any architectural design, aesthetics have a prominent role in rainscreen cladding selection. Whether the design calls for simplicity or strength, there are several color and style options for high-pressure laminate panels.
Digitally Printed Facade Panels
With technological advances allowing for digitally printed facade panels, the aesthetic choices for HPL panels are endless. From eye-catching artistic features to branded designs, digitally printed panels offer unmatched individualization.
Roseland Toth Theatre owned by Jamie MacGillivray, MacGillivray Law and Art by Christian Toth
Woodgrain
When designs call for a timeless finish, woodgrain is a popular decor choice. From light woods like Beech to deeper grays and browns, woodgrain HPL panels showcase the beauty of wood while providing all the benefits of high-pressure laminates.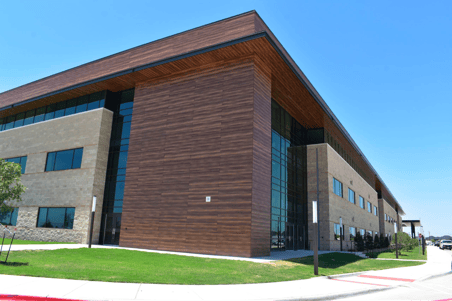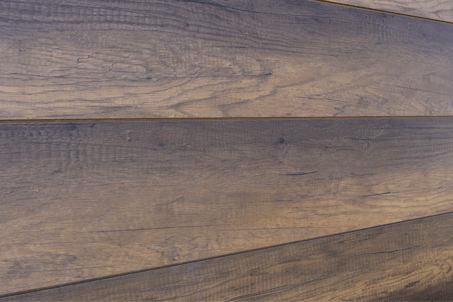 Solid Color
Solid color rainscreen panels offer your clients classy, timeless, beautiful, and potentially branded aesthetics, especially when you play with finish options such as mixing gloss and matte finishes to give the panels a different feel even though they're all the same color.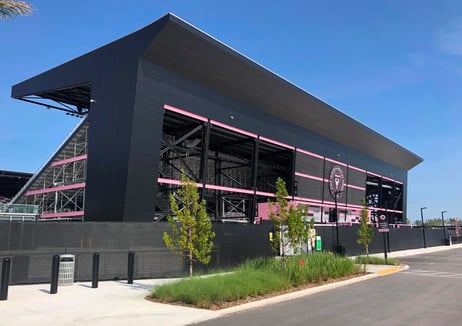 Abstract
Abstract panels play with color and texture, allowing a creative touch without completely customizing the panels. Abstract phenolic panels may hint towards stone or wood materials while embracing different textures and patterns.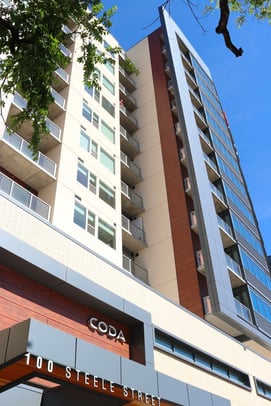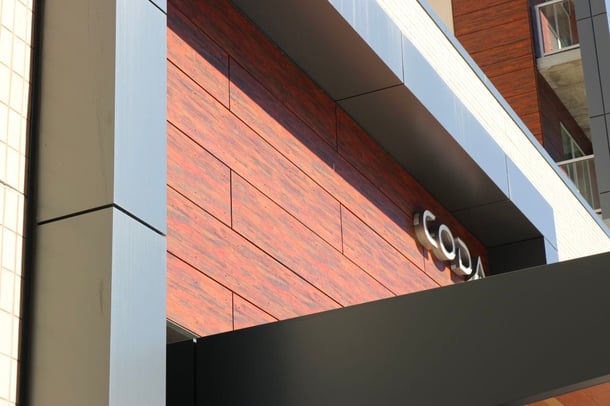 Authentic Natural Panels
Authentic panels are a unique application in that they are designed to gradually change color slightly over time. This offers a very organic and natural appearance without sacrificing panel durability or longevity.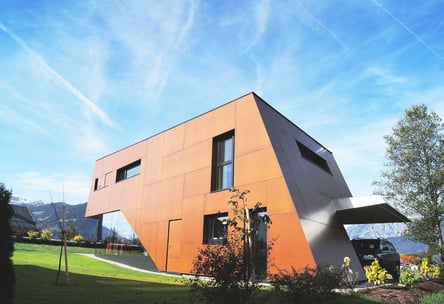 Sustainable Rainscreen Cladding Systems
As a globally trusted leader in the HPL industry, Fundermax has remained committed to sustainability. Using renewable raw materials and creating green energy from the by-products, Fundermax high-pressure laminate panels provide durability, quality, and creative aesthetics; and we stand behind our sustainable HPL panels with one of the industry's best warranties.
The Fundermax team has developed a phenolic panel comparison document to assist designers and architects with material specification; download the newly updated ebook here.