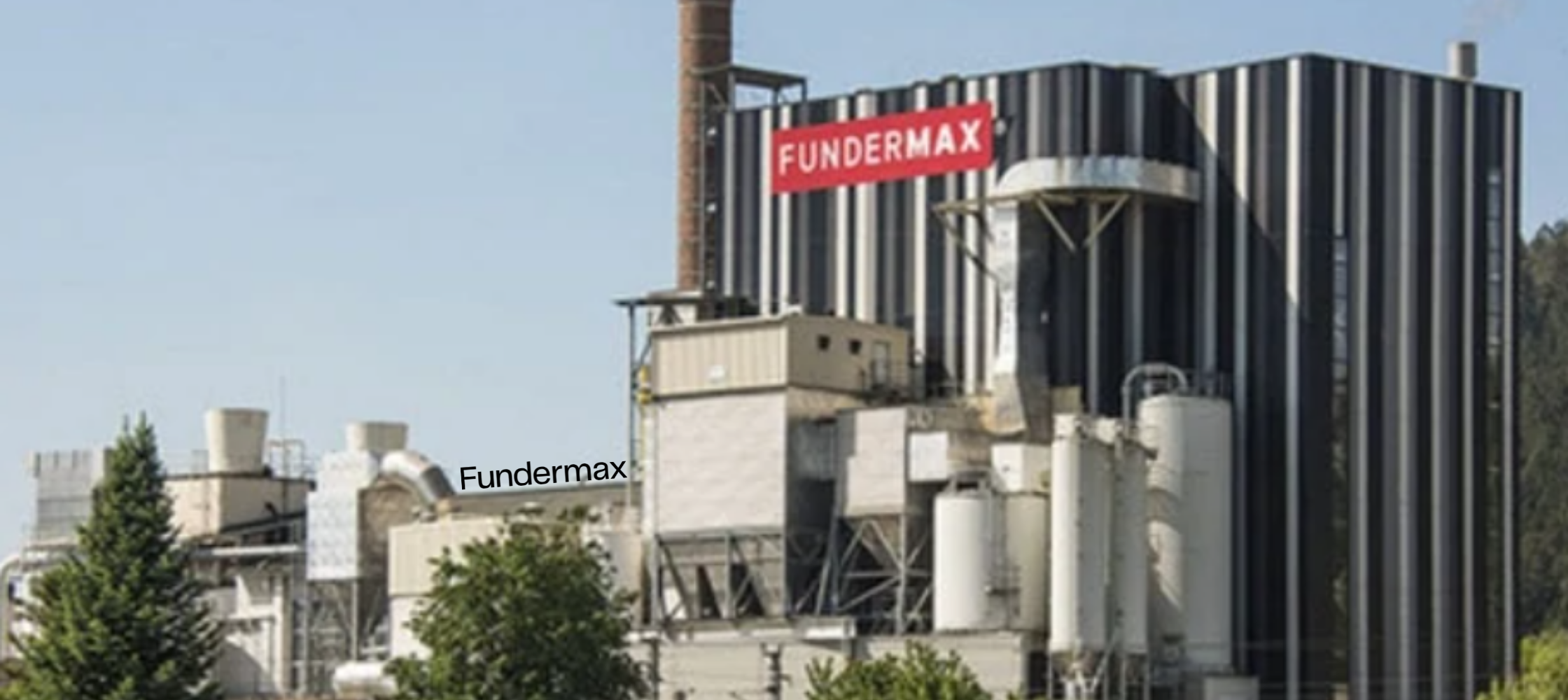 How Fundermax's Green Energy Manufacturing Prioritizes Our Planet
Around the world, manufacturers are developing new ways to power their production facilities with clean energy.
Green energy manufacturing at Fundermax supports our sustainability mission and fits with the values our company was founded on more than 100 years ago.
Karl Funder began working with timber products in the 1890s. His first factory opened in 1939 in St. Veit an der Glan in Austria. St. Veit an der Glan is home today to our global headquarters, yet the production processes have changed over the past 80 years.
Fundermax production cycles are closed. Chips and shavings produced by processing (cutting and milling) are either recycled back into the production process or used to generate energy in our district heating plants.
Production sites in St. Veit an der Glan and Neudörfl, Austria generate certified green energy. Our St.Veit an der Glan power generation plant not only covers Funderburk's own energy needs but also provides environmentally-friendly power to around 4,000 households and public buildings in the area. Replacing the individual heating systems of neighboring buildings reduces emissions which impact the environment.
The 320,000-meter-square-foot Neudörfl biomass cogeneration plant covers Fundermax's own energy needs and powers an additional 4,400 households and public buildings.
Optimizing Production Processes for the Planet
Green energy isn't our only focus though. Fundermax also focuses on environmentally-friendly production processes. For instance, at our Max Exterior factory, exhaust air is removed from the drying process and treated using regenerative thermal oxidation, with the resulting heat being fed back into the drying process. This efficient exhaust air treatment avoids CO2 emissions of ca. 10,000 tons annually at the production site.
In fact, since 2005, Fundermax has been able to reduce its carbon dioxide emissions by 30%, thanks largely to our investments in energy efficiency and use of fuels consisting of 85% biomass.
Renewables are currently only about 10% of total final energy consumption for global manufacturing, according to the International Renewable Energy Agency (IRENA). "The availability of low-cost, and sustainable, biomass sources as well as reduced capital costs for emerging technologies" could see that figure grow, IRENA predicts.
In the meantime, Fundermax is proud to be a forerunner among energy-intensive industries, using renewable energy sources to meet high-temperature heat demand. Being able to contribute to our community's energy needs as well fits in with our company values of partnership and responsibility.
Renewable Materials for Phenolic Panel Partners
Along with green energy manufacturing, Fundermax's reliance on responsible forestry partners (through its FSC C101966 certification) and involvement with the program for the Endorsement of Forest Certification (PEFC) furthers our corporate social responsibility goals.
Our long-standing reliance on raw, renewable materials to make our exterior and interior high pressure laminate (HPL) panels helps designers, architects, building owners and general contractors to meet their sustainability goals too.
Use our digitally printed, customized Individualdecor panels for a creative interior wall panel. Build a sterile, sturdy lab work station with Max Resistance HPL. Create a bold impression with a rainscreen façade from Max Compact Exterior panels. Design a balcony built from non-combustible panels with our NCore line. Incorporate innovation into your interior furniture with non-porous and easy-to- clean Max HPL thin laminate panels.
Whichever direction you go with our products, you'll know that you're selecting paneling that is durable, reliable and easy to maintain while also helping to reach LEED Certification goals. Fundermax panels are also available in a wide array of colors, finishes and surfaces. Get the moisture, impact, graffiti, UV, weather and scratch resistance you are looking for with Fundermax.
Energy production, like industrial production, is always a compromise. Both generate by-products and have numerous effects. With ongoing improvements, sustainable investment, consistent monitoring and cleaner processes, Fundermax is always working to minimize negative effects on people and the environment.
Select Fundermax and partner with a green energy manufacturing company with unique, high quality interior and exterior paneling. Many of our phenolic panels are made from raw materials coming from FSC®/PEFCTM-certified forests. Make the sustainable choice — contact us today!
Green Energy Manufacturing at Fundermax means:
Green electricity to supply 35,000 households
District heating for a total of 8,500 households
18,000 tons less emissions per year / location
Using fuels consisting of 85% biomass
100% sustainable forestry
Reduction of CO2 emissions by 30% since 2005
Learn more about the different ways Fundermax has prioritized sustainability for over 100 years, here.