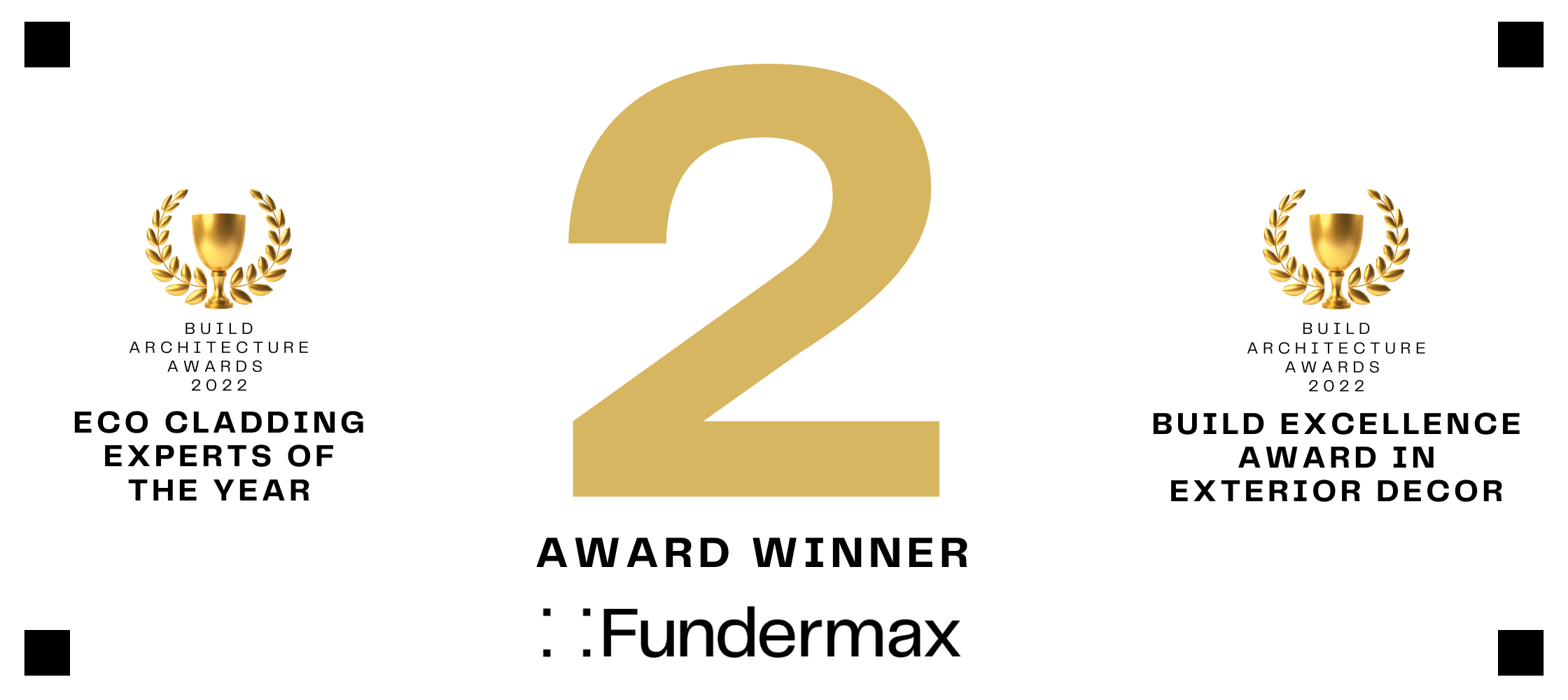 What Fundermax North America's Recent Awards Mean
Fundermax North America recently won two awards that mean a great deal to us as a company, not as much for the recognition, but more so for what each award represents.
We are extremely proud to have been awarded the BUILD Excellence Award in Exterior Decor 2022 and to be named Eco Cladding Experts of the Year 2022.
Join us in celebrating why these awards matter.
BUILD Excellence Award in Exterior Decor 2022
The BUILD Architecture Awards are judged by an impartial research team based on various criteria including client dedication, innovation, business growth, longevity, online reputation, client feedback and business performance. With regard to this year's winners, Awards Coordinator, Dean Taylor, said, "As ever, the Architecture Awards' aim is to highlight the true perseverance and prestigious skill of those in the sphere. I am happy to celebrate these wins for those changing the way we see and experience the industry."
Fundermax has worked hard to provide all architects and designers ultimate design freedom. By offering over 100 unique decor options as well as custom digitally printed panels, design teams have a suitable option for every application. Our phenolic panels can be used for all types of exterior applications including rainscreen cladding, soffits, sunshades, balconies, furniture, signage, and more. Fundermax high pressure laminates are suited for installation below 10 feet, may be used in curved designs, and "play nice" with other materials so they can even be installed next to glass, metal, and more.
Eco Cladding Experts of the Year 2022
In addition to our Excellence Award, we were named Eco Cladding Experts of the Year because of our focus on sustainability and durability.
For over a century, Fundermax has specialized in processing renewable raw materials. As a globally trusted manufacturer of sustainable phenolic panels, we are committed to environmental responsibility. This commitment is evident throughout our company operations and the production of our sustainable HPL panels.
Alongside sustainability, you find durability. Our panels are not only easy to install, they will not delaminate, they can endure high-traffic and high-impact environments, and ultimately they will last the lifetime of your building. This makes Fundermax phenolic cladding panels ideal for architects, designers, building owners, and contractors as we've worked hard to provide the right solution for the needs and priorities of each integral role.
Fundermax Core Values
Throughout our long history in supporting business activity globally, our Fundermax values have remained consistent:
Trust

Honesty

Transparency

Partnership

Respect

Responsibility

Teamwork
Driven by these core values, we have consistently held our standards high by putting our products through rigorous testing beyond what is required. Fundermax is a Green Energy Manufacturer, offering an EPD and HPD, industry-leading US exterior 10-year materials-plus-labor warranty, four different panel sizes, ISO 9001, 14001, 45001, and 50001, EPD, HPD, Closed-Loop Production Cycles, and FSC Certified materials.
See how we compare to other phenolic panel manufacturers in our Phenolic Panel Comparison eBook.
Fundermax Projects
See for yourself some of the projects that led to Fundermax winning these exciting awards.
Ash Street
Not many phenolic panel manufacturers will let an architect use their panels as an exterior wall and roof - but Fundermax does. Get all the details on this groundbreaking project in the full Ash Street Case Study.
Smoky Hollow
No matter how compelling the durability or aesthetic of a material, many projects cannot move forward without NFPA 285 compliance. Here, Fundermax was the only manufacturer who could offer a compliant panel with the durability and aesthetic that fit the client's original design intent. Find all the details in the full Smoky Hollow Case Study.
Lockhart Stadium
The architect on this project confirmed that product quality was an obvious factor in choosing to work with Fundermax. In addition, he noted that the Fundermax service experience stood out compared to experiences he'd had with competitors in the industry. For all the details of this project – a tall order on a short timeline – check out the full Lockhart Stadium Case Study.
With over a century of experience in the industry, Fundermax has seen the evolution of both architectural designs and manufacturing technologies. We have remained dedicated to our craft and to our commitment to go above and beyond.
We are more than just phenolic panel manufacturers; we are partners in sustainability and in design, empowering architects to create without limits. We celebrate these awards as an affirmation of our core values and efforts.