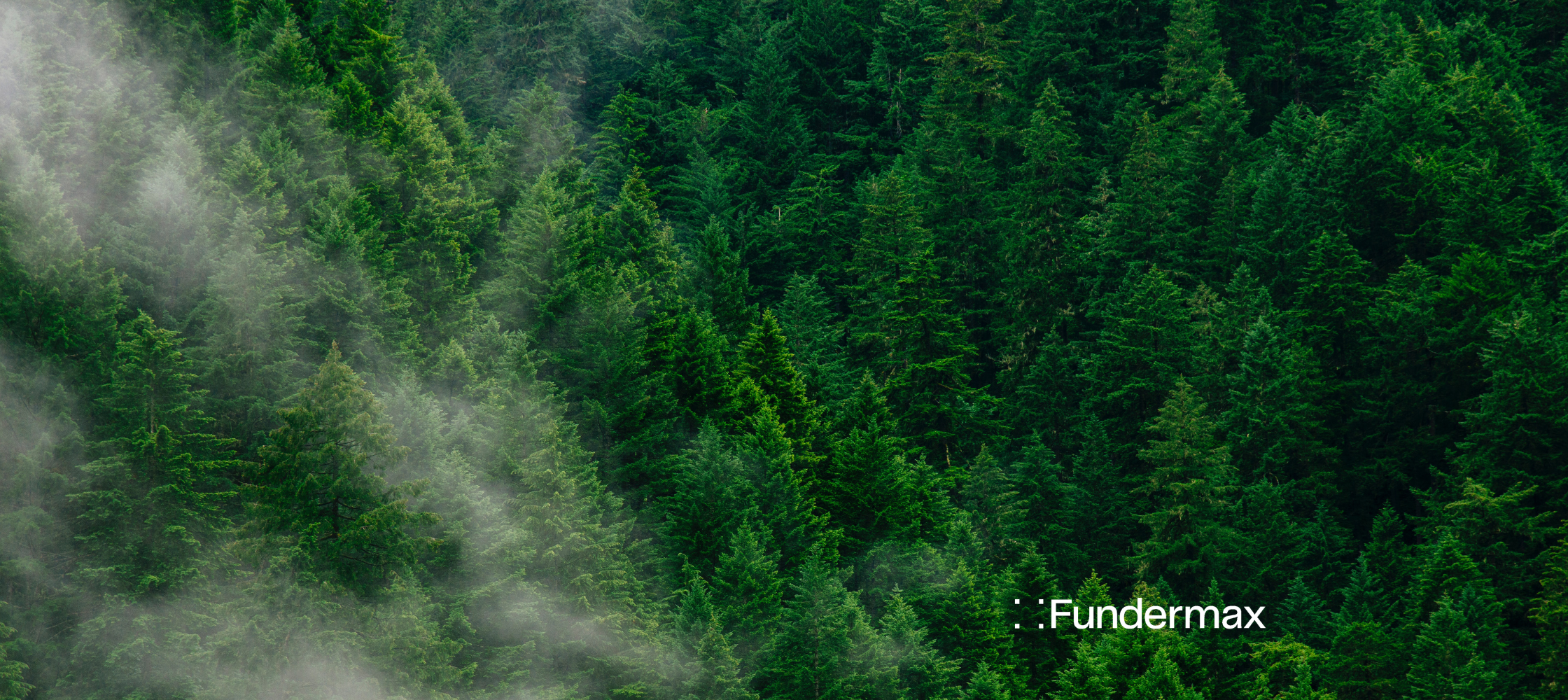 What Does "FSC Certified" Mean on Wood & Lumber Products?
Is it possible to use responsibly sourced lumber without sacrificing design quality? Thanks to industry certifications from sustainability organizations like the Forest Stewardship Council, you can!
An FSC certification is not mandatory in the lumber production industry, so choosing manufacturers that use FSC-certified materials means you're going above and beyond to protect the planet without giving up quality. This blog will explain what FSC certification is and just how beneficial FSC-certified wood products can be in your building projects.
What Does "FSC Certified" Mean?
"FSC certified" means that a lumber product — and the company that produced it — meets high standards for environmentally, socially, and economically responsible lumber processing. The organization that sets these high standards is the Forest Stewardship Council (FSC), a nonprofit that promotes responsible forest management and sustainable lumber production across the globe.
Founded in 1993, the FSC works to prevent deforestation while ensuring the future of the lumber industry and our planet. They review how the lumber is sourced, processed, stored, and shipped before providing companies with the FSC seal of approval.
FSC certification uses U.S. and global standards for lumber production and forestry management. There are two main types of FSC certifications:
Forest Management: The Forest Management Certification from the FSC demonstrates that a forest used for production is managed per the FSC's Principles and Criteria regarding legal compliance, environmental impact, recognition of indigenous peoples' lands, and more.

Chain of Custody: The Chain of Custody Certification from the FSC verifies that lumber products follow the proper channels from forest to processing to consumers.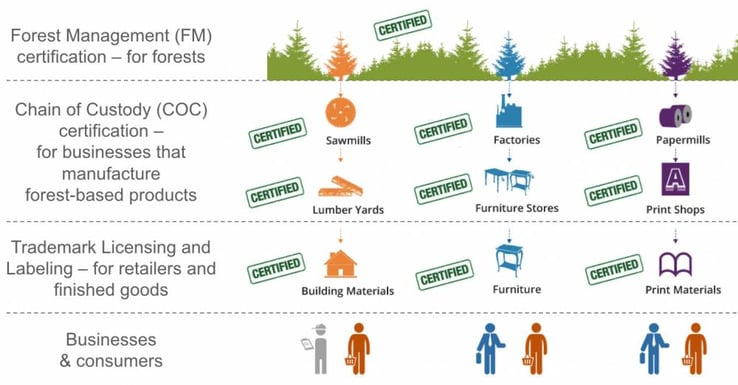 Image via FSC.org
In addition to these two certifications, the FSC uses three logos to indicate which standards a lumber product meets.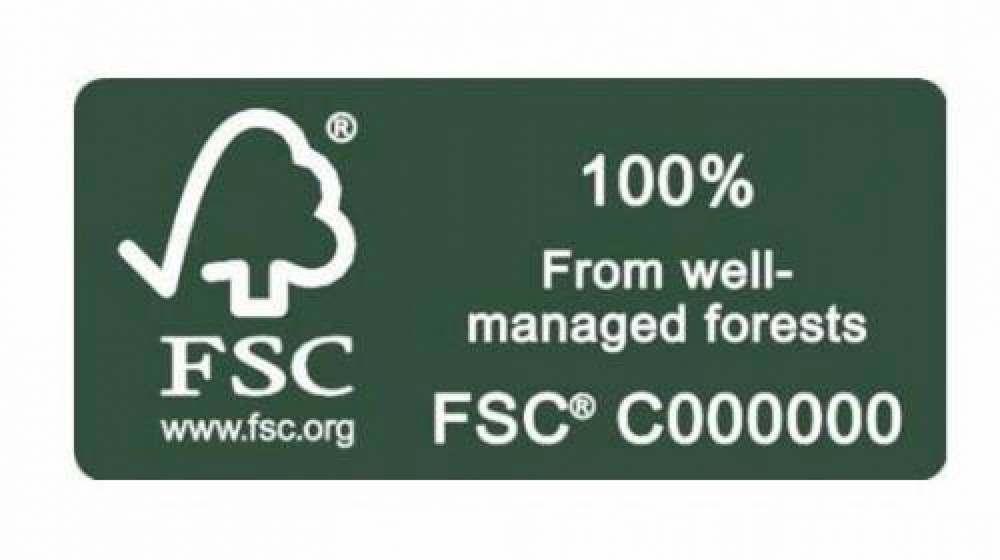 Image via FSC.org
The FSC 100% label identifies forestry products made with 100% virgin material from forests with the FSC Forest Management Certification.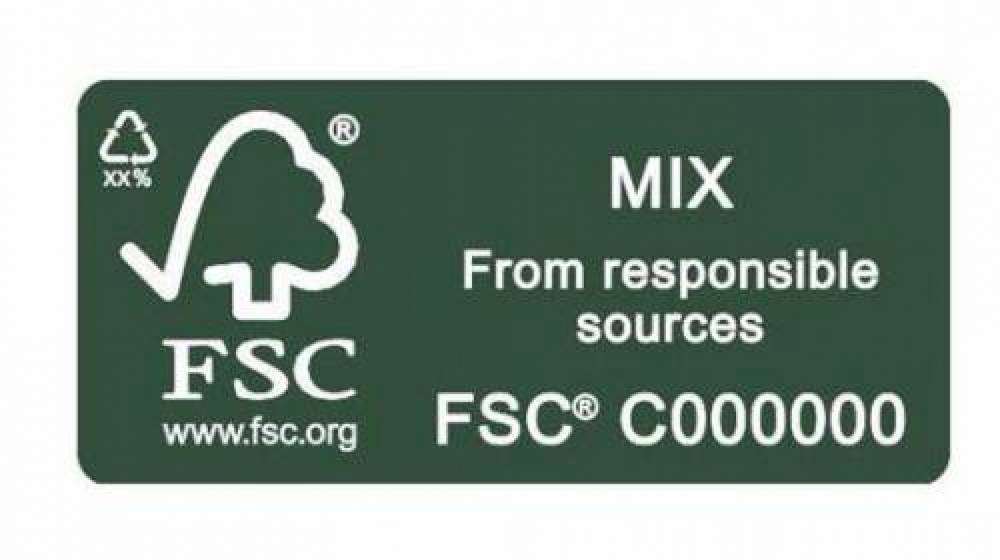 Image via FSC.org
The FSC MIX label signifies lumber products made with a combination of FSC-certified forest, recycled materials and/or FSC-controlled wood.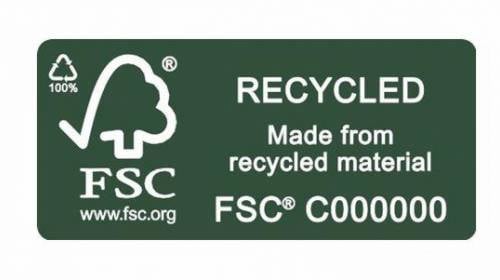 Image via FSC.org
The FSC Recycled label tells you that the lumber product is made with 100% FSC-certified recycled material.
Importance of Using FSC-Certified Lumber
Forests make up 30% of all land on Earth, providing shelter and vital resources to the millions of people and animals that live in these areas. In addition, these habitats contribute valuable resources, like food, water, building materials, and more, to billions of people worldwide. Lastly, the trees and plants that call these diverse forestlands home use carbon to produce life-sustaining oxygen for all living beings.
But deforestation — clearing large areas of forestland without replanting or maintaining the habitat — has been a global issue for decades. There are many adverse effects of deforestation, including:
Limited resources: Without replacing the cleared trees, the available lumber supply decreases. That can lead to supply shortages and economic pressure, which can harm global communities and the industry's future.

Increased carbon emissions: Forests hold tons of carbon. Deforestation increases greenhouse gasses like embodied carbon, speeding up climate change that further affects the health of forests and the planet.

Increased soil erosion: Forests naturally preserve the quantity, nutrients, and humidity of soil. Deforestation removes that natural barrier, which can damage the soil, prevent us from growing crops, and impact nearby habitats and communities.

Changes in the water cycle: Trees are a critical part of balancing the amount of water on land and in the air during the water cycle. Deforestation changes the levels and severity of precipitation, the flow of waterways, humidity, and more.

Socioeconomic damage: Clearing forests can disrupt the communities of people that live there, displacing them from their homes and compromising their livelihoods.
As the demand for lumber and paper products continues to increase, it's even more critical to establish and enforce best practices for clearing forests for consumer use.
That's where FSC-certification comes in — studies have shown that the FSC's influence in tropical forest regions has reduced these effects and even improved labor conditions for local workers.
The FSC brings a holistic perspective to lumber production and processing by maintaining standards that address issues in environmentalism, conservation, cultural recognition, economic prosperity, and more. That's why business leaders in the forestry industry, international legislators, and social and environmental advocacy groups — like World Wildlife Fund and Greenpeace — consider an FSC certification the "gold standard."
When you choose lumber products that bear the FSC logo and/or FSC product labels, you do your part in helping preserve forests and the industry for the future.
What Fundermax's FSC-Certified Lumber Means for You & Your Clients
At Fundermax, we only use FSC-certified fiber materials. That means all our lumber products meet sustainable and responsible production and processing standards. For example, our phenolic panels contain a kraft paper core of natural wood fibers sourced from FSC-certified forests.
In addition, we have the FSC Chain of Custody Certification, which verifies that all of our products come from sources that also have FSC certification.
Architects and builders who work with FSC-certified processors and suppliers like Fundermax make it easier to earn LEED certification on their building projects. Under the Certified Wood Pilot Alternative Compliance Path (ACP), you can potentially contribute toward LEED certification and help achieve the U.S. Green Building Council's goals, like protecting biodiversity and uplifting global communities.
Fundermax's Commitment to Sustainability
FSC certification is just one part of our commitment to sustainability and responsible lumber production at Fundermax. We're dedicated to minimizing the potentially harmful effects of deforestation and other materials processing when creating our high-quality phenolic panels.
We source raw materials only from vendors certified by the FSC or the Programme for the Endorsement of Forest Certification (PEFC). For example, Fundermax exterior phenolic wall panels, with a panel core made using natural wood fibers sourced from FSC-certified forests, are already a sustainable exterior choice. Our production facilities and processes also adhere to multiple certifications from the International Organization for Standardization (ISO), such as ISO 9001, ISO 14001, ISO 5001, and ISO 45001.
Whether in St. Veit, Wiener Neudorf, or Neudörfl, our processes create sustainable energy, helping to minimize environmental emissions. For example, the Max Compact laminates factory generates power that we reuse in manufacturing. Our other two factories generate power, serving more than 8,500 households and public buildings in their communities.
At Fundermax, we value trust, honesty, transparency, and responsibility — which is why we're always clear-cut with our partners about where our materials come from, how we process them, and the impact our production has on the local and global community. Our dedication to sustainability helps us produce the highest quality HPL panels with deep consideration and respect for our environment.