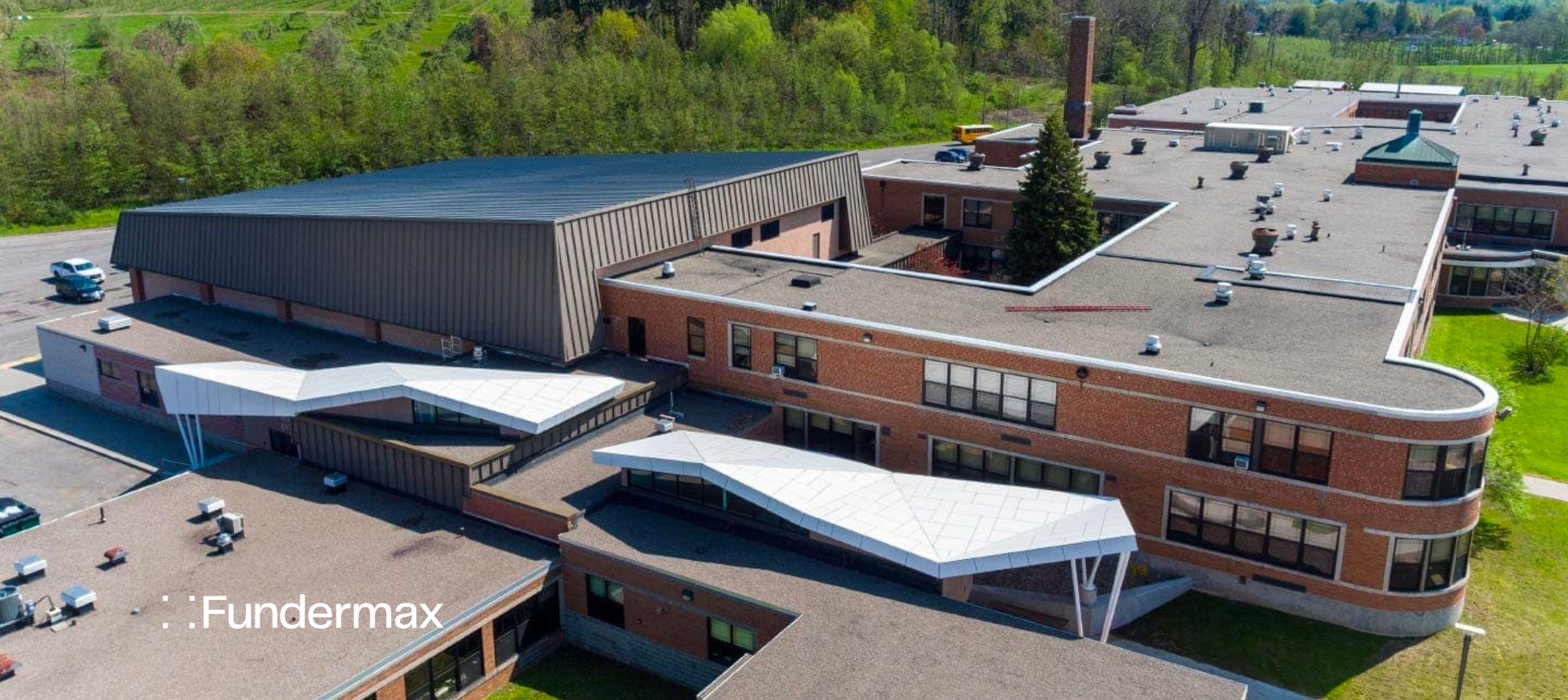 Factors to Consider When Selecting an Exterior Phenolic Panel Warranty
These three key factors are important when looking at a manufacturer's warranty because it allows you to know any potential design limitations that may prevent coverage. This is important to keep in mind, especially when choosing the mounting orientation.
Length
How much time does the warranty cover? Fundermax offers a 10-year material and labor warranty for all U.S. exterior applications. We know you have material options available for your consideration and just as many warranties to compare. To help, we have gathered pertinent information – including warranty coverage – here in our updated phenolic panel brand comparison eBook. Take advantage of this free resource to assist in your research.
Limitations
Does the warranty cover your creative application of the material? Most phenolic panel manufacturers include limitations, such as not covering (or having limited coverage for) horizontal applications. However, our U.S. Fundermax exterior warranty applies to any application and decor, no matter the mounting orientation.
Consider the Sodus High School project with SEI Design Group and architect Gian-Paul Pine. We will discuss this project in more detail below, but this was one of the first instances in North America where phenolic cladding panels were used as cladding over the roof of the building. While other manufacturers might push back on a creative design and bold statement like this, at Fundermax, we encourage it! We are committed to finding a way to help bring your design to life.
Fine Print
Always check the fine print. For example, most phenolic panel warranties only cover materials. Fundermax is different; our exterior cladding warranty includes labor in Fundermax warranty claims. This means we will cover the cost of removing the product and reinstallation.
Why Sodus High School Renovated with Fundermax Panels
As mentioned above, Sodus High School was one of the first instances where phenolic cladding panels were used as a roof material in North America. SEI Design Group and architect Gian-Paul Pine chose Fundermax for several reasons.
1. Confidence
The school district knew they needed a material and a manufacturer they could trust to deliver on this challenging project, and Fundermax has virtually zero warranty claims on our U.S. exterior phenolic wall panels. The team created a one-of-a-kind, modern entry by positioning this fun and unique phenolic panel canopy system over the roof of the existing structure. (Dive into the details of this exciting case study here.)
2. Performance
Performance involves a couple of key elements:
Durability & Maintenance
Phenolic cladding panels are scratch-, impact-, weather-, and chemical-resistant. This becomes even more essential when you pair weather exposures and high-traffic environments.
Ease of Installation
Remember, our phenolic wall panels can be mounted horizontally or vertically and may use steel, wood, or aluminum substructures. These options and our various fastening systems contribute to the ease of installation.
3. Sustainability
Fundermax has been making sustainable products for more than a century. Sustainable construction helps reduce the industry's overall impact on the environment, and we proudly manufacture panels that use FSC-certified wood, have an EPD and HPD, and can contribute to LEED standards in a number of categories.
4. Code Compliance
Our phenolic panels are Class A fire rated. Fundermax rigorously tests all products and offers architects and building owners the added peace of mind of local and national code compliance.
5. Design Freedom
With Fundermax, architects have the opportunity to make bold and creative decisions, knowing that this versatile material will fulfill their original design intent. We provide high-quality design options, including a wide selection of colors, finishes, and custom printing.
6. Aesthetics
With the nature of phenolic wall cladding, an architect can create varying degrees of panel shapes, patterns, and colors on a structure to achieve the desired creative aesthetic.
At Fundermax, we pride ourselves in combining ultimate design freedom while still providing the highest quality, most durable materials. We are dedicated to empowering architects to create without limits. For additional information on products made by Fundermax and other manufacturers, be sure to download our updated phenolic panel brand comparison eBook today.