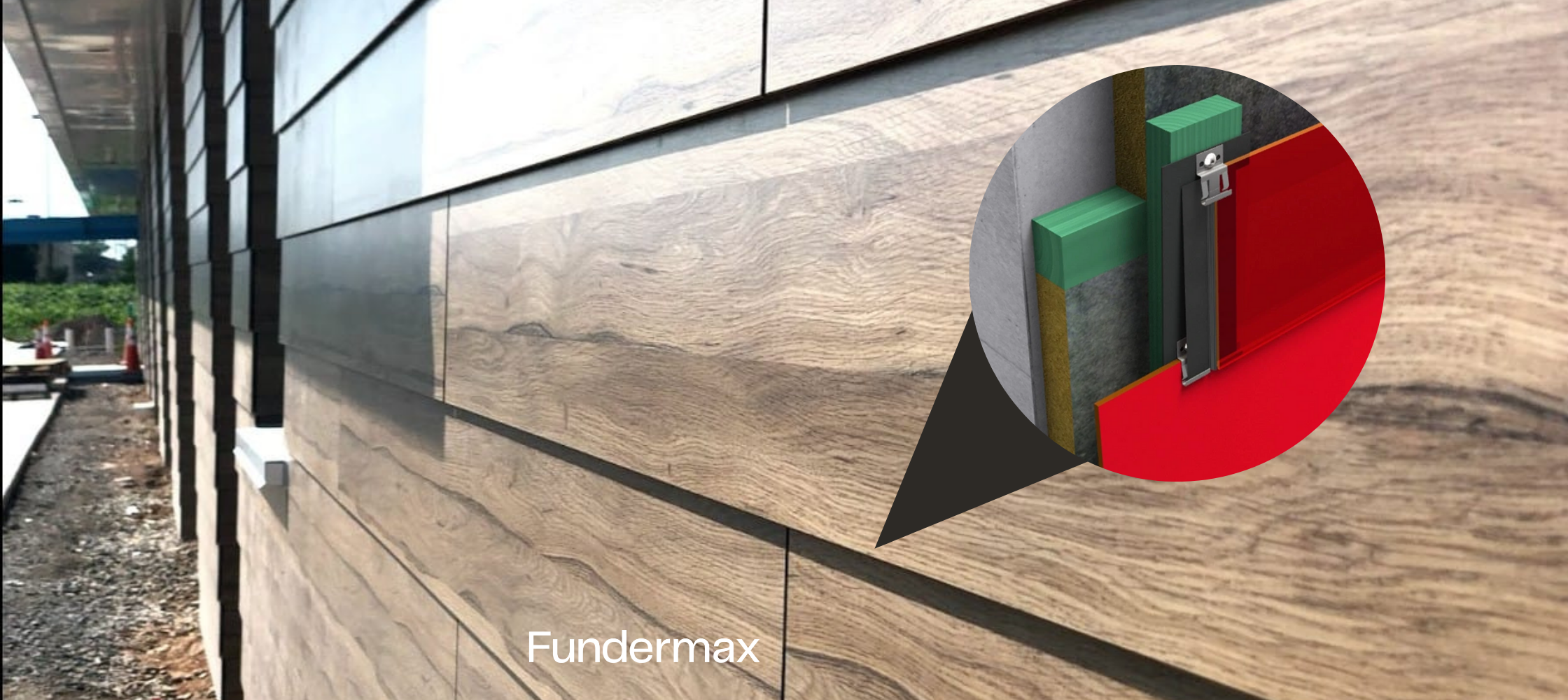 Different Types of Fastening Systems for Exterior Phenolic Panels
When you choose a phenolic wall panel system for a project, it is important to understand how different wall panel fastening systems work and what distinguishes them from one another.
Here, we will discuss four main types of exterior fastening systems and important considerations for each one.
What to Consider When Selecting a Fastening System
Substructure Material
Choosing between exterior fastening systems begins with considering the type of substructure you will use for your phenolic wall panel system. The main options are wood, steel, and aluminum.
Wood
Wood is a sustainable and accessible option. However, it can have a shorter lifespan than other materials, and it is more flammable. Phenolic panel manufacturers may recommend adding an EPDM coating to a wood substructure, which does present an additional cost.
Steel
One benefit of choosing steel as a substructure material is that hat and zee shapes are readily available. Cut ends must be painted to avoid corrosion, however, and typically the steel must be 16 ga or higher. Compatibility may also be an issue as not all phenolic panel manufacturers allow for steel substructures.
Aluminum
The lifespan of aluminum is vastly superior to wood and steel, delivering great value even with a higher price point -- although that price gap has narrowed significantly in 2021. (See below.) Additionally, all phenolic panel manufacturers allow the use of an aluminum substructure and there are many supplier options.
2021 Note on Cost of Substructure Materials:
Normally the price points of the different materials would be one point of differentiation (specifically with wood coming in as the more budget-friendly option). However, in the wake of the pandemic, the jump in lumber prices has tremendously outpaced that of other building materials. An analysis of BLS data by Associated Builders and Contractors reports a 73% increase in lumber prices vs. a 3-15% increase in iron, steel, and fabricated structural metal products from January 2020 to January 2021.[1] The result is that price is currently less of a differentiator than in the past. The future trends of these costs remains to be seen.
Does Fundermax provide substructure systems?
Fundermax does not directly provide substructure systems, which allows architects to choose from a much wider selection of systems and suppliers based on the project budget and preference. The architect can choose any substructure for use with a Fundermax phenolic wall panel system as long as it has been tested to meet building code requirements.
Mounting Direction
How you approach your compact panel installation will also depend on whether you are mounting the exterior panel vertically or horizontally. With such a range of exterior cladding available, you'll have to consider not only the design and durability but also the environment where the panels are being installed. The right system will control and manage water and air infiltration, ultraviolet radiation and vapor transmission, heat transfer into/out of the building, and negative wind pressures.
Vertical orientation can be more durable since the direction of the panel mirrors the path of precipitation, however, vertical cladding installation can be more challenging and time-consuming. Horizontal cladding installation tends to be faster and more straightforward than vertical.
For a more detailed look at installation considerations, see our article on installing exterior phenolic cladding panels. Which application you choose will depend mostly on design preference and project budget.
Four Types of Fastening Systems for Exterior Projects with Fundermax
When fastening a Fundermax exterior wall panel system to a structure, there are four main methods.
Exposed
Exposed exterior fastening systems utilize Max Compact Exterior façade panels and color-matched screws or rivets to give you maximum design freedom at an economical price point. Fundermax exterior phenolic wall panels come in four different sizes to allow you countless module sizes.
This flexibility also helps achieve a high panel yield, reducing waste and maximizing your budget. The color-matched screws and rivets used for fastening an exterior wall panel system to the substructure blend nicely into the cladding façade. Or, for a more industrial aesthetic, bypass the color-matched screws and opt for polished or black screws and rivets instead.
Note how the color-matched fasteners in this school installation blend into the cladding façade panels.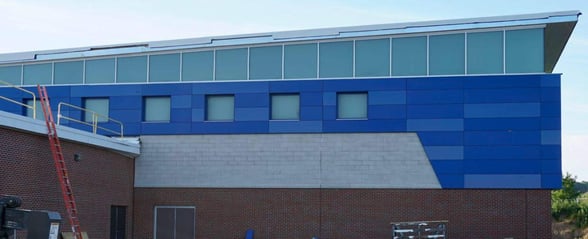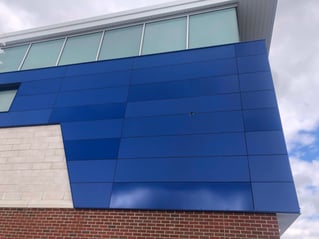 The exterior phenolic wall panels at this Richmond, VA, Starbucks (attached using an exposed wall panel fastening system) provides a practical, durable, and cohesive design that is low maintenance, code-compliant, and sustainable.
Note that the color-matched screws and rivets even blend into the wood grain phenolic cladding panels.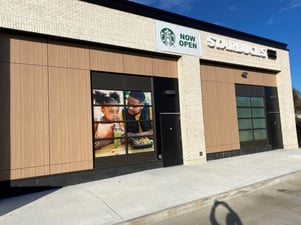 Concealed
Concealed wall panel fastening systems provide hidden attachments for the phenolic cladding panels. Utilizing anchors embedded in the back of the Max Compact Exterior panels, the panels hang on horizontal rails that are attached to vertical wall brackets. This manner of fastening an exterior wall panel system gives the designer maximum design freedom by hiding the fastening points. Concealed exterior fastening systems come in at a higher price point than exposed types of fasteners, regardless of the manufacturer.
This stunning home utilized a concealed wall panel fastening system to attach Fundermax exterior panels to achieve the perfectly minimalist aesthetic while providing the high durability the surrounding climate demands.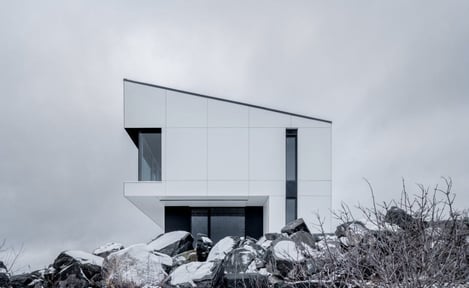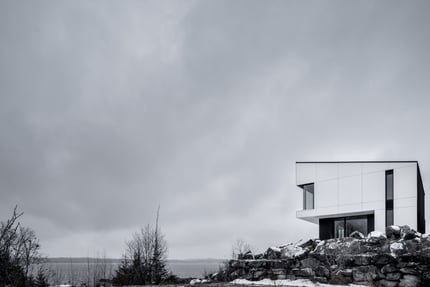 At the Middlesex County Probate and Family Court South building, a concealed attachment method was used for fastening Max Compact Exterior phenolic panels. Surrounding the glass on its left and upper sides, the phenolic cladding panels from Fundermax serve as an elegant yet modern window frame.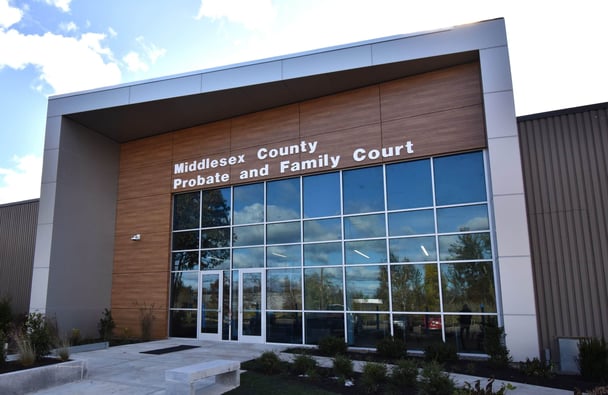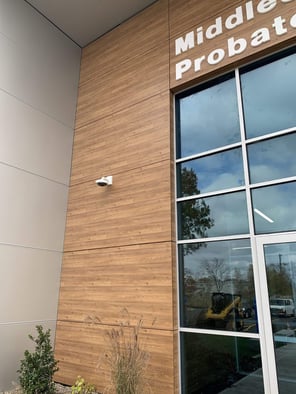 Modulo Plank System
Modulo is a concealed fastener, closed joint modern façade plank system. This modern plank system makes it possible to install exterior phenolic wall panels on a concealed clip system without any open joints vertically or horizontally.
The cladding panels can be installed in a stacked bond, running bond, or a hybrid of both in plank heights from 6 to 24 inches. This allows maximum design freedom for your exterior applications. Modulo is essentially a concealed fastening system at an exposed fastening price.
The South New Hampshire University Library is a gorgeous example of the Modulo fastening system. The University and the design team saw an opportunity to transform the building from an energy liability space to a sustainable asset and create the first LEED-certified building on campus.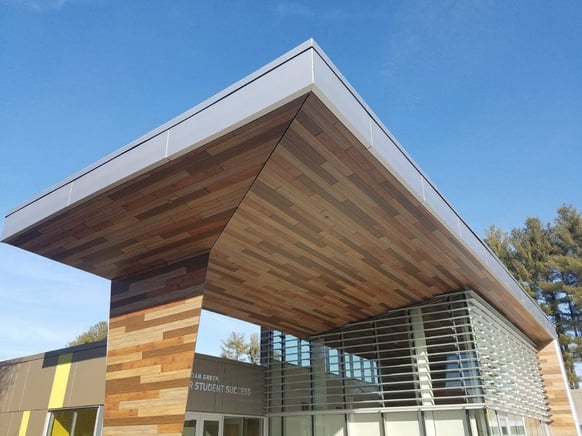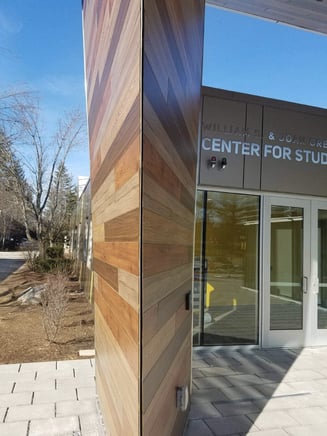 At this large office building in the heart of Raleigh, North Carolina's downtown business district, Fundermax's Modulo Plank System offered a quick installation process without sacrificing durability, quality, or color.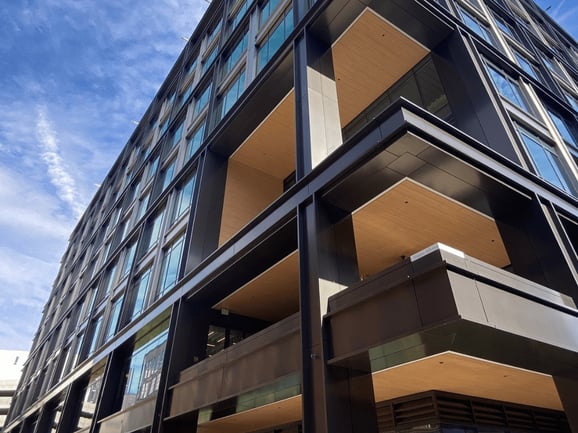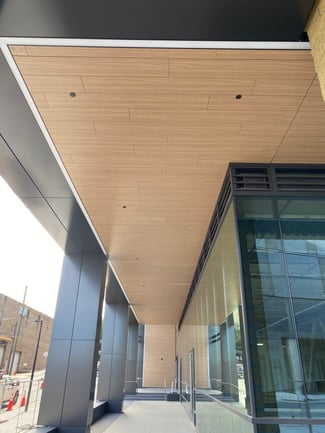 Scaleo Lap Siding
Scaleo is an attractive lap siding system that utilizes prefabricated Max Compact Exterior façade panels. The Scaleo system is easy to design and use, and it provides a durable, modern façade for your residential or commercial structure. Scaleo offers an ideal combination of ease of installation with the proven characteristics of Fundermax exterior phenolic wall panels.
At this nursing home in Webster, NY, woodgrain Max Compact Exterior phenolic wall panels were fastened using the Scaleo Lap Siding system to create a practical, durable, and cohesive design that is low maintenance, code-compliant, and sustainable.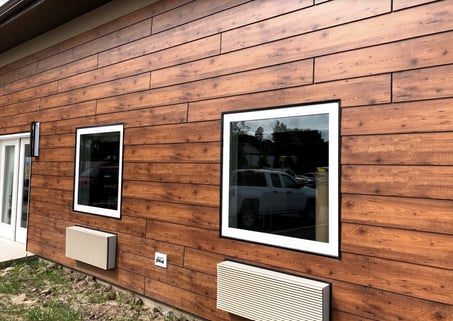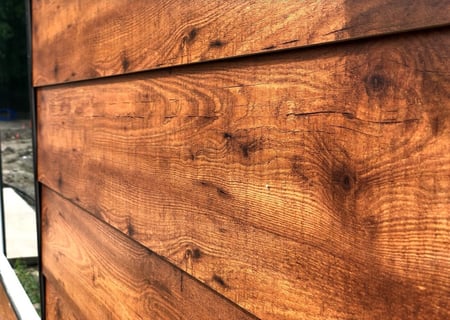 This family YMCA building needed a durable, high-quality woodgrain panel that wouldn't exceed the budget. Installing Fundermax exterior phenolic wall panels using the Scaleo exterior fastening system provided the design flexibility, panel durability, and longevity the project required.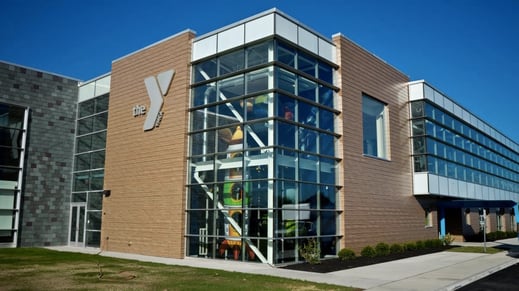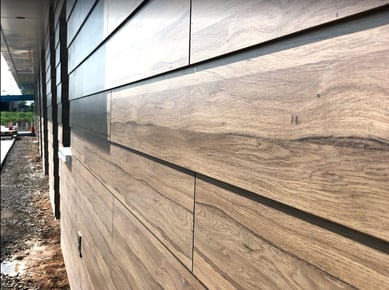 Which wall panel fastening system will work best for your project? Contact Fundermax today to see what type of phenolic wall panel system will be best for your next project.
---
[1] https://www.constructiondive.com/news/skyrocketing-steel-lumber-costs-threaten-to-slow-construction-jobs/594969/