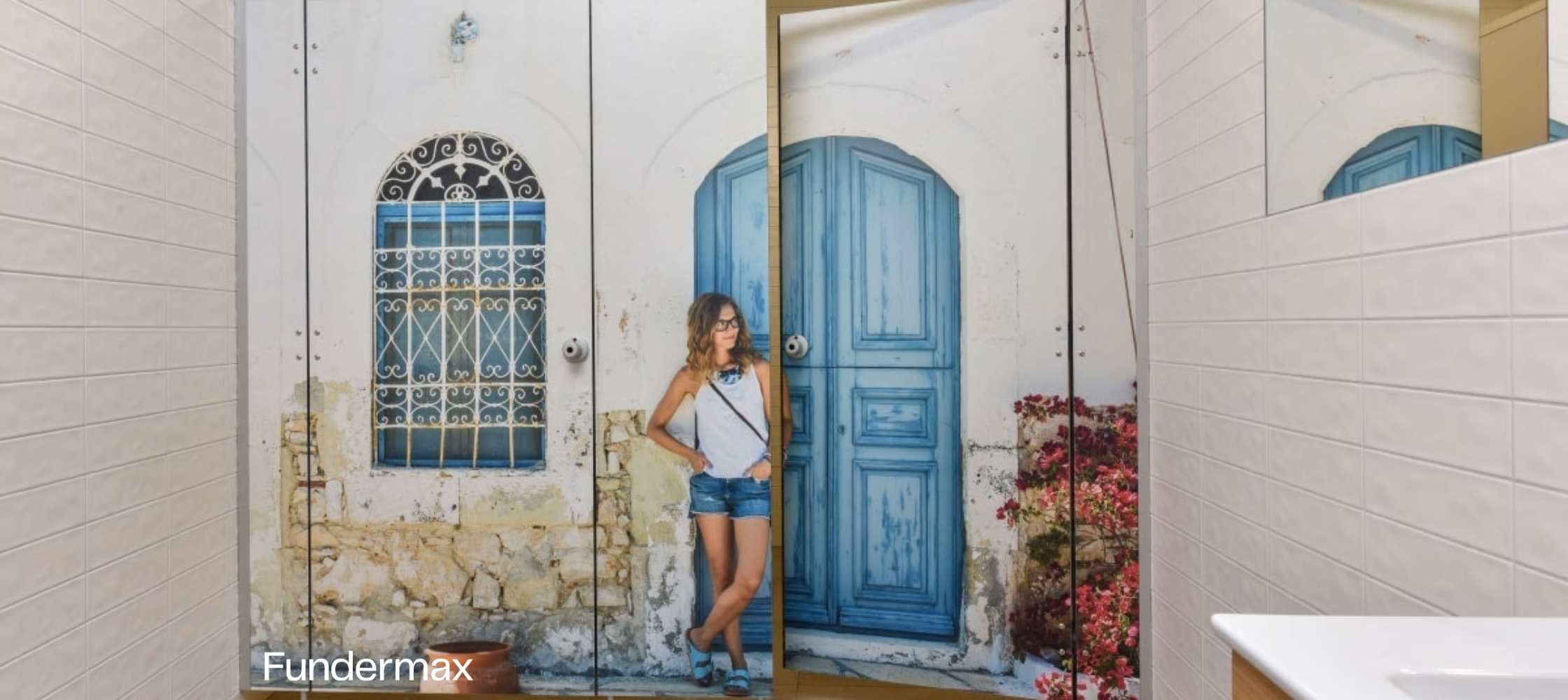 Factors to Consider When Selecting a Commercial Bathroom Partition
One might assume that choosing bathroom partitions is a minor item to check off of the project list. But, knowing how to choose public bathroom partitions that are both design-friendly and a good investment takes a bit of insider knowledge.
Whether you are designing a brand new bathroom in a new office building, or you are remodeling an existing restroom in an airport, school, or hospital, there are seven important factors to consider when choosing your bathroom partition material.
Types of Bathroom Partitions
Let's first review five toilet partition material types.
Powder Coated Steel
Powder-coated steel partitions are produced by covering panels of honeycomb cardboard with thick sheets of metal and then baking a coating of colored powder into the metal.

This is a very common bathroom partition material because of its low upfront price point, but it also has a shorter lifespan, primarily because it is only moderately resistant to vandalism and does not stand up well to excessive amounts of water.
Plastic Laminate
Plastic laminate begins with a particleboard core that is then covered in a layer of plastic laminate. Although color and design options abound for this material, it does not stand up well to moisture.
Solid Plastic / HDPE (High-Density Polyethylene)
High-density polyethylene (HDPE) is a solid plastic that performs well as a toilet partition wall material. It features a solid color throughout and is highly resistant to vandalism, moisture, and bacteria, requiring little maintenance over time.
Phenolic HPL (High-Pressure Laminate)
Phenolic high-pressure laminate (HPL) panels are created by adding a synthetic polymer (phenolic resin) layer to a core layer of compressed paper, then curing it under high heat and pressure. The resulting material is incredibly durable and highly resistant to unfavorable conditions including moisture, bacteria, and vandalism.
Stainless Steel
Stainless steel provides a modern, elegant aesthetic, even as a toilet partition wall material. It is durable, resistant to vandalism, and easy to clean. Stainless steel stands up extremely well to most conditions but is not well-suited for high-moisture environments.
Factors to Consider When Selecting a Bathroom Partition Material
1. Durability
Public bathrooms receive a lot of traffic, so choosing a durable material for your bathroom partition is absolutely critical.

From airport restrooms to gym locker rooms to church bathrooms, consider the conditions that will be present in your location, and choose a material that is suitably resistant to:
Water and moisture

Wear and tear

Scratch and abrasion

Graffiti and vandalism
2. Fire Classification
Fire classification is an important consideration as commercial bathrooms are prone to fire outbreaks. Powder-coated steel, stainless steel, and phenolic HPL are all fire-resistant materials.
3. Cost
The cost of toilet partition material types varies widely, so it is wise to consider both the initial and long-term costs associated with each material.

For example, the initial cost of powder-coated steel is low, but maintenance is higher and life expectancy is low. On the other hand, phenolic HPL panels come at a higher price point but are largely maintenance-free and virtually indestructible.
4. Longevity
In addition to considering a material's ability to stand up to harsh conditions (durability), consider whether a material is long-lasting. Will the material's appearance and performance become compromised over time? Solid plastic, phenolic HPL, and stainless steel are known for their longevity.
5. Sustainability
Everyone wins when builders and designers choose sustainable materials, and choosing sustainable bathroom partition materials can contribute to LEED project certifications. Consider the particular company from whom you will source your partitions and whether they are sustainability-focused.
6. Appearance
Some toilet partition material types offer more flexibility than others in regard to color, texture, and overall design aesthetic. There are also differences (and potential limitations) regarding how to install bathroom partitions depending on the material. Powder-coated and stainless steel are typically only available in a small range of colors, while design options for plastic laminate and phenolic HPL partitions are extensive.
7. Regulations & Code Compliance
Commercial restrooms must adhere to certain regulations. The primary regulatory bodies and guidelines are by the ADA (Americans with Disability Act) and OSHA (Occupational Safety and Health Administration). Depending on your particular jurisdiction, you may need to comply with codes concerning width, depth, and height which impacts not only how to choose public bathroom partitions but also how to install bathroom partitions.
Fundermax Bathroom Partitions
Fundermax bathroom partitions are constructed of phenolic HPL panels and offer a number of benefits.
Durability + Longevity
Bathroom partitions made with phenolic HPL panels are long-lasting and virtually indestructible. They are resistant to solvents, impacts, scratches, graffiti, vandalism, and fire. They are colorfast, waterproof, nonporous, easy to clean, and code compliant. Fundermax phenolic HPL panels also come with an industry-leading warranty.
Sustainability
Fundermax has been manufacturing superior-quality products for over a century, and we take sustainability seriously. We are relied on for environmentally responsible, long-lasting, high-quality products made from rapidly renewable raw materials. Our EPD, HPD, FSC, PEFC, and Greenguard Certificates mean that we may contribute to LEED in a number of categories for your project.
Appearance
The design capabilities afforded by Fundermax Max Compact Interior panels are endless, all while remaining colorfast, easy to clean, and scratch and fingerprint resistant.

Whether your project's aesthetic is metallic or natural, bold or subtle, the limitless options mean you have maximum design freedom.

Perhaps you have a more specific design in mind. Fundermax's HPL digitally printed panels are custom-designed and digitally printed to your project's specifications.
Examples of Fundermax Phenolic HPL Bathroom Partitions
This project used sleek red partitions.
This bistro incorporated their fun aesthetic into their bathroom partitions with custom, digitally printed phenolic HPL panels.
Due to the high traffic in this Santiago Airport restroom, phenolic HPL was the ideal toilet cubicle partition material for this project.
How to Know Which Partition is Right For You
Begin by identifying the type of environment, the amount of traffic, and the sort of aesthetic involved in your bathroom project, and then consider how those details impact the factors listed above.

For example, if you are designing a bathroom in a gym or shower room, remember to account for a great deal of moisture. Working on a school bathroom? You will need an exceptionally durable material.

Regardless of the specific material you choose, be sure to work with a reputable supplier. This can make all the difference in your result. If you think phenolic HPL panels may be the right choice for your next project, Fundermax would love to help. Contact us today for more information.