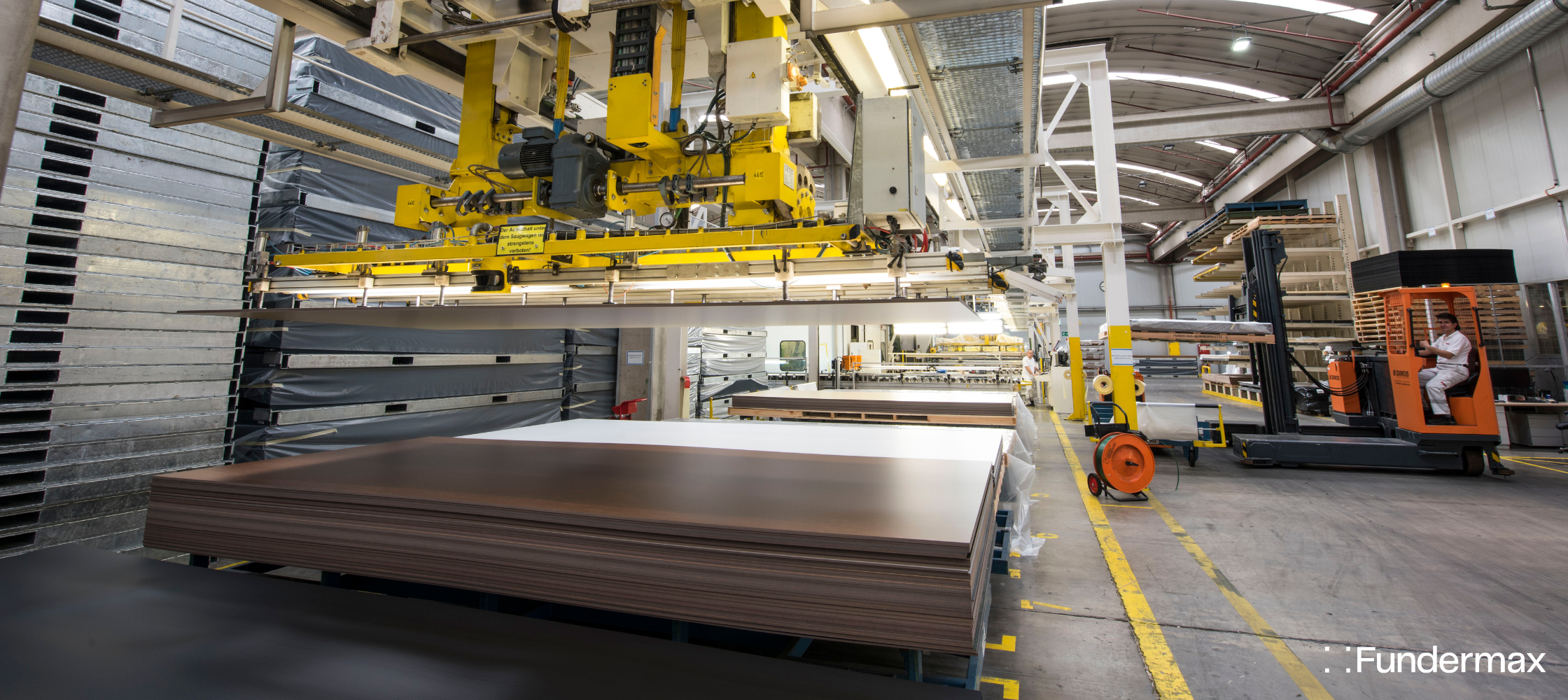 The Benefits of Having U.S. Stock Phenolic Panels
Long lead times can slow a project down, bloat the budget, and even erode client satisfaction. At Fundermax, we know that better efficiency means happier clients.
That's why Fundermax established a U.S. stock program to help reduce lead time and ensure architects and builders have the materials they need when they need them. Efficiency plus high-quality materials ensure you and your clients can build beautiful, long-lasting structures in less time.
Learn more about the in-stock phenolic panels at Fundermax and how these materials can transform your designs in terms of efficiency, construction quality, and style.
Where Are Fundermax Panels Manufactured?
For over 130 years, Fundermax has produced all its products in our home country of Austria. Our headquarters sits in St. Veit an der Glan in Carinthia, and we manufacture all of our high-quality, wood-based laminate panels in our two manufacturing sites in Neudorfl, Burgenland, and Wiener Neudorf, Lower Austria.
Austria is dedicated to sustainability and reducing carbon emissions, making it one of the greenest nations on the planet. In 2021, Austria ranked No. 28 on the Earth.org Global Sustainability Index. We share the nation's passion for sustainability, which is why we use sustainable practices when sourcing raw materials and manufacturing our panels.
For example, we recycle all the raw wood materials and use the by-products to ensure every bit of the resource is used to its full potential. We also maintain FSC certifications, indicating that we manufacture products with responsibly sourced materials. The result is high-functioning panels that can help your project meet LEED standards.
Our innovative processes allow us to make a diverse portfolio of high-quality, wood-based materials and compact laminates for interior and exterior use. We offer various panels around the world (not all products are available globally):
While Fundermax produces all of the above products, Fundermax North America focuses on Compact panels. The remaining products are only available in other locations outside of North America.
What Phenolic Panels Are In Stock in the U.S.?
Fundermax's U.S. phenolic panels stock contains interior and exterior panels in many different panel sizes, so we can help you transform every inch of your building project.
US Stock Interior Panels
We have five of our most popular interior panel designs in 13mm and 19mm thickness, in the Fine Hammer (FH) Embossed finish, and in XL and OF sizes. These sizes are ideal for partitions and bathroom doors, offering a better panel yield. You can order free samples of our U.S. stock decors for your client's next interior project here.
US Stock Exterior Panels
For exterior panels, we stock more options because of the market's current design diversity needs. As a result, we keep 14 exterior panel designs in stock in our most popular colors. However, we only stock the 8mm-thick panels, which are great for an exposed fastener job or our Modulo or Scaleo concealed fastening systems. You can order free samples of our exterior decors in stock here.
While our North American headquarters is in Charlotte, North Carolina, we have two U.S. stock warehouses, one in Clarksville, Tennessee, and one in Los Angeles, California. Having locations on both sides of the country helps us more efficiently transport products around the U.S.
US Stock Laboratory Work Surfaces
If you are evaluating lab work surfaces, our experts are available to discuss the unique qualities of our phenolic panel lab surface technologies.
Our experience in various laboratory applications worldwide allows our team to help support your lab design, ensuring it meets your specific qualifications. Phenolic resin panels are lightweight, particularly in comparison to epoxy resin panels, making them more affordable to ship and easier to install.
We also stock some of our most popular work surface colors in the US, which negates the impact of supply chain issues. You can view and sample our in-stock lab work surface options here.
Contact us today for more information on the durable, sustainable, and chemical-resistant lab products manufactured by Fundermax.
Advantages of Fundermax's U.S. Stock
At Fundermax, we focus on helping you reduce lead time in your projects without compromising the quality or style of your materials and design choices. Consider these advantages to sourcing your HPL compact panels in the U.S. from Fundermax:
More Choices
Our two U.S. warehouses carry our most popular interior and exterior decors and sizes. That way, you and your clients have a wide selection of styles. In addition, you'll have your choice of different woodgrains, solid colors, and abstract designs to finish your building project.
Since we stock interior and exterior panels, you can find the styles you want for any application. Our U.S. stock panels work with exposed fastening systems and our Modulo concealed system (which gives the appearance of a traditional concealed fastening system without the traditional cost).
Quick Delivery of Ready Products
Since our stock is already in North America, we offer fast lead time for phenolic panels. We can quickly ship your materials to your location without having to worry about international shipping delays. You can generally get our in-stock decors within one to two weeks and better manage your project timeline. (And, if you need products fabricated, it only takes three to four weeks to get them.)
Even though we manufacture our products in Austria, Fundermax keeps a diverse and plentiful stock of phenolic panels in the U.S. That way, you and your clients can worry less about lead time and still get the high-quality materials you need. You can purchase a wide variety of interior and exterior phenolic panels for any building project and have them delivered to your site in just a few weeks.
You can always check our website to see which HPL compact panel products we have in stock. Order your exterior sample kit today to explore the US stock materials for yourself.